— -- A California man has been arrested on a federal smuggling charge stemming from the seizure of a package that contained three live king cobras hidden inside potato chips canisters, according to the U.S. Department of Justice.
Special agents with the United States Fish and Wildlife Service arrested 34-year-old Monterey Park resident Rodrigo Franco on Tuesday, the DOJ said in a statement. He was charged with one count of illegally importing merchandise to the U.S. and was expected to make his first appearance in court Tuesday afternoon.
On March 2, U.S. Customs and Border Control agents inspected a package sent from Hong Kong and discovered the cobras, a "protected and highly venomous reptile," according to an affidavit filed in the Central District of California. Each snake was approximately 2 feet long, court documents state.
In photos provided by the U.S. Fish and Wildlife Service, the cobras appeared to be coiled inside of the potato chip canisters, which appeared to be sealed with a plastic lid.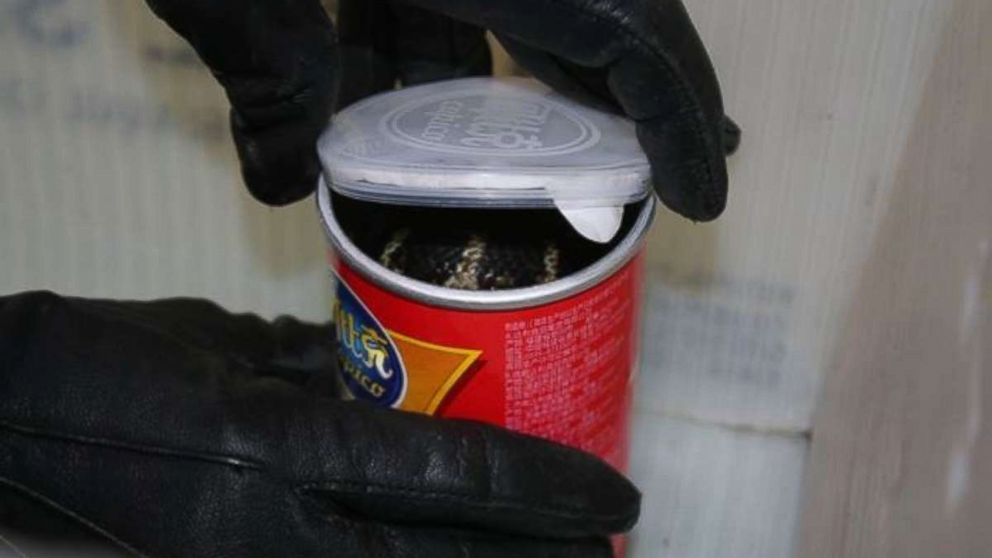 The parcel, which was sent through the U.S. Postal Service, also contained three albino Chinese soft-shelled turtles, the DOJ said.
Franco allegedly mailed six additional turtles -- including desert box turtles, three-toed box turtles and ornate box turtles -- from the United States to Hong Kong, but the package was intercepted by the U.S. Fish and Wildlife Service.
The United States Postal Inspection Service made a controlled delivery of the soft-shelled turtles to Franco's residence, but the snakes were removed from the package due to danger associated with cobras, the DOJ said.
Once the package was delivered, agents from the USFWS and the U.S. Immigration and Custom Enforcement executed a search warrant of Franco's home, where they found several protected animals, including a live baby Morelet's crocodile, alligator snapping turtle, a common turtle and five diamond back terrapin turtles, according to the affidavit.
During an interview, Franco admitted to authorities that he had previously received 20 king cobras in two prior shipments, but he said all of those snakes died during transit, according to the DOJ. An investigation also revealed that Franco had allegedly exchanged messages with an individual in Asia that detailed shipping turtles and snakes between the U.S. and Asia.
The messages indicate that Franco had allegedly previously received live cobras from his contact in Asia and that he intended to place five of the snakes to a relative of the individual in Asia, according to the DOJ.
The smuggling charge against Franco carries a maximum sentence of 20 years in federal prison.
It is unclear if Franco has retained an attorney or entered a plea.