After a slow start to hurricane season, a Category 3 hurricane may make landfall in Florida next week.
The storm, currently known as Tropical Depression 9, is set to move into the warm waters of the Western Caribbean this weekend. Heavy rain, flash flooding and mudslides are possible over the next few days in Aruba, Curaçao, Jamaica and the Cayman Islands.
The storm -- which will be named Ian -- will likely strengthen to a hurricane by the time it moves across Cuba Monday and Tuesday. It's expected to strengthen further, potentially to a Category 3 hurricane, before approaching Florida.
The current forecast shows the storm making landfall near Sarasota, Florida, on Wednesday afternoon or evening, however, the path and timing could change several times over the next few days.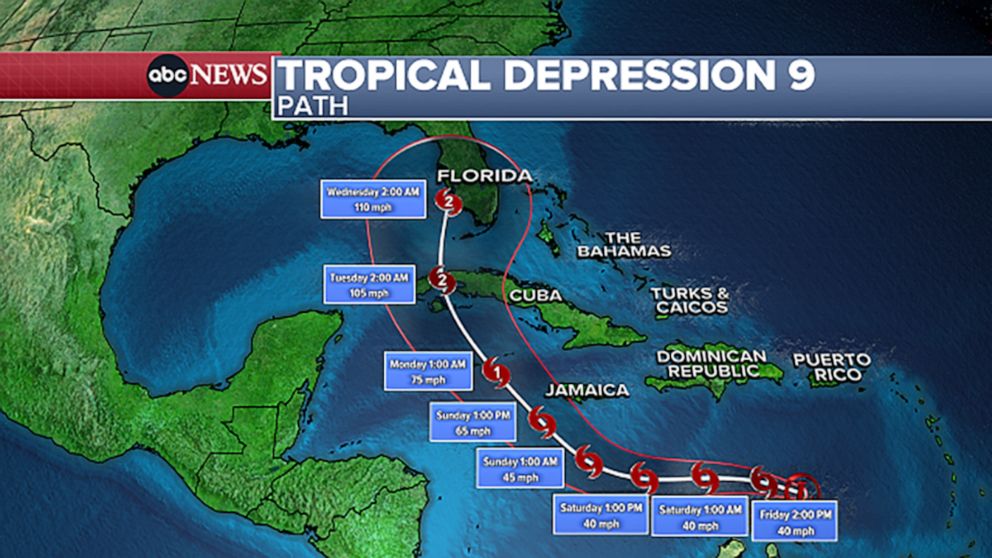 September is the peak month for hurricanes. The season lasts until Nov. 30.
Click here to read tips on how to prepare for a hurricane.
ABC News' Melissa Griffin, Riley Winch and Max Golembo contributed to this report.