Mamba Out: Kobe Bryant Finishes Final Game with a Storybook Ending
The legendary basketball star played his final NBA game Wednesday night.
— -- In his 1,346th NBA game with the Los Angeles Lakers Wednesday night, marking his final game with the league, Kobe Bryant scored 60 points to pull off a fourth-quarter upset against the Utah Jazz, 101-96.
Bryant celebrated the win with a post-game hug from former Lakers player Lamar Odom, as well as other players and family on the court.
Addressing the crowd after the game, he said he is most proud of "the down years," a reference to when the team wasn't doing too well. He added, "We didn't run, we played through and did it the right way...You can't write something better than this...Thank you guys for all the years of support, all the motivation, all the inspiration."
Then, in a reference to his nickname, Bryant ended his speech with, "Mamba out."
Shortly afterwards, Bryant held a news conference, at which he expressed in greater detail his frame of mind.
"I knew coming into the night, I just didn't want to play bad," he said. "I just wanted to focus on the game. I had a little bit of nerves...but they were able to settle down."
When asked how he would have liked his career to end, Bryant said, "The perfect ending would have been a championship."
And when asked what was going through his mind when he was approaching the court, he said, "'Don't trip.' It's so surreal. It's hard to describe…Everything is moving extremely slow, but extremely fast."
As for his mindset, he said he was "trying to go out playing hard...it felt good to be able to do that one last time." Still, Bryant, admits he was emotional.
"There were a lot of points [during the game] when I started getting emotional. I was putting on the jersey and I was like 'this is the last time I'm putting on the jersey.'"
As for what lies ahead, Bryant said, laughing, "I have to find a new routine."
The game kicked off with a video montage of a slew of Bryant's sports colleagues wishing him well and praising his career with the Los Angeles Lakers.
The live broadcast from Staples Center in Los Angeles began with a message from former L.A. Lakers player Earvin "Magic" Johnson Jr., praising his work ethic and impact on the NBA and Los Angeles.
"We are here to celebrate [Bryant's] greatness for 20 years and excellence for 20 years," Johnson told the roaring crowd. "Kobe Bryant has never cheated the game, he has never cheated us as the fans, he has played through injuries, he's played hurt, and we have five championship banners to show for it. When you think about this town for the last 20 years, this man has been the biggest and greatest celebrity we've had in this town for 20 years."
After Johnson spoke, a video montage was broadcast, featuring Lakers alums Shaquille O'Neal and Derek Fisher, Miami Heat's Dwyane Wade, Minnesota Timberwolves' Kevin Garrett, New York Knicks' Carmelo Anthony, Golden State Warriors' Stephen Curry, Cleveland Cavaliers' LeBron James, Chicago Bulls' Pau Gasol, San Antonio Spurs head coach Gregg Popovich, and former Lakers coach Phil Jackson. Actor Jack Nicholson also appeared in the video.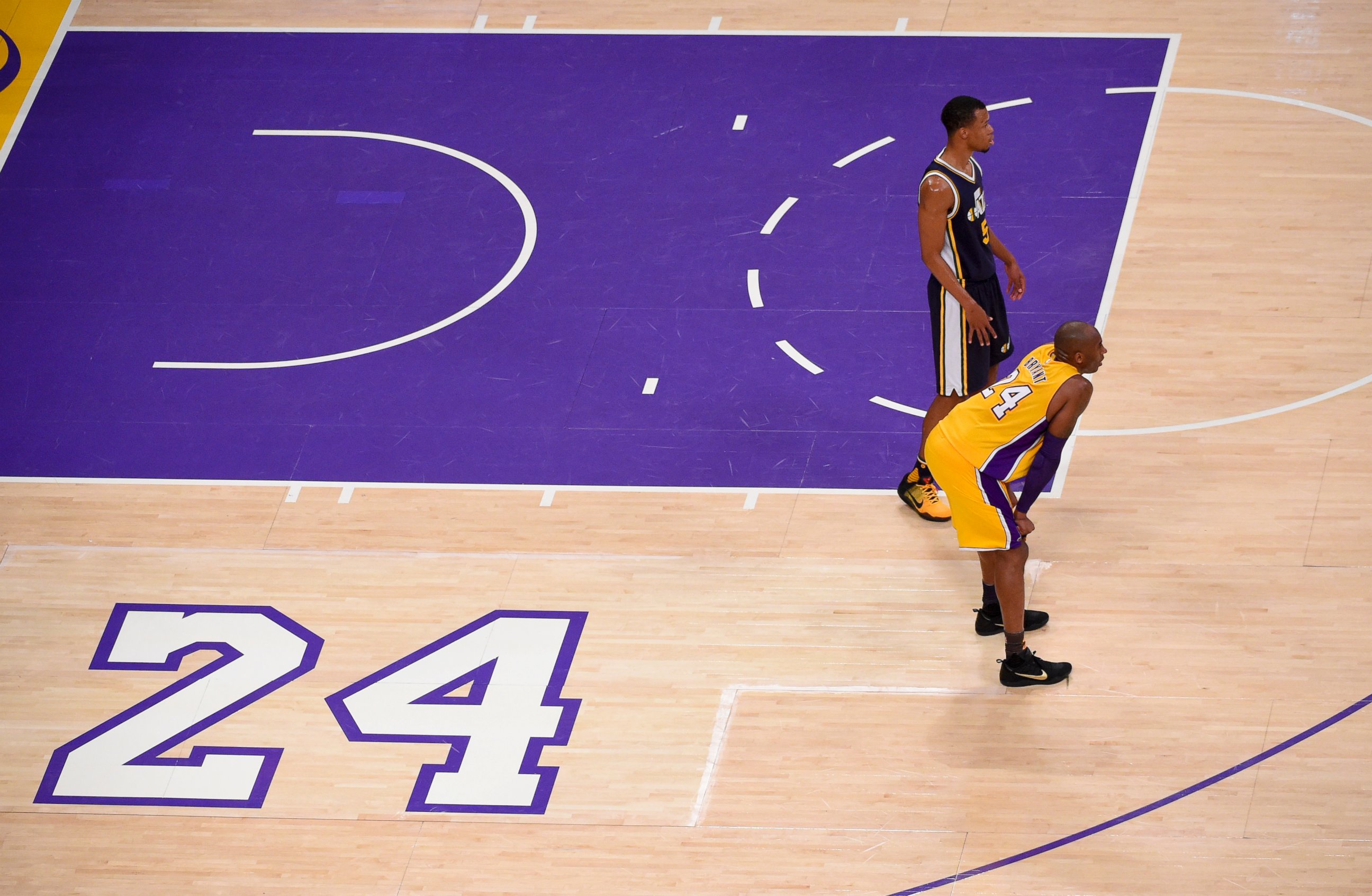 Nicholson, who also was present at the game, said, "You've been an inspiration to us all. L.A. loves you." Other celebs at the game included Jay Z, Kanye West, David Beckham, Adam Levine and Paula Abdul.
And fellow basketball players praised Bryant for his sportsmanship. Anthony said, "I appreciate everything you did for the game," while James said "you set the standards for the league."
After the video played, spectators began chanting "Kobe, Kobe, Kobe," followed by Flea from The Red Hot Chili Peppers singing the national anthem.