— -- The mayor of Charlottesville, Virginia, wants the statue of Confederate Gen. Robert E. Lee removed from the city's center, he said in a statement today, explaining that such "monuments were transformed from equestrian statues into lightning rods" at last weekend's deadly white nationalist protest sparked by the city's plans to remove the statue.
"We can, and we must, respond by denying the Nazis and the KKK and the so-called alt-right the twisted totem they seek," Mayor Mike Signer said in a statement today.
He said he is calling on the governor to convene an emergency meeting of the state General Assembly to allow Charlottesville to remove the statue.
Signer is also pushing for legislation to permit "localities to ban the open or concealed carry of weapons in public events reasonably deemed to pose a potential security threat," according to a news release.
"In a new age of domestic terrorism, we need to re-examine the balance that we strike between public safety and violent protests," Signer said. "It should not be acceptable to open-carry or concealed-carry firearms at an event of the sort we saw last weekend."
'Unite the Right' rally in Charlottesville turns violent
In August 2017, far-right extremists gathering for a "Unite the Right" rally in Virginia clashed with counter-protesters, leaving more than a dozen injured and several under arrest. Shortly after 1:00 p.m. a vehicle driven by a rally-goer struck a crowd of pedestrians in an attack that killed a 32-year old woman and injured 19 others.<br><br>White nationalists and far right extremists march through the University of Virginia Campus with torches in Charlottesville, Va., Aug. 11, 2017.
Samuel Corum/Anadolu Agency/Getty Images
The mayor's statement comes six days after a Unite the Right rally sparked by Charlottesville's plan to remove the Lee statue from a local park turned deadly. The rally was attended by neo-Nazis, skinheads and Ku Klux Klan members. They were met with hundreds of counterprotesters, which led to street brawls and violent clashes.
A driver plowed into counterprotesters, killing Heather Heyer, 32, and injuring several others. The suspected driver is in custody, facing charges including second-degree murder.
Signer said today, "Heather Heyer's memorial service was a profound turning point for me and many others. Her mother said, 'They tried to kill my child to shut her up. But guess what? You just magnified her.' I realized at Heather's memorial service that that our Confederate statues' historical meaning has been changed forever. In other words, it will never be possible again for the Lee statue to only tell the story of what happened here during the Civil War and the Jim Crow era. Its historical meaning now, and forevermore, will be of a magnet for terrorism."
Signer said today he also plans to bring proposals to the City Council and to community stakeholders for ways to memorialize Heyer's name and legacy.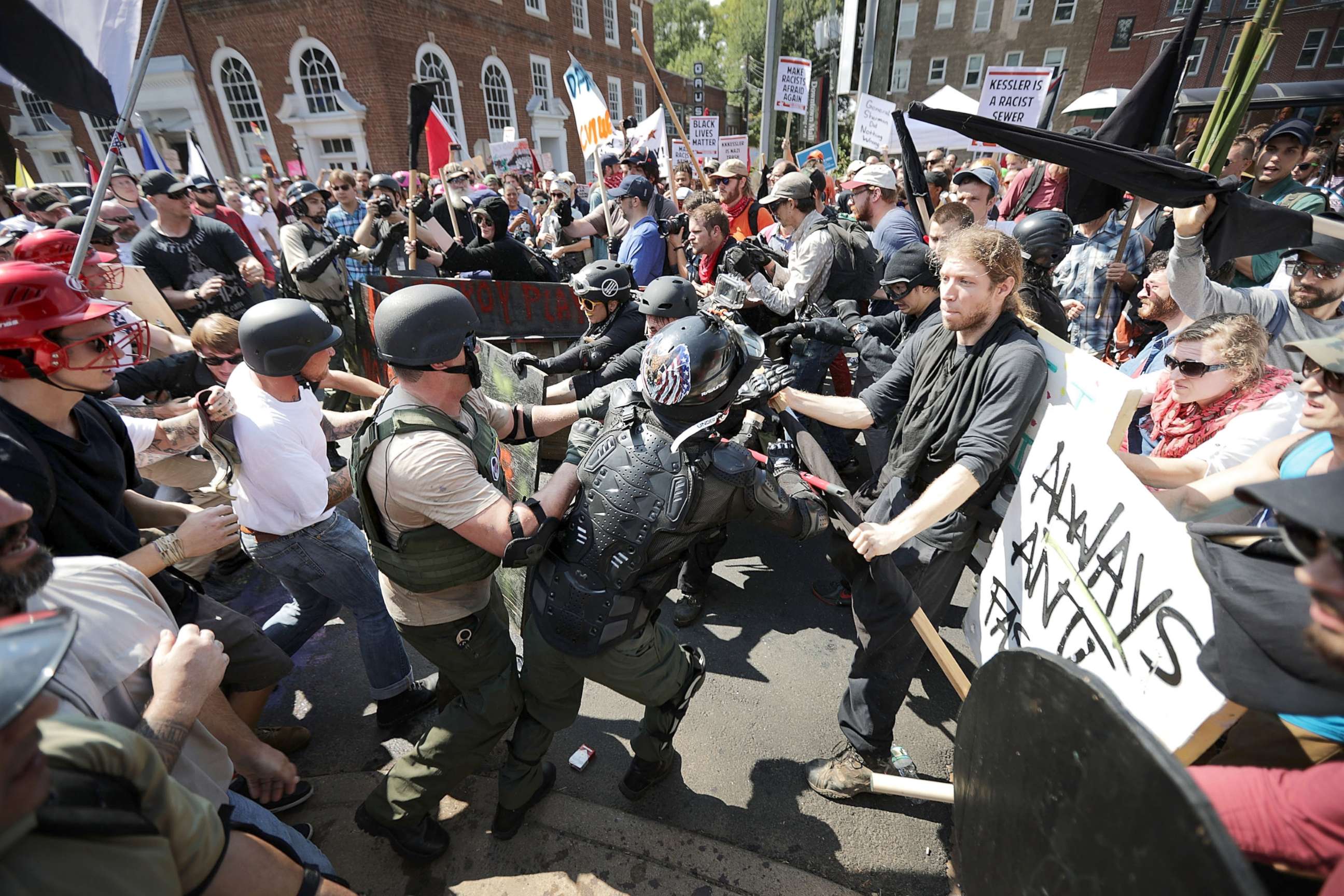 Despite the "painful" event, "we're not going to let them define us," Signer told ABC News earlier this week of the agitators.
"They're not going to tell our story," he said. "We're going to tell our story. And outsiders -- their time has come and gone. This city is back on their feet and we're going to be better than ever despite this."
Signer compared his hopes for Charlottesville's recovery to the aftermath of the Charleston, South Carolina, church shooting in June 2015 that killed nine people. The gunman in that attack said he wanted to start a race war but the tragedy instead united the city.
"There's a memorial right now in front of Charlottesville City Hall that's flowers and a heart that talks about the love that we have here. Those are the images that are going to replace these horrific ones from this weekend. That's the work that we have as a country," Signer said.
"That's what happened in Charleston. There were those horrible images of those people bloodied and killed and weeping from the church. But they were replaced quickly, steadily, by the work that started to happen. By people who said, 'You're not going to tell our story for us. We're going to tell our story.'
"And that's what's happening in this community. That's my work as the mayor here -- is not to allow these hateful people who just don't get this country to define us," he said. "And they're not going to define us."