Chicago's Holiday Toll Was 82 Shootings, 14 Deaths
City's top cop says it's "groundhog day in Chicago again."
— -- The spree of shootings in Chicago during the long holiday weekend reached 82 incidents and included 14 deaths, according to a tabulation of police reports.
That number marks a significant jump from the same period last year, despite an increase of "hundreds" of officers on the street to prevent violence.
"It's groundhog day here in Chicago again," Police Superintendent Garry McCarthy said this morning, in an apparent reference to repeated spasms of violence in the city.
Of the 14 fatalities, two were shot dead by police.
More Than 60 Shot, 9 Dead in Chicago's Bloody Holiday Weekend
The Chicago police department released different statistics claiming the weekend saw 50 shootings that included nine fatalities.
The difference in the statistics is the difference in the time frame. Chicago police figures spanned a period from 6 p.m. Thursday as the long holiday weekend began to midnight Sunday. Figures calculated by ABC News' affiliate WLS began at 4 p.m. Thursday to 3:30 a.m. Monday and totaled 82 shootings.
The violent weekend ended with a barrage of 21 shootings on Sunday, McCarthy said.
McCarthy said in a press conference today that the department had deployed "hundreds" more officers over the weekend in anticipation of holiday violence.
"The results were a lot of shootings and a lot of murders unfortunately," he said. "Yesterday was the day that really blew it up for us in our strategy."
"It all comes down to these guns: there's too many guns coming in and too little punishment going out," McCarthy said.
Mayor Rahm Emanuel put out a statement Monday afternoon calling the violence "simply unacceptable" and said that it "points out that we still have work to do".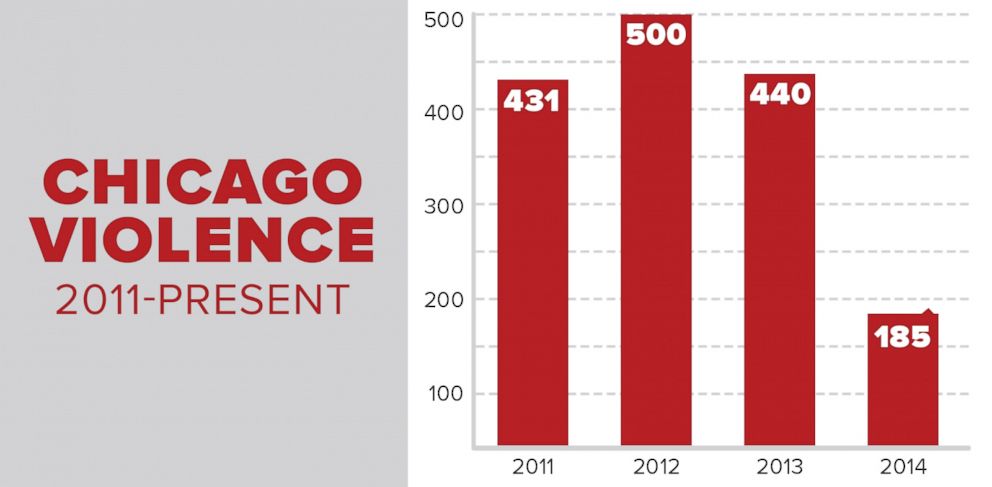 "This violence is unacceptable wherever it occurs in our city and all of us need to take a stand. The only way we will meet this challenge to our future is to join with one another and create a partnership for peace," he said.
McCarthy, who served as a deputy commissioner for the New York police department and then headed the Newark, N.J., police department before taking over Chicago's squad, placed much of the blame on lax gun laws, citing unenforced punishments for illegal gun possession.
"Everyone asks me what the difference is between New York and Chicago and I can tell you quite simply: proliferation of firearms," he said today.
"There's a greater sanction for the gang members to lose that firearm from their gang than there is to go to jail," he said.
He said that during a chase, suspects in New York and Newark would throw away their weapons, but in Chicago they keep them and sometimes fire at police.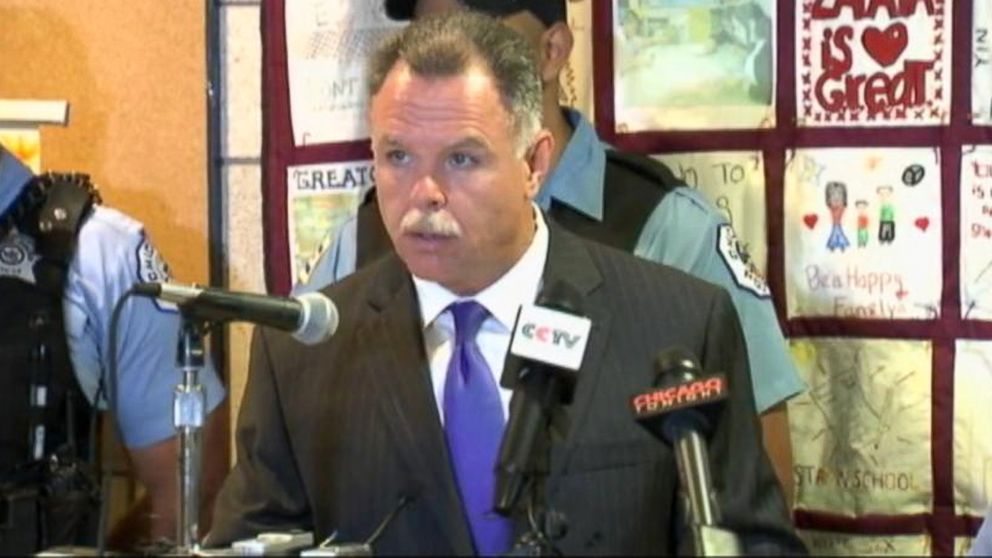 McCarthy said that gang members may face "severe beatings" and financial punishment from their gangs if they lose a weapon.
"Possession of a loaded firearm is not even considered a violent felony in state of Illinois," he added.
McCarthy said that the police department's records show 185 people have been murdered in Chicago this year, as compared to 196 who had been killed by this point last year- which marks a 6 percent drop.
A spike in homicides came in 2012 when the city's murder rate jumped from 431 in 2011 to 500, according to Uniform Crime Reports. Mayor Rahm Emanuel has made combating gun violence one of his top priorities since being elected in 2011, and the murder rate dropped again in 2013 to 440 deaths.
Fourth of July weekend has been particularly violent in the past as well. ABC News affiliate WLS reported that 12 people were killed and 75 were injured during the same weekend last year, though that spanned more time since the national holiday fell on a Thursday in 2013 as opposed to a Friday this year.
At today's press conference, McCarthy said that "we had the same level of shootings as we did last year, which is unacceptable."