May 5, 2014— -- Authorities trying to determine what caused a support frame to collapse during an aerial hair-hanging stunt during a circus performance today focused on a broken clip.
The snapped carabiner was found today, as crews investigated the accident that sent eight acrobats crashing to the ground and injured 11 people.
At least three of the injured remained in critical condition today, Rhode Island Hospital officials told ABC News.
The 4- to 5-inch steel clip was found in three pieces on the ground with its spine snapped, Providence Public Safety Commissioner Steven Pare said.
We don't know if it was metal fatigue, if it wasn't properly positioned or something else," he said. "We just don't know."
The Occupational Safety and Health Administration is investigating and will make the final determination of whether the carabiner was to blame for the collapse, he said.
The incident happened about 45 minutes into a performance of the Ringling Bros. and Barnum & Bailey Circus' legends show Blue Unit at the Dunkin' Donuts Center in Providence, R.I.
It was witnessed by an audience of about 3,900, many of them children.
"Everybody's doing fine, everybody's at the hospital, everybody's conscious, everybody's doing pretty well," Roman Garcia, general manager of the Legends show, said after the accident.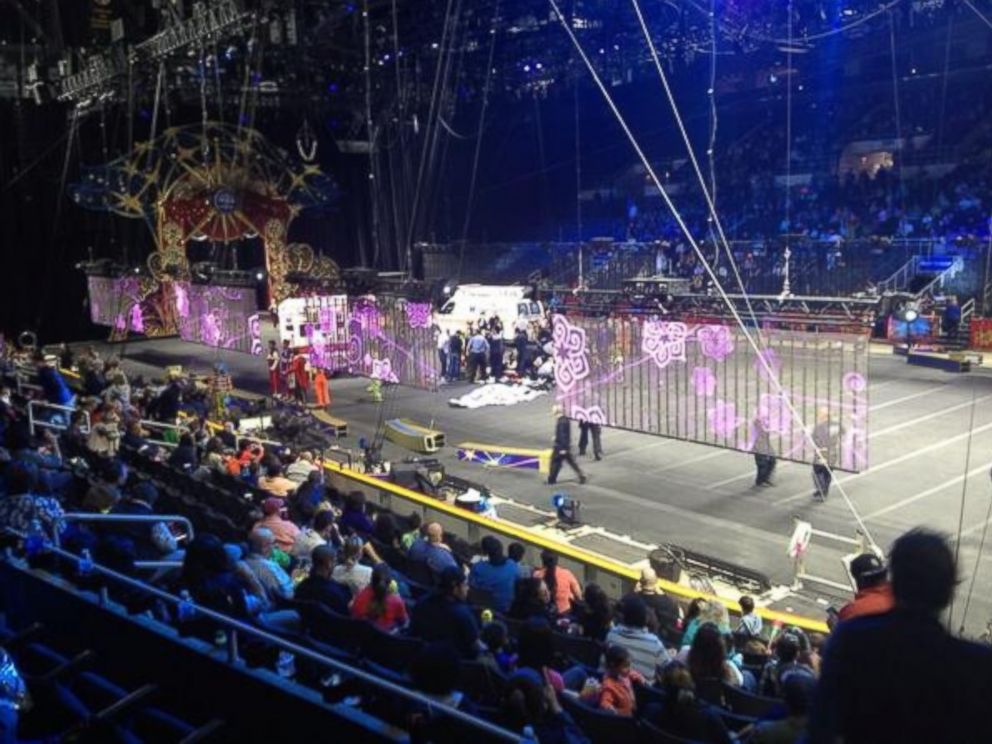 The general manager of the show said the acrobats were hanging from their hair when they fell 25 to 40 feet. All the injured acrobats were conscious.
Rhode Island Hospital in Providence admitted 11 patients with varying injuries. Three of the victims were ground personnel.
Some audience members said in the first instant when the acrobats began to fall, they thought it was part of the aerial act. But then they hit the ground.
"Their necks went forward – it was awful," said audience member Sydney Bragg, 14. "They kept the lights off so no children could see. When the lights went on, we could see them lying there. They started lowering the screens to cover it up."
Later shows scheduled for 3 p.m. and 7 p.m. Sunday and 10:30 a.m. Monday were canceled.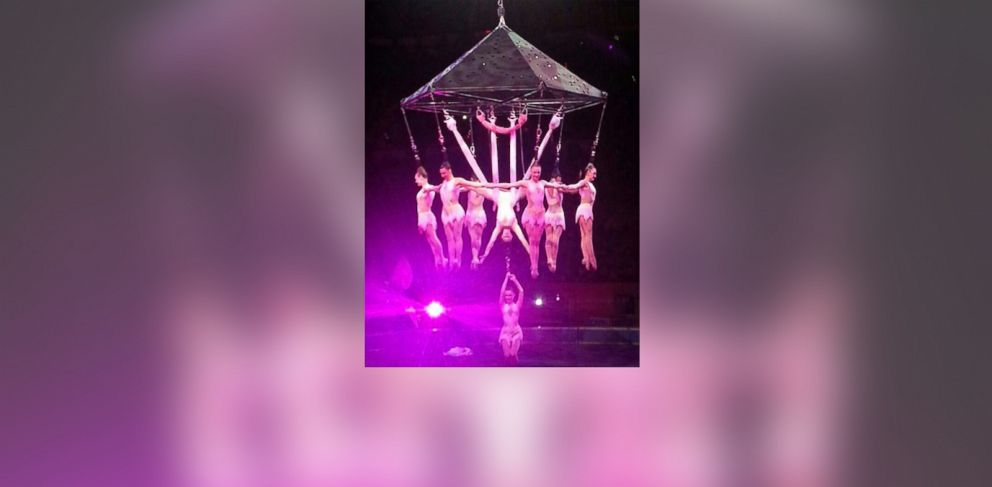 The hair-hanging stunt is described on the circus' website as a "larger-than-life act" featuring eight female performers.
Stephen Payne, a spokesman for Feld Entertainment, the parent company of Ringling Bros., said all the performers are well-versed on the act. Training for the act began in November, and the aerialists have practiced dozens of times a week, he said.
"Most of these performers have been doing an act of his nature for some time," Payne told ABC News.
"These 'hairialists' perform a combination of choreography and cut-ups including spinning, hanging from hoops, and rolling down wrapped silks, all while being suspended 35 feet in the air by their hair alone," the website says. "In this hair-raising act, audiences will even see the weight of three girls held aloft by the locks of only one of these tangled beauties."
Video taken by audience members shows a curtain dropping to reveal several performers hanging from an apparatus suspended from above. Seconds later, as they begin to perform, the women fall, and the metal apparatus lands on them.
Rosa Viveiros of Seekonk, Massachusetts, said she saw that the acrobats had fallen on top of at least one other performer below, a man who stood up with his face bloodied. The acrobats remained still and did not get up, she said.
"Everybody thought maybe it was part of the act, but then when they landed on the floor, they weren't moving, they weren't getting up," she said. "Then we knew that there was something wrong."
Viveiros attended the circus with her husband, their 6-year-old grandson and 9-year-old niece.
"Everyone was in shock," Rosa Viveiros said. "It was pretty overwhelming to see that."
Othello Smith was watching the performance with his family.
"You could tell the crane was heavy, because it took 10 guys and you could see them struggling to lift it from on top of the girls," he said.
The Associated Press contributed to this report.