April 19, 2014— -- A group of armed militia and protesters, some sporting nametags reading "domestic terrorist," remain camped out on a cattle ranch in Nevada, where they have been purportedly defending the property since a tense showdown ended with the federal government last week.
A 20-year struggle between rancher Cliven Bundy and the Bureau of Land Management over decades of alleged illegal cattle grazing on public land ended last Sunday, with the government backing down from a controversial week-long cattle round-up.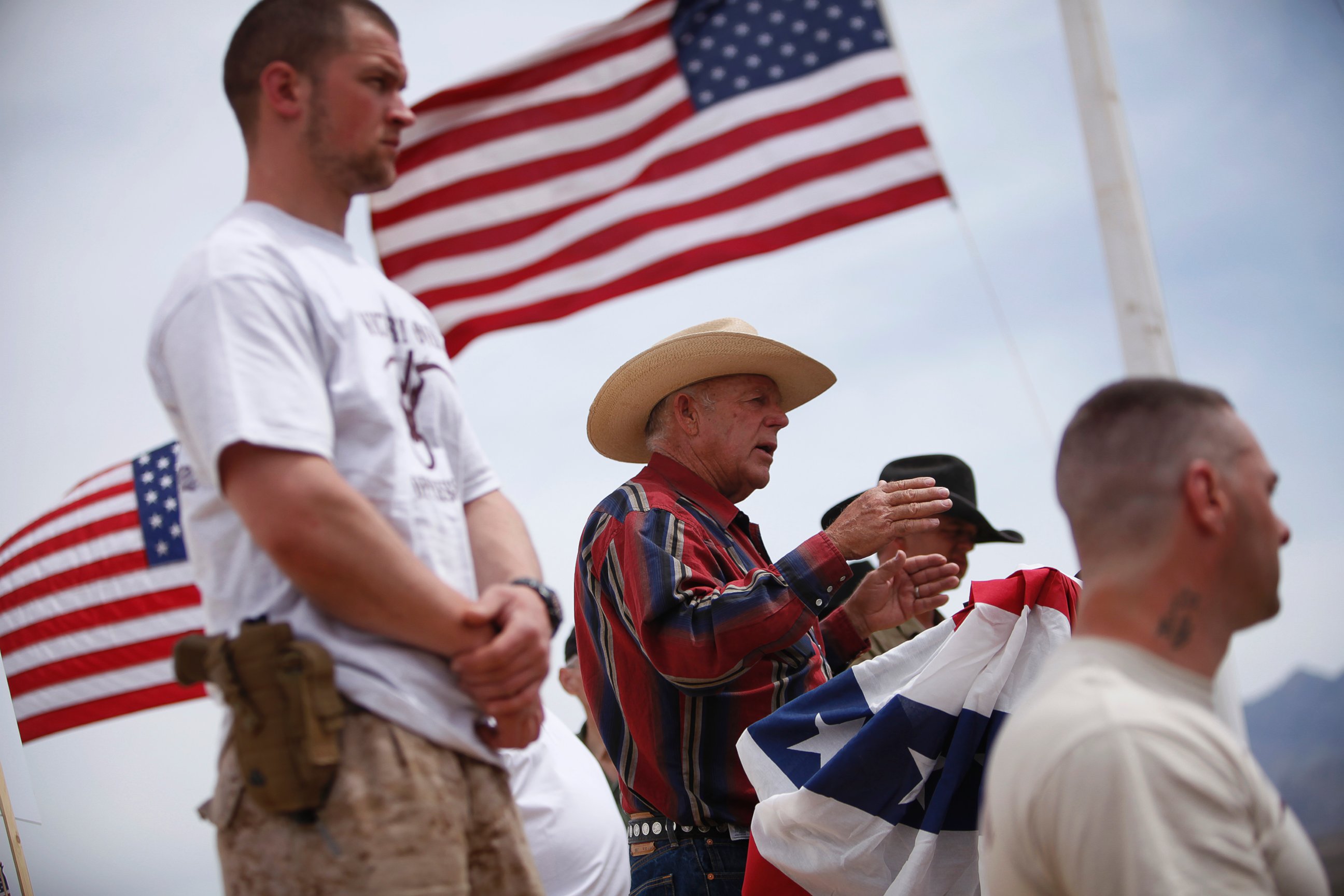 The BLM defused the standoff, citing safety concerns for its employees and the protesters, some of whom were on horseback and others who were set up in sniper positions on the Interstate 15 overpass pointing military-style rifles at federal agents. Among the citizen army were dozens of women and children under the overpass who could have been caught in the line of any possible gunfire.
But many people who say they support Bundy said they felt the battle was far from over, as evidenced by some responses ABC News received on social media, after the BLM first announced on April 12 that it was withdrawing from the area and releasing the 380 cattle already collected as part of the round-up on an area of land half the size of Delaware state.
The government maintains that Bundy owes more than $1.1 million in unpaid trespass fees and penalties after letting his herd of some 900 cattle graze on federal land near the town of Bunkerville, about 80 miles northeast of Las Vegas, for the last 20 years.
Agency officials also told The Associated Press that the roundup contract was $900,000.
The BLM said it would now move to resolve the matter "administratively and judicially," although the government has unsuccessfully gone head to head with Bundy in Court since 1993, after it established the area as a protected habitat for the endangered desert tortoise and slashed Bundy's cattle allotment.
When Bundy refused to pay his grazing fees, the agency cancelled his permit, a move later upheld by federal judges.
"I have no contract with the United States government," Bundy said. "I was paying grazing fees for management and that's what BLM was supposed to be, land managers, and they were managing my ranch out of business, so I refused to pay."
In the days leading up to the government's withdrawal, the movement had reportedly grown to 600 men, women and children, although conflicting counts emerged from the two sides. Demonstrators rallied together, bonding by campfires at night, while local protest leaders warned people not to wear camouflage and to keep their weapons inside their vehicles.
A group from those supporters, some who had ventured across state lines to support Bundy and his family, stayed behind to guard the 67-year-old's melon farm and cattle ranch.
The nametags worn by a few supporters came in response to Sen. Harry Reid's, D-Nev., comments on Thursday labelling them "domestic terrorists."
One of the armed and camouflaged men, a former Marine sergeant who said he was leading a Bundy security detail of 40 people or so, told the AP he considers protecting the ranch as a patriotic duty.
Both sides said the issue is one of fairness, with the federal government maintaining that thousands of other cattle ranchers are abiding by the law by paying their annual grazing fees.
The remaining campers on the Bundy ranch told the AP they have no plans to leave and believe they are being watched by government drones and helicopters.
"We stay until the Bundys tell us we can go home," said Jack Commerford, a friend of DeLemus' from New Hampshire.