— -- The prosecution and the defense gave their closing arguments today in the murder trial of Oral "Nick" Hillary -- an upstate New York former soccer coach accused of killing the 12-year-old son of his ex-girlfriend. The young boy's mother looked on during the proceedings.
The defense said today that prosecutors are trying to "demonize" Hillary and accused them of weaving a "torn and tattered quilt" and calling it "circumstantial evidence."
Meanwhile, the prosecution said the testimony of Hillary's main alibi witness, his daughter Shanna-Kay, was "obviously orchestrated," adding that Hillary has "convicted himself" with his "lies, his car, his hatred and insidiously enough, his daughter."
It was Oct. 24, 2011, when Garrett Phillips, a popular and athletic 12-year-old, was found strangled to death in his home in Potsdam, New York. Garrett had just begun the sixth grade when his mysterious murder shocked the small town just south of the Canada border. Hillary had dated Garrett's mother, Tandy Cyrus, for about a year, and the two broke up a few months before Garrett's death. Hillary, who has always insisted he is innocent, was charged with second-degree murder several years after Garrett died. Hillary requested a bench trial and his fate is now in the hands of Judge Felix Catena.
Defense Attorney Earl Ward said in closing arguments this morning that he understands the community wants justice and someone to be held accountable, but there is "no direct evidence that Nick Hillary did anything on Oct. 24 of 2011 at 100 Market St."
Ward said Hillary was the suspect from Day 1, before any evidence had even been gathered, and said his "life was under a microscope" from that moment.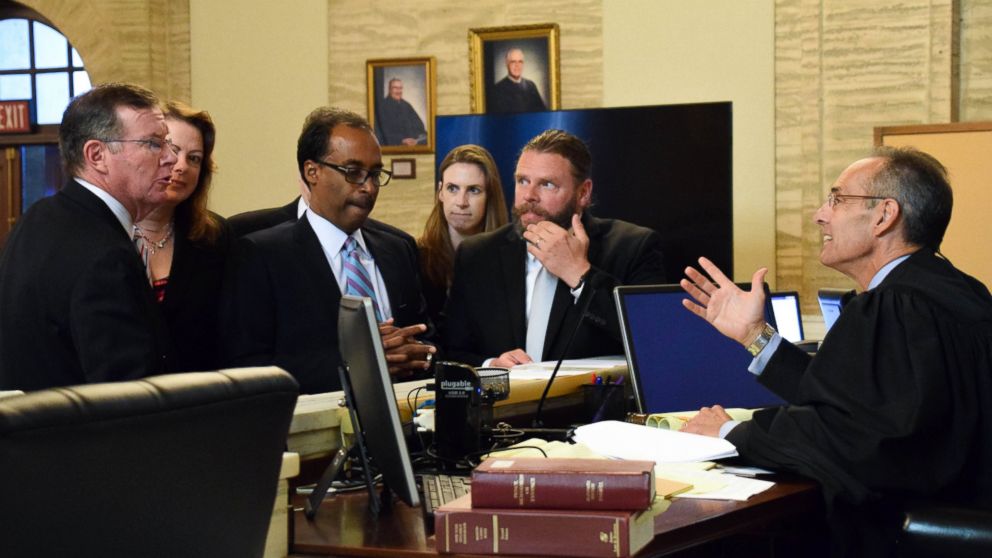 He said the prosecution, "without any evidence tying Nick Hillary to the crime ... has cobbled together fabrics of so-called evidence" to give the judge a "torn and tattered quilt" that they call "circumstantial evidence."
"Lack of evidence is reasonable doubt," Ward said. "And this case is riddled ... with lack of evidence."
He added: "There is absolutely no direct evidence connecting Nick Hillary to this crime," including no fingerprints."
Fingerprints found at the crime scene have not yet been identified, including on the window through which the killer is suspected to have escaped. Authorities ran the prints of everyone who had access to the apartment, Ward said, including Hillary. His prints were not a match to those found.
"Whose print was on that window?" Ward said. "It wasn't Nick Hillary's."
Ward noted that the prosecution argued that Hillary wore gloves during the crime, but Ward said no forensic evidence was recovered from gloves taken from Hillary's home and tested.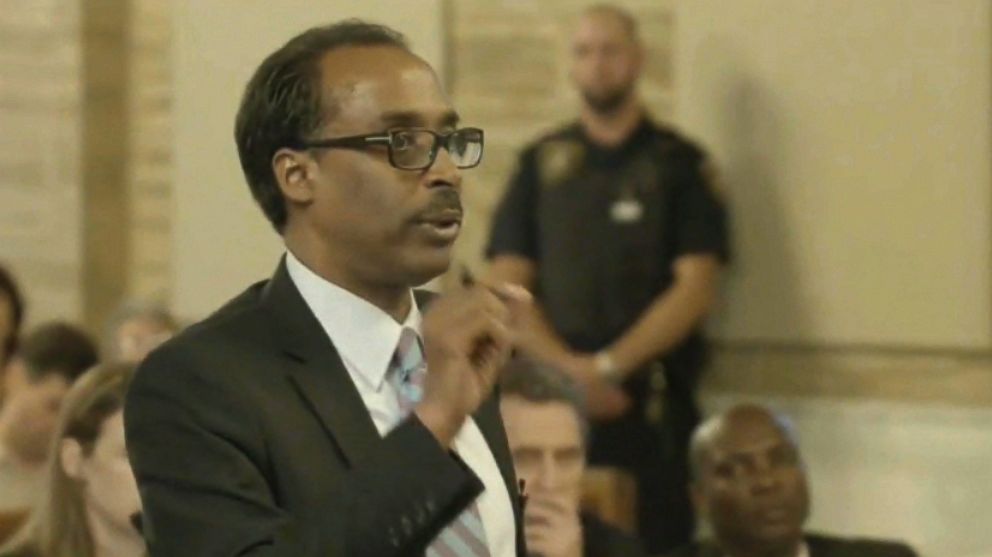 Ward said New York State Police investigators "went through that apartment looking for clues to solve this crime."
"This was not some ... sloppy investigation. This was a serious investigation," he said. "They went there three times."
He also said nothing was ever found from searches of Hillary's home, car, phone and office.
"They found no hair, no fibers, no trace evidence connecting him to the death of Garrett Phillips," Ward said. "You cannot ignore the lack of evidence in this case."
Ward said the prosecution painted a picture of Hillary being obsessed with Cyrus and said Hillary "blamed Garrett for the breakup." Ward said that makes "no sense." Hillary did care for Cyrus and wanted their relationship to work, Ward said, but he wasn't obsessed and was dating a new woman.
"This was not an obsessive man. This was not an obsessive crush," Ward said. "They're trying to demonize this man so that you can say he probably did do it."
Ward added that Hillary was never violent with Cyrus or Garrett.
In response to the video that shows Hillary and Garrett at the high school parking lot around the same time, Ward called it a "coincidence." He said Garrett was supposed to be home earlier that afternoon, right after school, shortly after 2 p.m. Ward said Hillary didn't know Garrett's schedule and there is no proof he "hunted" Garrett, as prosecutors alleged.
Ward also said there was an innocent explanation for Hillary being in that parking lot: He was there to scout a soccer game. Since it was halftime and raining, there was no reason for Hillary to get out of the car, Ward said.
Ward also addressed Hillary's alibi: He said that when the killer is still in the apartment, unable to climb out because a cop is at the front of the building and people are outside fixing a tire, Hillary was at his assistant soccer coach's house.
Of Hillary's civil suit against police and the village of Potsdam, Ward said Hillary wouldn't bring a lawsuit and more attention to himself if he were guilty, maintaining he filed the suit to "vindicate his rights."
Then it was Onondaga County District Attorney William Fitzpatrick's turn.
He told the court that Garrett must have known his assailant, as the neighbors who heard noises and called police never heard the boy yell, "Who are you?"
He called the crime personal, as it wasn't a burglary or sex offense, and pointed to the surveillance video he said shows Hillary "hunting Garrett."
"Garrett Phillips wasn't killed by someone passing through town who hates little boys," Fitzpatrick said, tearing up. "He wanted to be with his friends ... he wanted to play on his rip stick. He wanted to be 12 years old and not be dictated to. And that cost him his life.
"A person, who with premeditation, murdered a beautiful 12-year-old little boy," Fitzpatrick said, crying, "and he did it so arrogantly and stupidly that he can now finally be brought to justice."
The prosecutor said Shanna-Kay's timeline from the afternoon of the murder is off: While she said she came home at 4:30 p.m., Fitzpatrick said she came home earlier.
"Remarkably, days after, not weeks ... her father's lawyer focuses her on 4:30 to 5:15," Fitzpatrick said. "How did he know? The only person that knows for sure when Garrett died was the guy that killed him."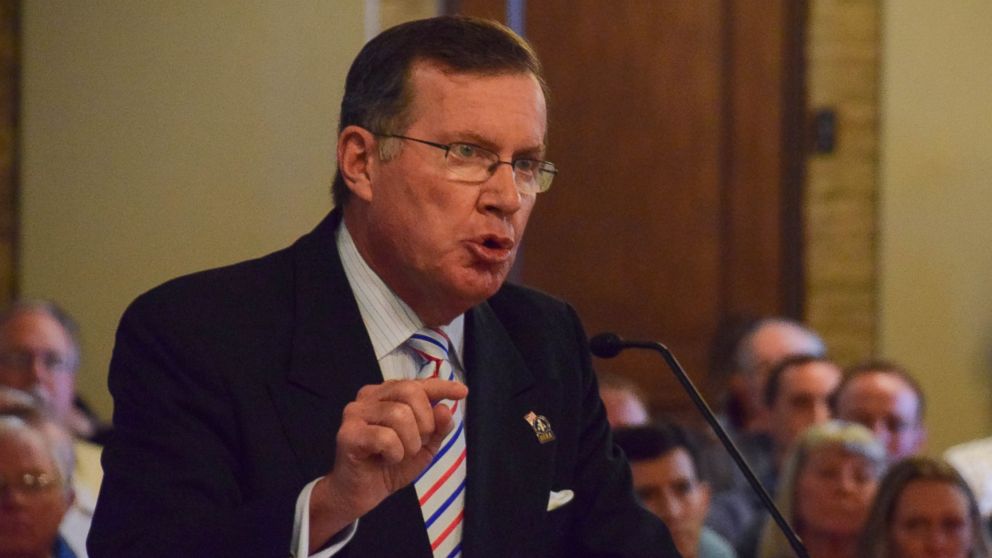 In his closing statement, Fitzpatrick referred to several points from the deposition Hillary gave as a part of his civil lawsuit.
In the deposition, Hillary was asked if he had approached any of Cyrus' family members after the breakup and before the murder to discuss getting back together. "No, not at all," Hillary said in the deposition. Prosecutors said this was a lie and that Hillary called her family members multiple times, including Cyrus' sister on the night before the murder.
In the deposition, Hillary said he never showed up at Cyrus' apartment in late evening hours, letting himself in on his own. Cyrus has said he did let himself in.
The prosecutor said Hillary is normally a "phone junkie" with constant texts and phone calls, but on the afternoon of the murder, "from 3:08 to 5:30, he's in phone blackout."
When a man named Jeff James called Hillary the day of the murder to tell him something happened to Garrett, Hillary said in his deposition he did not ask what happened.
The prosecutor said that an hour after that conversation is when Hillary texted Cyrus "please give me a call I just spoke to Jeff James." And when the cops told Hillary that night that Garrett died, Hillary said in his deposition he did not ask what happened.
"You take a thousand people ... something happened to your ex-girlfriend's son that you lived with for a year ... a thousand of those people are gonna say, 'What happened?' Except him, because he already knew," Fitzpatrick said.
When Hillary was asked if he asked the cops the night of the murder if something happened to Cyrus or Garrett's younger brother, too, Hillary said no.
In the five years since Garrett's murder, there has been "not a single lead, rumor, a hint, of anyone other than him, having any reason to kill that little boy," Fitzpatrick said.
Judge Catena said after closing arguments that he expects to have a decision by next Wednesday or Thursday.