The former commanding officer of the destroyer USS John S. McCain pleaded guilty Friday to a charge of dereliction of duty for his role in last year's deadly collision that killed 10 sailors.
Commander Alfredo J. Sanchez was sentenced to a letter of reprimand and a $6,000 fine, as part of his plea deal agreement he will be required to retire from the Navy.
On August 21, 2017 10 sailors were killed when the destroyer collided with an oil tanker as it entered the busy waterway into the port of Singapore. The collision occurred two months after seven sailors were killed when the destroyer USS Fitzgerald collided with a container ship off the coast of Japan.
Both collisions resulted in the removal of senior leaders in the Navy's Seventh Fleet and to criminal proceedings against the senior leaders and some of the crew members of both ships.
Sanchez, the McCain's commanding officer, was on the bridge when the warship collided with the Alnic MC following an apparent loss of steering control.
A Navy investigation later determined that Sanchez did not follow the recommendations of his command team to have the ship's most experienced bridge team on duty as destroyer entered the busy waterway into Singapore. Investigators also found that Sanchez and the bridge team lacked a familiarity with some of the helm consoles that led to a perceived lack of steering.
Originally charged with negligent homicide, dereliction of duty and hazarding a vehicle, Sanchez pleaded guilty on Friday to a charge of "dereliction in the performance of duties through neglect resulting in death" as part of a plea deal agreement.
He entered his plea at a special court martial hearing held at the Washington Navy Yard.
"I am ultimately responsible and stand accountable for the actions and decisions leading to USS John S. McCain's collision and death of my ten Sailors," an emotional Sanchez told the court. "I will forever question my decisions that contributed to this tragic event and fully recognize that no actions or desires will bring our sailors back."
Sanchez told family members of the 10 sailors, "I will never forget them and they will never be forgotten."
Sanchez acknowledged that he should have "taken the conn" in the three-minute time frame preceding the collision with the tanker. "I should have injected myself into the situation earlier," he said.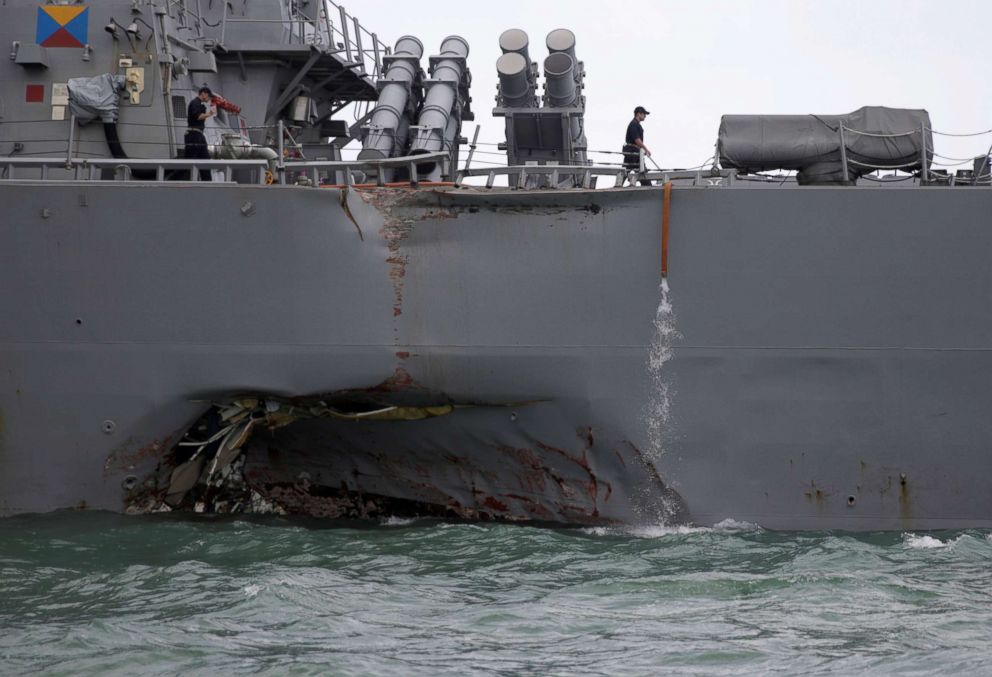 In testimony, Sanchez told the court his belief that he should have also been more rigorous with the crew's training.
"That's my job," he said, "To bring your ship and more importantly your crew back safe."
The judge in the case sentenced Sanchez to a punitive letter of reprimand and a fine of $2,000 in pay for three months. He received credit for the non-judicial punishment given to him last year where he was also given a letter of reprimand and the forfeiture of half a month's pay totaling $4,498.
As part of the plea deal agreement Sanchez will be required to retire from the Navy, and Friday's guilty plea could impact whether he is allowed to retire at his current rank of commander or at a lower rank.
Killed in the collision were Electronics Technician 3rd Class Kenneth Aaron Smith; Electronics Technician 1st Class Charles Nathan Findley;Interior Communications Electrician 1st Class Abraham Lopez; Technician 2nd Class Kevin Sayer Bushell; Electronics Technician 2nd Class Jacob Daniel Drake; Electronic Systems Technician 2nd Class Timothy Thomas Eckels Jr.; Information Systems Technician 2nd Class Corey George Ingram; Electronics Technician 3rd Class Dustin Louis Doyon; Electronics Technician 3rd Class John Henry Hoagland III and Interior Communications Electrician 3rd Class Logan Stephen Palmer, 23.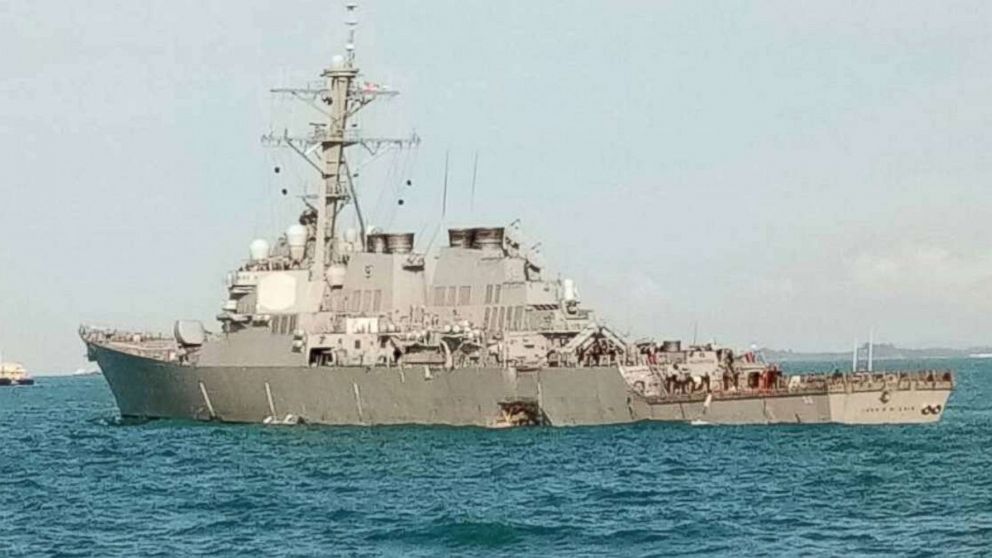 During the sentencing phase of Friday's hearing surviving family members read victim impact statements describing the grief of lost sons, brothers and fathers.
Ricardo Lopez described how his brother's wife and two daughters grieve the loss of his death on a daily basis.
Lopez told the court his brother was on the last deployment of a nearly 20-year naval career and three months away from retiring and that the family is not receiving his retirement benefits "because of this incident".
Riho Findley had met and married her husband Charles in Japan and recalled how she looked forward to visiting the United States with him. But her first visit to America was for his funeral, it was also the first time she met his family.
Findley's sister, Amy Winters, said her brother had once reassured her about his time at sea that the McCain "was one of the safest places to be."
Seven impact statements were read by Kevin Bushell's family members who described their continuing grief over the loss of their son and brother.
"Why was such a wonderful person taken away from us so soon?" asked Krystal Bushell.
Sanchez's wife, Maria Zapata Yordan, also told the court of the emotional toll the collision has had on her husband, noting that some nights he will be yelling orders in his sleep.
In an empathetic aside prior to reading the sentence Captain Charles Purnell,the presiding judge at Friday's hearing told Sanchez, "Don't become the 11th casualty of the McCain. I am convinced you still have a whole lot to contribute."
On Thursday, Chief Boatswain's Mate Jeffery Butler, who was in charge of training sailors on the McCain in using steering equipment, was demoted in rank after also pleading guilty to a charge of dereliction of duty for his role in the collision.
Two weeks ago Lt. Junior Grade Sarah Coppock received a letter of reprimand and a loss of pay after pleading guilty to negligence for her role in the collision of the USS Fitzgerald. At the time of the collision Coppock was the Officer of the Deck as the ship maneuvered through the busy shipping lanes outside Tokyo Bay.
Commander Bryce Benson, the commanding officer of the USS Fitzgerald, has waived a right to a preliminary hearing, no date has been set for a potential court martial. He faces charges of negligent homicide, hazarding a vessel and dereliction of duty.
Two other junior officers aboard the USS Fitzgerald are waiting to hear whether they will face courts martial following preliminary court hearings two weeks ago.