As communities cope with recent anti-Semitic attacks, Jewish officials urge action
Tombstones were found toppled at 2 Jewish cemeteries in one week.
— -- After tombstones were found toppled at Jewish cemeteries in Missouri and Pennsylvania and nearly 100 Jewish Community Centers and schools nationwide received bomb threats, Jewish leaders are urging President Trump to take action.
On Monday, 21 bomb threats were called in to 13 JCCs and eight Jewish schools in Alabama, Delaware, Florida, Indiana, Maryland, Michigan, New Jersey, New York, North Carolina, Pennsylvania, Rhode Island and Virginia, the JCC Association of North America said. No bombs were found at any locations.
There have been 90 incidents this year alone, at 73 locations in 30 states and one Canadian province, the JCC Association said. The FBI and the Justice Department's civil rights division are investigating.
While the threats were false, Jonathan Greenblatt, the CEO of the Anti-Defamation League, told ABC News the threats created "terror" for the people evacuated from the facilities — including preschool children, the elderly and teenagers — as well as their family members.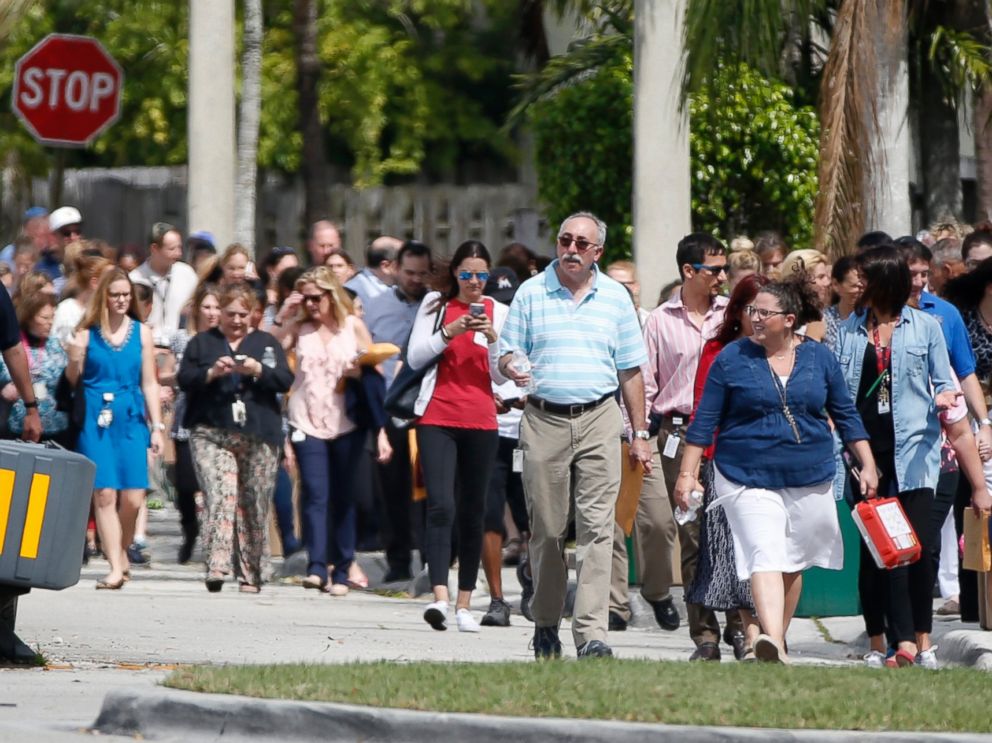 "This is absolutely abnormal, and it is totally unacceptable that anyone, anywhere, at any time could be terrorized because of their faith," he said.
David Posner, the director of strategic performance at the JCC Association of North America, told ABC News that as far as the organization knows, "the FBI has not yet determined who the perpetrators are, so we do not yet know what their motives are." But he added that he sees a "general rise in the level of intolerance in this nation now, and I think it gives the feeling that people can act with greater impunity."
Besides bomb threats, two Jewish cemeteries have been vandalized in one week. On Feb. 20, over 100 tombstones were found overturned at the Chesed Shel Emeth Society cemetery in University City, Missouri. On Sunday in Philadelphia, over 100 headstones were discovered toppled and cracked at the city's Mount Carmel Cemetery. Authorities are investigating both cases.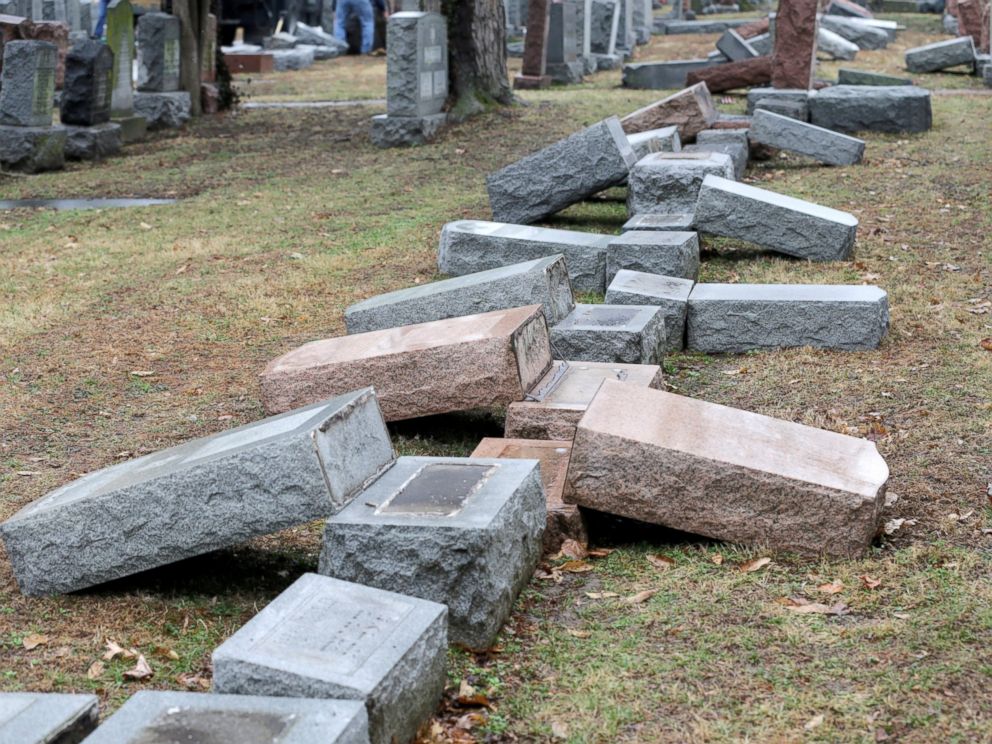 Rabbi Yosef Goldman of Philadelphia's Temple Beth Zion–Beth Israel recalled seeing "row upon row of toppled tombstones" at Mount Carmel Cemetery.
"Many of them weighed several hundred pounds," he said. "What I saw was devastating."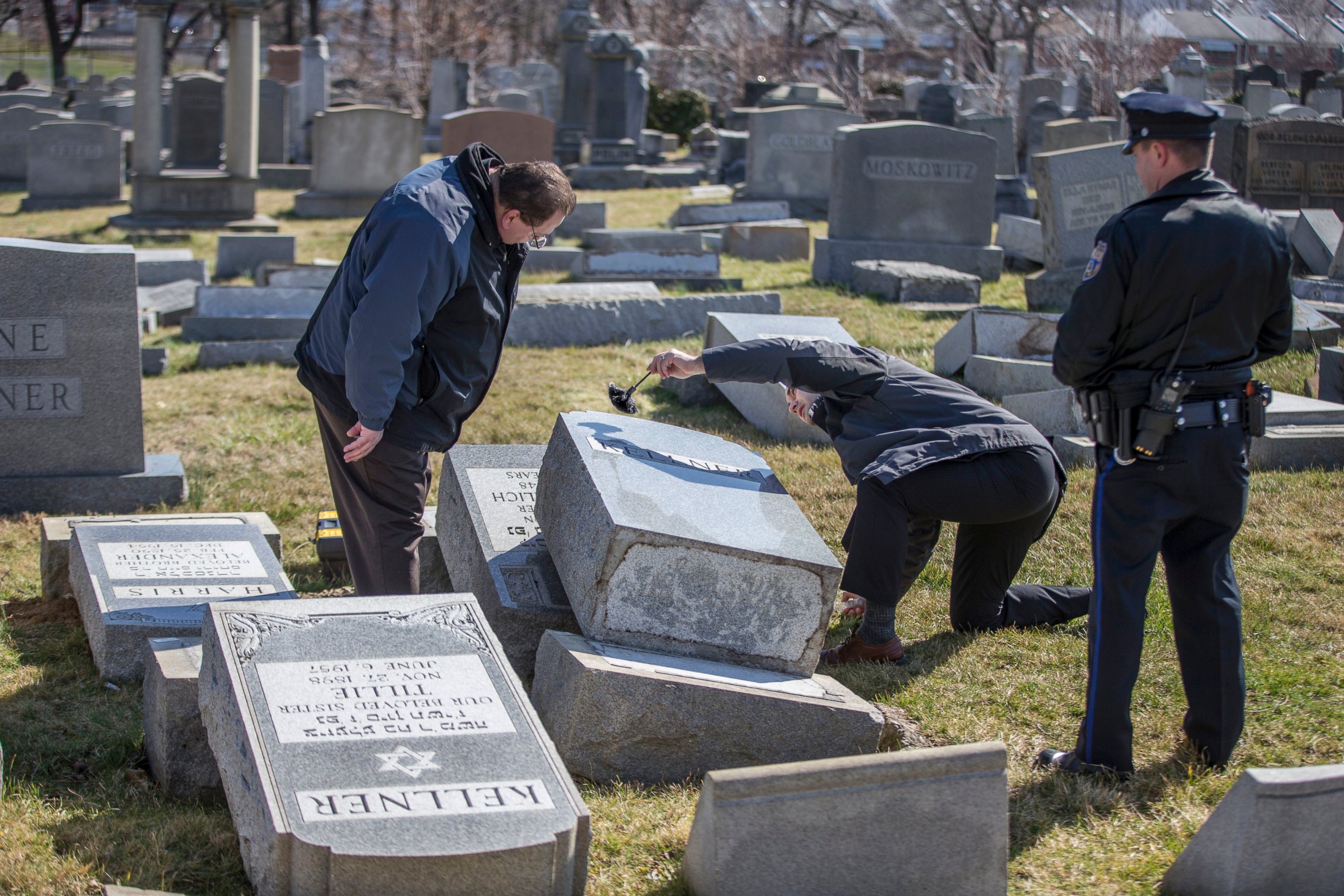 Steve Rosenberg, an official with the Jewish Federation of Greater Philadelphia who visited the cemetery, said, "It was clearly a deliberate act of violence and desecration."
"It took a lot of effort and intention to commit this crime ... Headstones are very heavy, and some of them are gigantic — the size of a car," he added. "This had to be a group of people that were here for a long time."
The Philadelphia Police Department announced Tuesday that the rewards for information leading to an arrest and conviction had risen to a total of $50,000, from an initial $13,000: the Anti-Defamation League, through the Mizel Family Foundation, is offering a $10,000 reward; councilman Allan Domb is offering a $12,000 reward, mayor Jim Kenney is offering a $15,000 reward, an anonymous donor is offering a $10,000 reward, and the Fraternal Order of Police Lodge #5 is offering a $3,000 Reward for information leading to an arrest only.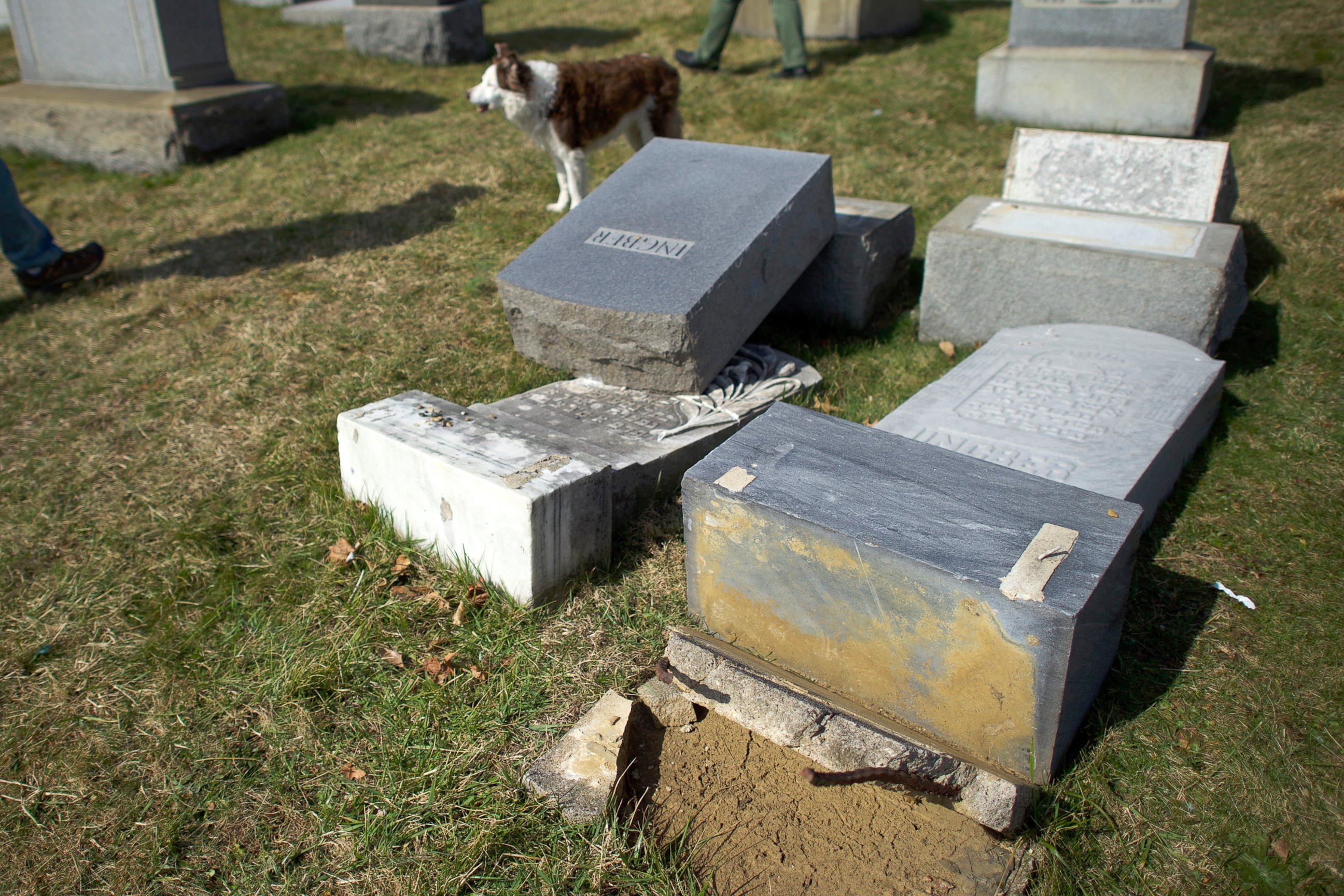 Greenblatt said the anti-Semitism extends beyond cemetery vandalism and threats to JCCs to graffiti at synagogues and a "tsunami of anti-Semitic slander on social media."
Religious attacks in the past week were also aimed at the Muslim community; investigators said a fire at a Florida mosque on Feb. 24 was intentionally set.
Goldman and Greenblatt, who both noted a surge of anti-Semitism and hate crimes since the presidential election, pointed to the role of the Trump administration.
"We have not seen — until last week — our political leadership speak out in a strong way against these incidents," Greenblatt said.
When anti-Semitism was not immediately condemned by the White House, "extremists felt emboldened," he added.
"Words have consequences, and a lack of words have consequences," he said.
On Feb. 21, Trump for the first time directly addressed recent incidents of anti-Semitism after he received backlash from various groups. Speaking at the National Museum of African American History and Culture in Washington, D.C., he called the recent JCC threats a "painful and a very sad reminder of the work that still must be done to root out hate and prejudice and evil."
While Goldman said "it will take more than a single statement" from Trump "to show that he is serious about combating the rise of anti-Semitism," Greenblatt said the president's statement was "really appreciated."
He added, "Now is the time to move from words to action. Now is the time for our leaders to not only speak out but to step up and apply the full force of the federal government to addressing anti-Semitism ... We're prepared to work with the administration to help make that happen."
Vice President Mike Pence visited the desecrated Missouri cemetery last week and condemned the act.
In a statement Monday, Posner of the JCC Association called on the FBI, the White House, the Justice Department, the Homeland Security Department, Congress and local officials to "speak out forcefully against this scourge of anti-Semitism" across the U.S. and to catch the "perpetrators, who are trying to instill anxiety and fear in our communities."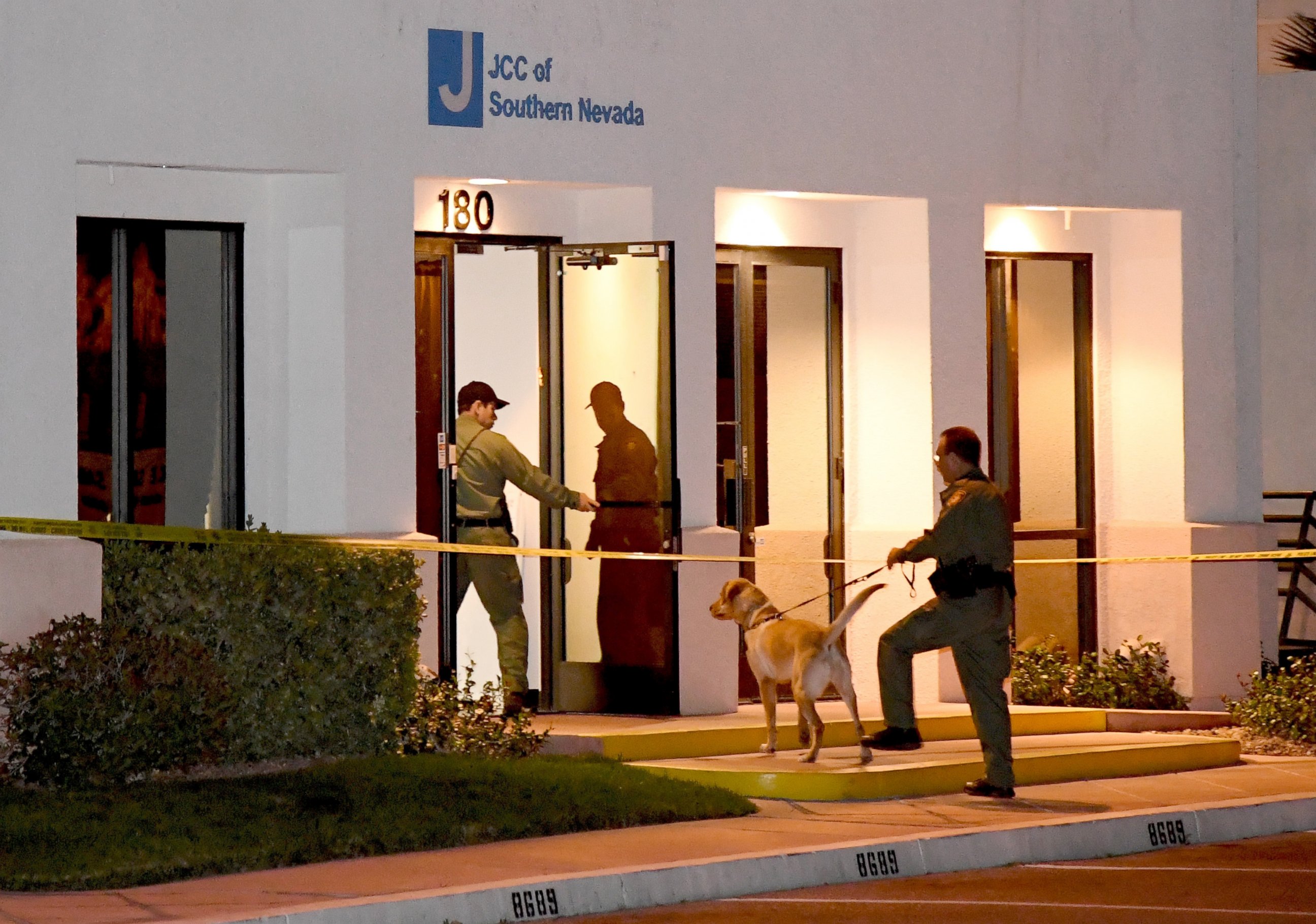 Attorney General Jeff Sessions told reporters Monday, "I have seen the Jewish synagogue attacks, threats and things, which is a very serious and disruptive practice. This Department of Justice will do what it can to assist in pushing back against that and prosecuting anybody who was a part of it."
Goldman said he prayed Sunday evening among the desecrated graves in Philadelphia but remains full of hope. He was joined by members of the community, including Muslims, Christians and a Quaker.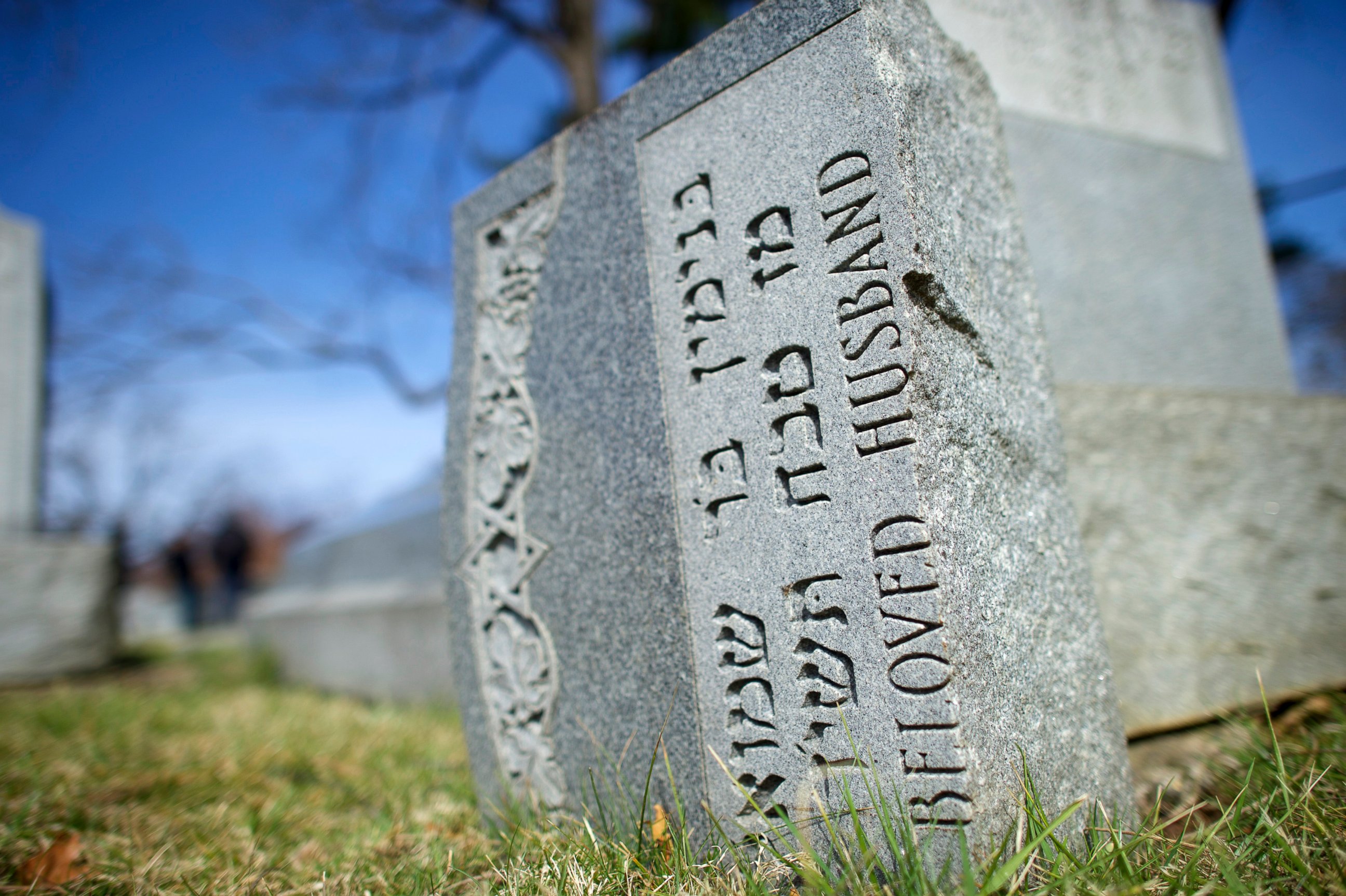 "In the Jewish tradition," Goldman said, "the greatest act of love and kindness one can show is to see to the needs of the dead. It was touching to see all of these people show up to do whatever they could on behalf of those who were laid to rest."
"It was extremely moving," he said. "Faith amidst the darkness."
ABC News' Morgan Korn, Aaron Katersky, Mike Levine, Lindsey Jacobson and Jeff Swartz contributed to this report.