— -- South Carolina made history today by removing the Confederate flag from its post on the state Capitol grounds in Columbia.
Cheers of "U.S.A." erupted as the color guard removed the flag and folded it.
The move came the morning after Gov. Nikki Haley signed the bill, presented after both houses of the state's legislature voted to remove the flag.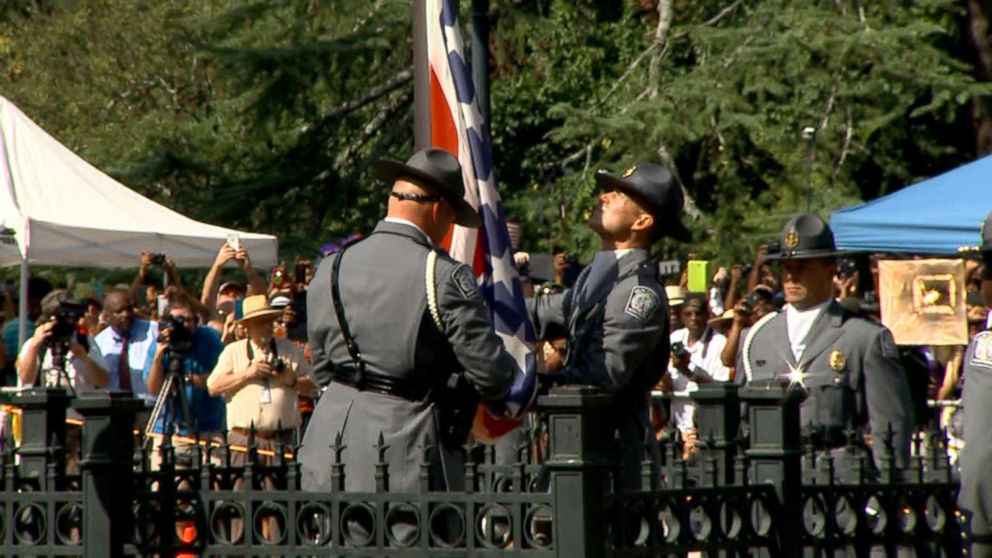 The state's color guard marched out to lower the flag before marching back toward the state Capitol and handing the flag to the curator of the Confederate Relic Room and Military Museum, where it will be stored.
Though there were some spectators dressed in Confederate uniforms and carrying Confederate flags to show their support for the flag, the majority of the few thousand people gathered on the statehouse grounds appeared to be there in support of the monumental removal.
There was a heavy police presence in the area with a police helicopter above but the scene was calm in the time leading up to the 10 a.m. ceremony.
Debate over the flag came after a shooting at a historic black church in Charleston left nine dead and renewed questions over the meaning of the flag.
President Obama weighed in on Twitter immediately after the flag was handed over.
David Bryson was one the thousands who made sure he was there to watch the historic moment, saying that he "would never have forgiven myself."
"I came down here because I'm 60 years old, I was bron and raised here in Columbia so when the flag went up there on that domw, I was 6 years old," he told ABC News.
"I was 15 years ago when they took it down from the dome and put it there and the chant was 'Off the dome, in your face.' So that tells me there's some type visceral- it wasn't just about heritage, it was about hate," he said.
State Rep. J. Todd Rutherford cited the debate leading up to the approval of the bill as an example of the anger that lingers.
"We are better than our politics but our politics is pretty bad," Rutherford told ABC News.
"If you watched debate you saw several members of the Republican party got up and they talked about their history and holding that flag and they simply didn't see a problem with it. And that is what we fought against, we made it happen, and I just, I can't believe that we're here," he said.
Get real-time updates as this story unfolds. To start, just "star" this story in ABC News' phone app. Download ABC News for iPhone here or ABC News for Android here.