— -- Deputies in North Carolina arrested on Tuesday a woman who says she helped pull down a Confederate statue in Durham in response to violence over the weekend in Charlottesville, Virginia, The Associated Press reported.
According to ABC affiliate WTVD, Takiyah Thompson, 22, is charged with disorderly conduct by injury to a statue, damage to real property, participation in a riot with property damage in excess of $1,500 and inciting others to riot where there is property damage in excess of $1,500.
Thompson said her actions were justified because Confederate statues represent white supremacy.
She climbed a ladder to the top of the statue to tie a rope around its neck before the crowd tore it down.
A video showing protesters pulling down the statue in downtown Durham, North Carolina, went viral Monday.
Durham County Sheriff Mike Andrews on Tuesday referred to the action as "civil disobedience that is no longer civil."
"I am grateful the events that unfolded Monday evening did not result in serious injury or the loss of life, but the planned demonstration should serve as a sobering example of the price we all pay when civil disobedience is no longer civil," Andrews said in a statement.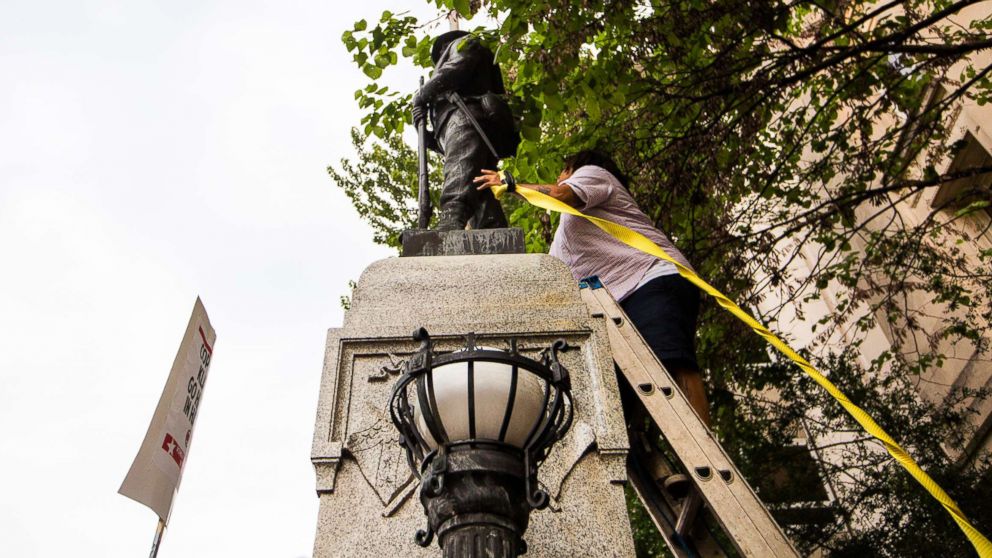 The sheriff said his office focused on "restraint and public safety" during the protest, but it would use the video to investigate the incident as an act of vandalism.
"As the sheriff, I am not blind to the offensive conduct of some demonstrators nor will I ignore their criminal conduct," the statement said. "With the help of video captured at the scene, my investigators are working to identify those responsible for the removal and vandalism of the statue."
Andrews said restraint does not mean inaction, adding that if had he instructed his deputies to engage with the hostile crowd, there would have been injuries and further chaos.
Damaging the Confederate statue was a blatant violation of the law, he said, and his department plans to pursue felony charges against those who did it.
The statue, which had sat in front of the city's old courthouse since 1924, depicts a Confederate soldier wielding a muzzle rifle and lugging a canteen and bedroll, and is dedicated "in memory of the boys who wore gray."
It is unclear if Thompson has an attorney.