— -- A man who fatally shot two New York police officers before killing himself told bystanders to "watch what I'm going to do" moments before the attack, according to police investigators.
The man, identified as Ismaaiyl Brinsley, approached two strangers in Brooklyn's Bedford-Stuyvesant neighborhood on Saturday afternoon, asked them about their gang affiliation, told them to follow him on Instagram, and then told them to watch his actions, NYPD Chief of Detectives Robert Boyce said today.
He then approached a parked police patrol car and fired four shots, fatally hitting officers Wenjain Liu and Rafael Ramos.
A clearer picture of Brinsley started to emerge as Boyce released details about the shooter's troubled history and his attack on his ex-girlfriend in Maryland that started the violent day, which ended with his suicide on a subway platform.
Boyce said that Brinsley gained access to his ex-girlfriend's apartment in the early hours of Saturday morning using a key "he's not supposed to have."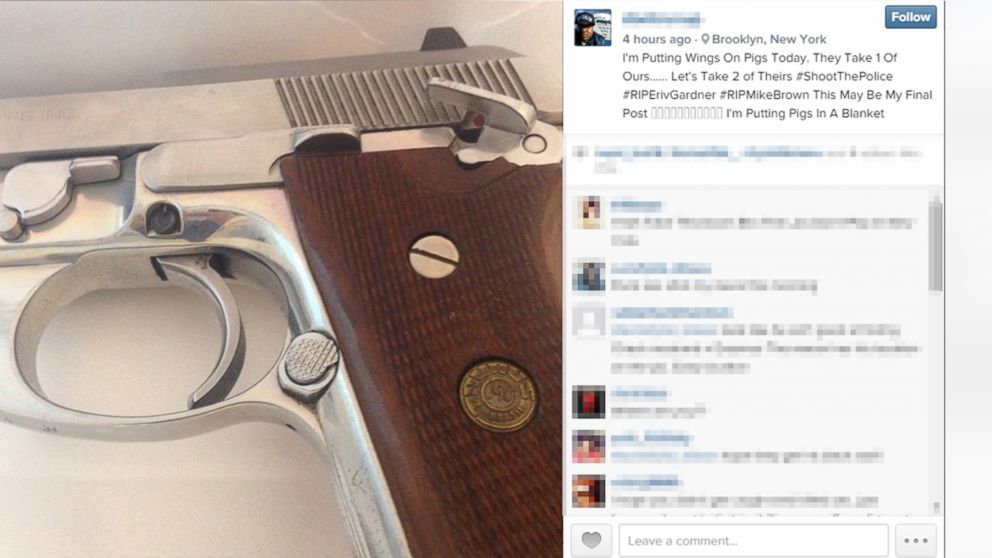 The ex-girlfriend, who Baltimore County Police identified as Shaneka Thompson, called her mother during the confrontation with Brinsley and she overheared part of the argument, but the call ended before Brinsley shot Thompson in the abdomen, Boyce said.
Brinsley fled the scene with Thompson's phone and proceeded to call Thompson's mother multiple times in the coming hours. Investigators have since spoken to Thompson's mother who says that he told her "he shot her by accident and that he hopes she lives," Boyce said.
The young woman's mother contacted Baltimore police and they were able to track his journey based on the route of her phone as he took a BoltBus to Manhattan, the chief of detectives said.
Boyce said Brinsley discarded the phone at 12:07 p.m., a little over an hour after arriving in New York. That left police with a less than three-hour gap in his activity between the time he ditched the phone and the moments before he shot the police officers.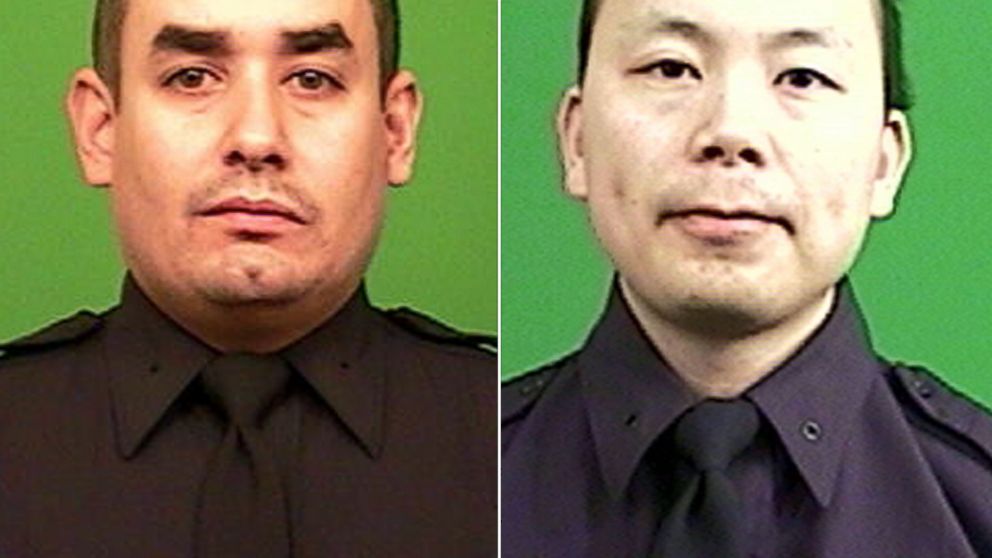 In addition to finding records of 19 arrests in two states -- Georgia and Ohio -- investigators have spoken to a number of Brinsley's relatives, many of whom said they were estranged from the 28-year-old.
Brinsley's mother lives in Brooklyn and said that he had a troubled childhood and was often violent, Boyce said.
His mother said that he had attempted suicide in the past and she had not spoken to him in the past month. She also indicated to police that she believes he has undiagnosed mental problems and she did not know whether he was on medication.
According to Boyce, she told police that she was afraid of him.
Boyce said that while Brinsley's social media accounts showed posts expressing anger at the government, flag burning and explicitly mentioning the names Michael Brown and Eric Garner, police do not believe that he had any gang affiliation. Boyce said Brinsley's mother told police he was raised in a Muslim family and did not show any extremist inclinations.