— -- A group of California cops were caught on hidden surveillance video allegedly joking about kicking a 54-year-old legally blind woman missing one leg "in her f****** nub," according to the woman's lawyer and the footage.
The Santa Ana Department police officers "bashed the doors in" of Sky High Collective, the reportedly unlicensed marijuana dispensary, with their guns drawn last month on May 27, said Marla James, a volunteer at the dispensary who said she was called a "one-legged old Benita" by a cop in the surveillance footage.
After arresting the employees and getting them outside, the cops were also caught on hidden camera taking down the store's visible cameras, saying, "Can we break some f****** cameras and make the boss happy?" They also played a game of darts, James told ABC News, citing the video footage.
"We knew there was going to be a raid soon around that time because they'd been raiding other marijuana facilities in the city and ours didn't have a business license," James said. "They came in with guns as you can see in the video and told everybody to get on the floor, and everyone was very respectful and cooperative."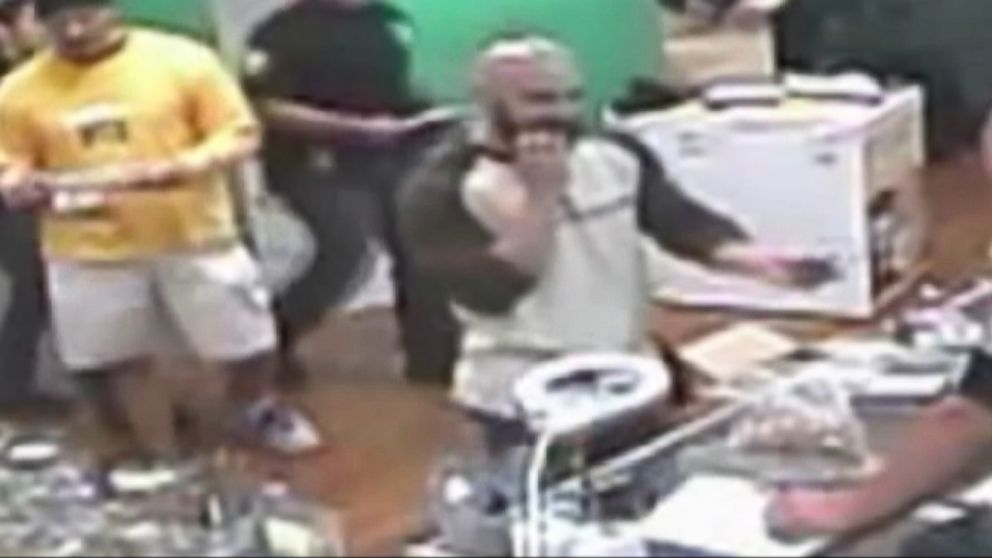 James and her husband were in a back room, where she was in a wheelchair, when they were told by the officers to get down, she said.
"I told them I couldn't because of my disability, and I asked them to be careful with my husband because he's 68 years old, but they cut his wrists when they handcuffed them," James said.
After all the customers and workers were taken outside, a hidden camera caught the cops taking down the visible security cameras, removing their masks and armor and then seemingly putting down their guard, according to the footage.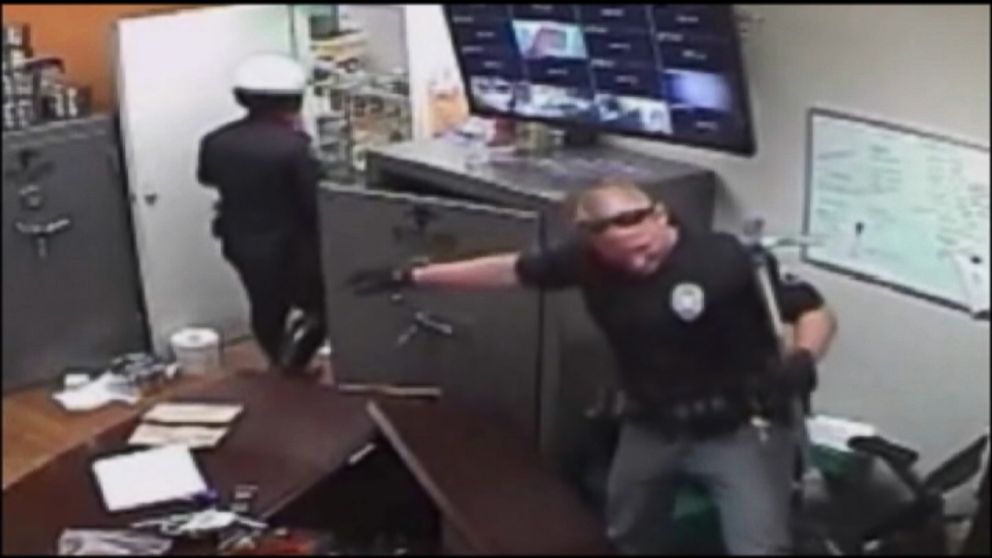 An officer can then be seen eating something from a counter, which James' lawyer, Matthew Pappas, believes is a marijuana edible, he told ABC News station KABC.
"He's eating it right there in the marijuana collective," he said. "If you're a police officer, you probably shouldn't be eating things from a marijuana collective."
It was not clear what the officer was eating.
At one point in the footage, one officer asks, "Did you punch that one-legged old Benita?"
"I was about to kick her in her f****** nub," a female officer replies while laughing, the video shows.
James said she "felt really bad" after seeing the footage.
"It's very disappointing to see professionals acting like children, not doing their job and being mean-spirited when I expected to be protected and served, especially as a disabled person," she said. "It saddens me. I'm not putting this on all police because I believe most are good, and I can trust them, but these are bad apples, and bad apples should be weeded out or retrained."
James now plans to sue Santa Ana for the actions of the unidentified female officer who joked about kicking her, KABC reported.
Her lawyer did not return ABC News' repeated calls requesting additional information about the planned lawsuit.
The Santa Ana Police Department did not respond to ABC News' requests for comment.
Meanwhile, the Santa Ana Police Department told KABC every allegation will be thoroughly investigated.
"Obviously, we're concerned about what we saw in this edited video," Santa Ana police Cmdr. Chris Revere told KABC. "Anytime we get an allegation or indication that our officers might be engaged in misconduct, we want to make sure we conduct a thorough administrative investigation.
"We expect our officers to hold themselves to a certain standard and represent the department and the profession well," Revere added. "If that wasn't done in this case, it's certainly something that, as part of the administrative investigation, the chief will make the appropriate disciplinary recommendation if it's warranted."