— -- Incidents involving a popular child's toy known as "fidget spinners" are being investigated by the Consumer Product Safety Commission after two separate reported cases of children swallowing parts of the gadget sparked concerns.
"CPSC is investigating the incidents with kids swallowing fidget spinners in Texas and Oregon," the agency wrote in a statement to ABC News. "We advise parents to keep these away from young children because they can choke on small parts. Warn older children not to put fidget spinners in their mouths."
Fidget spinners are a stress-relieving toy advertised as a way to help people focus.
Scott Kollins, clinical psychologist and director of the ADHD program at Duke University, said there is no evidence to support claims of the benefits of fidget spinners.
"There has been no research into the efficacy or safety of these toys to help manage the symptoms of ADHD, anxiety, or any other mental health conditions in children (or adolescent, or adults, for that matter)," Kollins told ABC News. "The observations by parents or teachers are interesting but without carefully controlled studies, it's impossible to draw any sorts of conclusions about whether these toys are useful, and it's hard to imagine any sort of reasonable rationale as to why they would offer benefit."
Mom Kelly Rose Joniec of Houston, Texas, posted an X-ray she said was taken after her 10-year-old daughter swallowed a piece of the toy. The girl had to undergo surgery to have it removed, she said.
"Our full attention and focus is on caring for our daughter and ensuring she continues to lead a healthy life," Joniec said in a statement through Texas Children's Hospital, where her daughter's surgery took place.
The other case, in Oregon, involved a 5-year-old boy named Caden whose mother said he swallowed a part of the toy and choked before being rushed to the hospital. The boy's mother, Johely Morelos, said she showed Caden a photo of the incident in Texas as a warning, but the child still tried to swallow a piece of the toy.
Morelos said Caden's uncle bought him a fidget spinner as a gift on Amazon, which carries the toy made by multiple manufacturers.
Amazon declined ABC News' request for comment.
Fidget spinners have three prongs attached to a circle that spin when you hold onto the center. Twirling the toy makes the prongs become a blur.
Learning Express Toys, a company that sells fidget spinners online and in store around the country, said it recommends the gadget for ages 12 and up.
"Spinners are marked as a choking hazard containing small parts," Learning Express added in a May 18 statement to ABC News. "However, we will also be placing signs in our stores to make sure parents are aware that spinners are a potential choking hazard. As with any toy, parents must choose age-appropriate toys and use caution if their child has a tendency to put things in their mouth."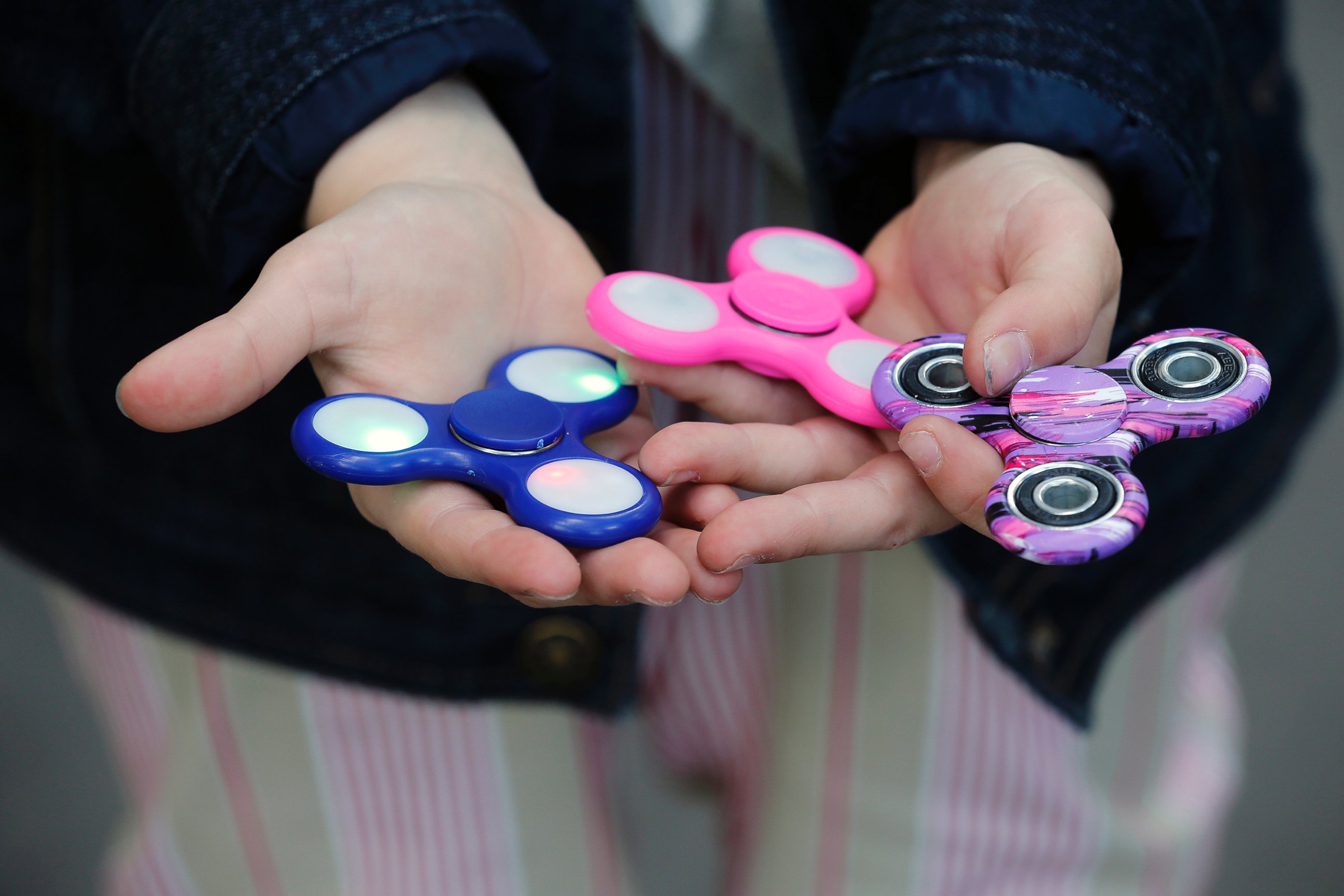 Nancy Cowles, executive director of the nonprofit Kids in Danger, said any toy that is sold in the United States has to meet toy safety standards, but added that it would be difficult to track down the manufacturers of all fidget spinner products. Cowles also noted that children seem to be choking on the spinner toys because they are falling apart.
Learning Express Toys said that the bearings on fidget spinners should not fall out unless consumers use a tool to remove them.
Some schools are now banning the toys, not just because they may be dangerous, but because teachers see them as a distraction.
Wyandot Elementary School in Dublin, Ohio, sent parents a letter this month stating that students are no longer allowed to bring fidget spinners to school. Other schools within Dublin City school district also implemented the new rule, according to ABC affiliate WSYX in Columbus.
"The district said fidget spinners have become a distraction in the classroom," reports WSYX. "Students are arguing over the spinners and get upset when theirs go missing."
The CPSC urges consumers to report any incidents with fidget spinners to CPSC at www.SaferProducts.gov.