— -- One person died and three others were injured after a construction crane fell in downtown Manhattan this morning.
The crane, which fell around 8:24 a.m., toppled parked cars on Worth Street in the Tribeca neighborhood.
One person was pulled from a crushed vehicle, ABC owned station WABC reported. New York City's Office of Emergency Management said three individuals were injured in the crash, two seriously with lacerations to the head. A fourth individual was killed, and has since been identified as David Wichs, a 38-year-old man.
New York City Mayor Bill de Blasio said in a press conference this morning that a full police investigation was underway. He said this was the first crane collapse in the city since 2008.
"This is a very sad incident. Thank God it was not worse," the mayor said. "Our hearts go out to the family of the individual who was lost."
De Blasio said the crawler crane collapsed as it was being "lowered into a safe and secure position." The manufacturer of the crane requires that the crane be moved into a "secure position" if winds top more than 20 miles per hour, according to de Blasio. New York City is currently experiencing a winter storm with wind gusts in the 20 mile per hour range. The crane was being used to replace generators and air conditioners on the building's roof and had been inspected at 6:20 a.m. on Thursday. It was "found to be in full compliance," city officials said.
The mayor noted that FDNY officers and personnel of utility company Con Ed are sweeping nearby buildings in search of gas links after gas odors were reported in the area. Gas has been temporarily turned off in most buildings in the area as a precaution, de Blasio said.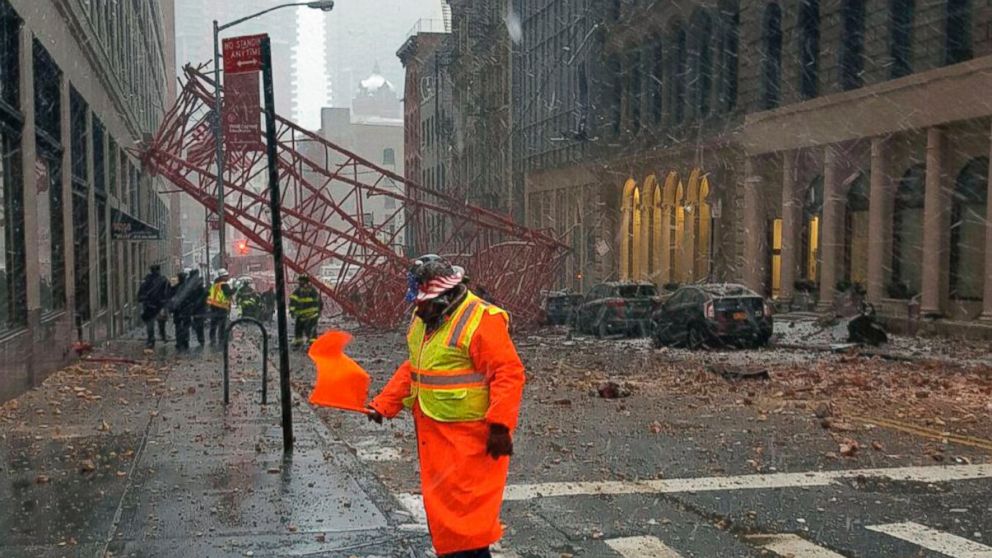 The force of the collapse also caused a water main break at Worth Street and West Broadway.