— -- An estimated 400 Dakota Access pipeline demonstrators clashed early Monday morning with police in North Dakota at a highway barrier manned by dozens of officers. Advancing protesters met a police response of tear gas, rubber bullets and a water cannon that soaked them in below-freezing temperatures.
The protesters gathered near Backwater Bridge, trying to go north on highway 1806, and law enforcement officers formed a line north of the bridge to stop them.
Protest organizers say 167 people were hurt, with seven hospitalized for head injuries. The county sheriff's office said that it has "not received any reports that can be verified of protesters that were injured" and that one officer was hit in the head with a rock.
At least one person was arrested.
Video of the confrontation live-streamed by the protesters appeared to show law enforcement using tear gas and a water cannon, and protesters complained of being doused in the frigid temperatures.
Rema Loeb told The Associated Press he was forced to retreat from the bridge because he feared being hit with water on the freezing night. Others, he said, needed medical treatment after inhaling tear gas.
"It's been just horrible," said Loeb, 83, who traveled from Massachusetts about two weeks ago to join the protests.
Tara Houska, an organizer with Honor the Earth, told The Bismarck Tribune that a gym in nearby Cannon Ball was opened to aid people who had been hit with water or tear gas.
The sheriff's department said protesters were trying to start fires, and the Mandan Rural and Bismarck fire departments were on the scene. Protesters said the they started the fires to warm up after being hit with the water cannon.
The incident began around 6 p.m. local time Sunday, police said, when protesters removed a truck that had been on the bridge since Oct. 27.
Police said 100 to 200 protesters remained near the bridge at 1:00 a.m.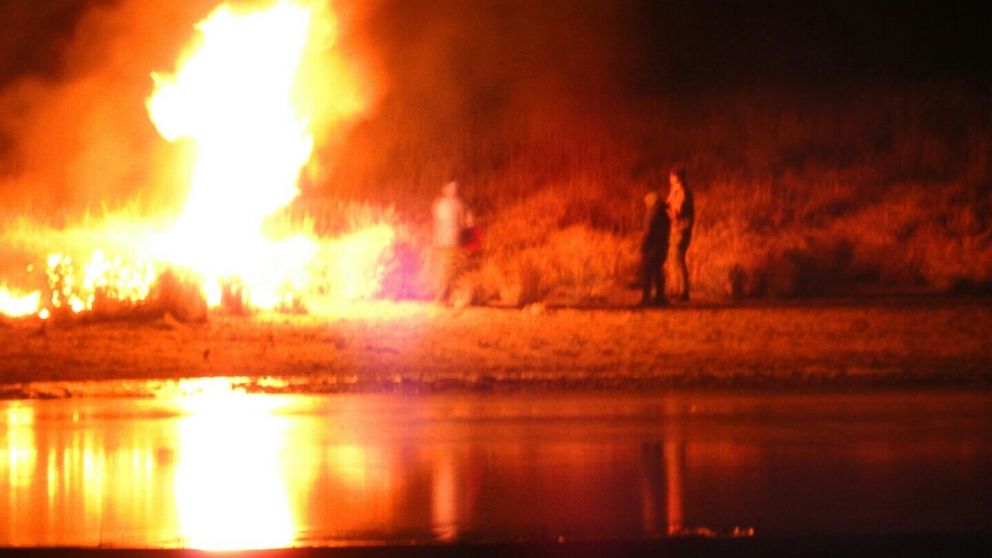 ABC News' Devin Villacis and The Associated Press contributed to this report.