— -- The suspected gunman in an attack on police officers in Dallas — which left five cops dead and seven injured — had bombmaking materials, ballistic vests and rifles in his house, police said.
The news from police came as police pieced together the background on the suspect, 25-year-old Micah Xavier Johnson, in the ambush-style shooting Thursday night.
Detectives are also analyzing information in a "personal journal of combat tactics" they recovered, Dallas police said.
Officials said this afternoon it appears that Johnson was the lone shooter. Dallas Mayor Mike Rawlings described the gunman as a "mobile shooter" who wrote manifestos on how to shoot and move.
Johnson, who was killed by police when they detonated a bomb delivered by robot, served as a U.S. Army reservist until April 2015. He was trained and served in the Army Reserve as a carpentry and masonry specialist, defense officials said.
Johnson, a private first class, was deployed to Afghanistan from November 2013 to July 2014, according to his service record. His former employer, Jeppi Carnegie, CFO of Touch of Kindness LLC, said Johnson had worked for the residential health care company since January 2015. He worked from his mother's home in Mesquite and cared for his 21-year-old brother, Carnegie told ABC News.
Carnegie described Johnson as a "good employee" and a "family man" who loved his younger brother. The company never had any issues with Johnson and was always volunteering to work more hours.
Although Carnegie said it was aware that Johnson was, in his words, "pro-black," he said wasn't aware of his employee's having any affiliations with civil rights groups. He added that he was "surprised and disappointed" when he found out Johnson was a suspect in the Dallas ambush.
Carnegie was on duty as a fireman at last night's protests in Dallas, he said, and didn't find out Johnson was a suspect until Carnegie's mother called him Friday morning.
"That could've easily been me," Carnegie said. "He could've mistaken me for a cop, as a first responder on the scene."
Dallas police said in a statement this afternoon that Johnson's Facebook account "included the following names and information: Fahed Hassen, Richard Griffin, aka Professor Griff. Griffin embraces a radical form of Afrocentrism, and Griffin wrote a book, 'A Warrior's Tapestry.'"
Further details were not immediately available.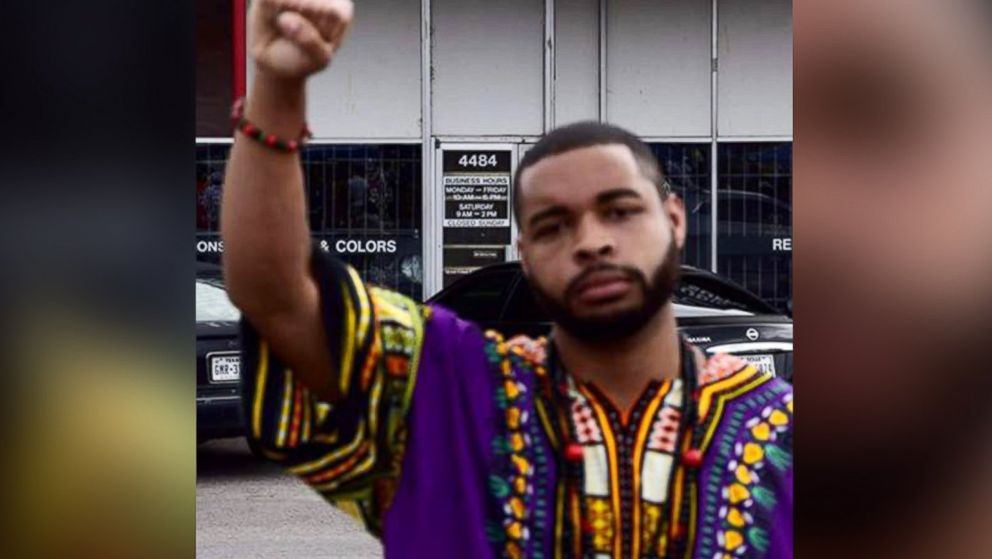 During the overnight standoff that led to his death, the suspect told a hostage negotiator that he was upset about the recent police shootings of two black men and that he wanted to kill white people, especially police officers, Dallas Police Chief David Brown said at a news conference this morning.
The suspect "wanted to kill officers" and "expressed anger for Black Lives Matter," Brown said.
"None of that makes sense," Brown said.
The suspect also said he was not affiliated with any groups and that he was acting alone, Brown said.
Dallas police said this afternoon that Johnson had no criminal history. Police said "others have identified him as a loner."
While three suspects — two men and one woman — were detained by police after the shootings, the mayor said today they have since been released.
Two law enforcement sources told ABC News that police have found no connection between Johnson and the three people detained during the overnight shootings.
After officials negotiated with the suspect for several hours overnight and exchanged gunfire with him, Brown said, police "saw no other option but to use our bomb robot ... for it to detonate where the suspect was."
ABC News' Stephanie Wash contributed to this report.