Texas Authorities Had Warned About Biker Gang Rivalry Before Gunfight That Left 9 Dead
Gang members face "organized crime" charges in brawl that left 9 dead.
— -- Texas authorities issued a bulletin to law enforcement agencies earlier this month warning of increasing violence between two rival biker gangs blamed for a shootout outside a restaurant in Waco that left 9 people dead.
The May 1 bulletin, obtained by ABC News affiliate WFAA-TV in Dallas, said there had been skirmishes and talk of war between the Bandidos and Cossacks for months.
The bulletin was issued by the Texas Joint Information Center run by the Texas Department of Public Safety. It said the conflict might stem from Cossacks refusing to pay Bandidos dues for operating in Texas and for wearing the Texas patch on their vests without the Bandidos' approval.
Waco police said today that 170 suspected gang members were arrested after the meeting between the rival gangs at a restaurant Sunday turned into a deadly brawl, and many are being charged with engaging in organized crime.
They were ordered held on bond of $1 million for each suspect.
McLennan County Justice of the Peace W.H. Peterson said the bond was justified because of the violence that was unleashed at a shopping market that was crowded with innocent bystanders.
"We have nine people dead, because these people wanted to come down and what? Drink? Party?" Peterson said. "I thought it was appropriate."
Eight people died at the scene at the Twin Peaks restaurant and one at the hospital, in killings Waco Police Sgt. Patrick Swanton characterized as capital murder "because of the number of victims that were killed in one episode here."
Eighteen people were taken from the scene to hospitals, mostly for gunshot and stab wounds, Swanton said at a news conference. Everyone involved was a gang member, police said.
"This was a true gang fight that occurred at this location," Swanton said earlier Monday, adding that the people involved were using "bad-guy weapons" such as brass knuckles, knives and guns.
Police originally reported that 192 people were arrested, but Swanton later said the number has been revised to 170. Swanton added that the exact number of arrests still could change.
"Those individuals are being charged with engaging in organized crime, in reference to the shooting at Twin Peaks, which is a capital murder," Swanton said.
Swanton said five known biker gangs were involved but he declined to name them.
"I am not about to give them the respect of mentioning their names," he told reporters.
The gang members had gathered at the Twin Peaks Restaurant in the Central Texas Market Place early in the afternoon to discuss their differences, Swanton said.
Swanton did not give a specific timeline of events today, but said the incident "happened very fast."
A fistfight began and quickly escalated to include knives and firearms, and then spilled into the parking lot, where gang members fired at each other, Swanton said.
"As that fight progressed, it progressed very rapidly from hands and feet as weapons to chains," he said. "My understanding [is that] a club was involved and knives were involved."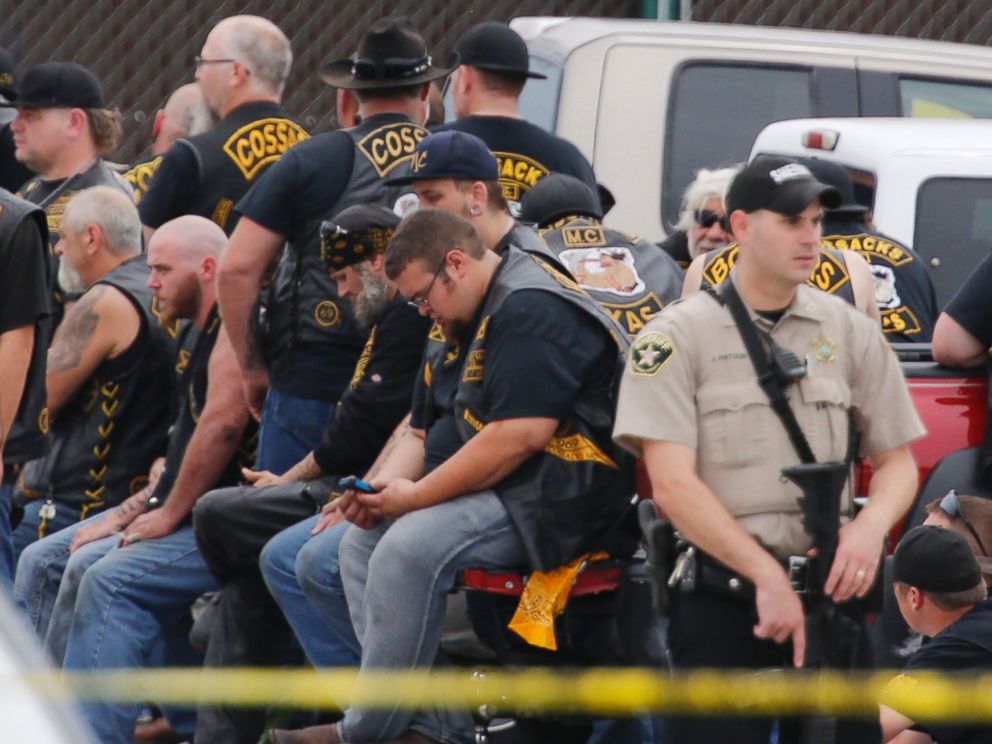 Officers were at the scene when the shooting started, Swanton said, and responded within 30 to 45 seconds.
Some officers "appropriately" returned fire at the bikers, Swanton said.
No officers were injured, police said.
Police closed the entire Central Texas Market Place shopping area following the shooting. The FBI and the Bureau of Alcohol, Tobacco, Firearms and Explosives were also at the scene to help with the investigation.
Police processed evidence from the crime scene throughout the day and Swanton described the scene as "pretty secure."
Over the past few months, Swanton said, the police were aware of rival biker gangs causing issues at the Twin Peaks restaurant.
Swanton said officials did not order Twin Peaks to keep the restaurant closed, but he thought it was the right thing to do.
"I hope that they have the courtesy and respect for our citizens and the dead individuals there that they will use this as a cooling-off period and not be open for business," Swanton said.
In addition, the restaurant's corporate parent said it was "immediately revoking" the franchise agreement with the location where the shootings occurred.
"We are in the people business and the safety of the employees and guests in our restaurants is priority one," Twin Peaks said in a statement. "Unfortunately the management team of the franchised restaurant in Waco chose to ignore the warnings and advice from both the police and our company, and did not uphold the high security standards we have in place to ensure everyone is safe at our restaurants. We will not tolerate the actions of this relatively new franchisee and are immediately revoking their franchise agreement. Our sympathies continue to be with the families of those who died and are very thankful no employees, guests, police officers or bystanders were hurt or injured."
Jay Patel, operating partner of the Twin Peaks Waco franchise, earlier posted a statement on Facebook saying the franchise had worked with police.
"We are horrified by the criminal, violent acts that occurred outside of our Waco restaurant today," the statement said. "We share in the community's trauma. Our priority is to provide a safe and enjoyable environment for our customers and employees, and we consider the police our partners in doing so. Our management team has had ongoing and positive communications with the police and we will continue to work with them as we all want to keep violent crime out of our businesses and community. We will continue to cooperate with the police as they investigate this terrible crime."
Get real-time updates as this story unfolds. To start, just "star" this story in ABC News' phone app. Download ABC News for iPhone here or ABC News for Android here. To be notified about our live weekend digital reports, tap here.