— -- A suspect is at large after two men were shot dead on the campus of Grambling State University in northern Louisiana early Wednesday morning, authorities said.
Police said they believe there was an altercation in a dorm room on campus that led up to the shooting in a courtyard outside.
"This tragic incident appears to have occurred between persons that knew each other, to some extent at least. There are no indicators that this incident bears any resemblance to any of the random acts of violence or domestic terrorism that have been experienced around our country in the recent weeks," Lincoln Parish Sheriff Mike Stone said in a statement today.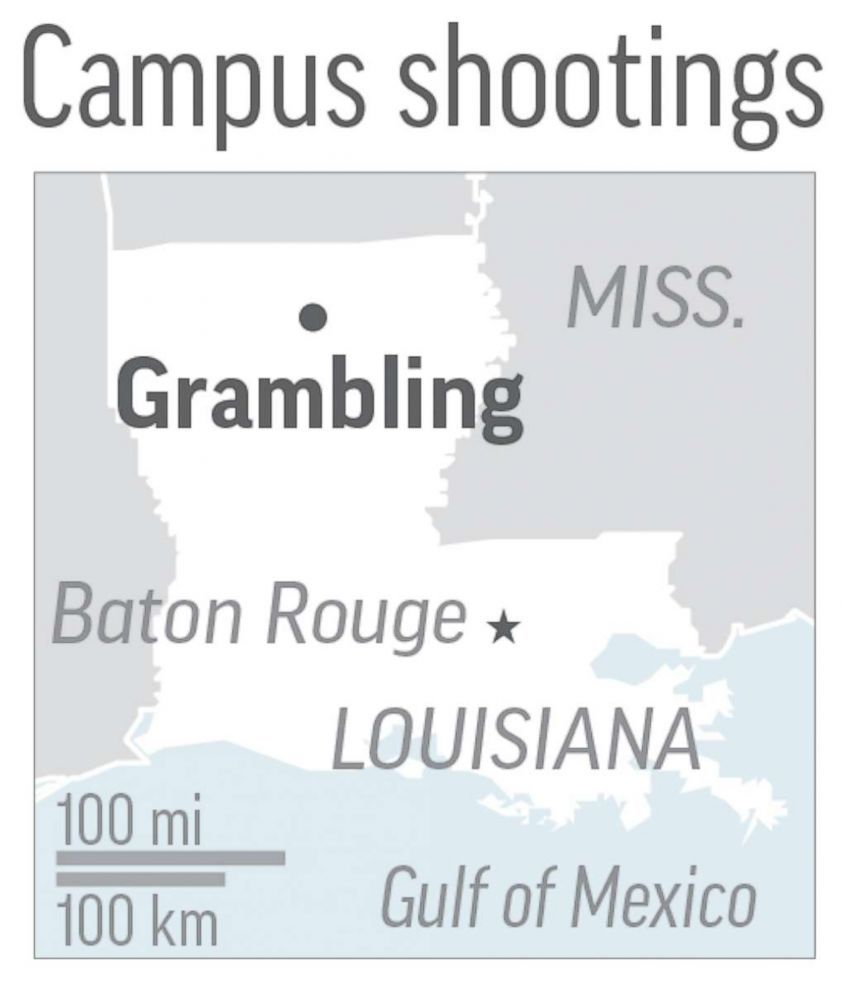 The suspect fled the scene, according to the Lincoln Parish Sheriff's Department, which said it doesn't believe the suspect was a GSU student. The suspect has not been apprehended.
The victims were Earl Andrews, a senior at Grambling State, and Monquiarious Caldwell, who was not a student, Grambling State University Director of University Communications Will Sutton said. Both men were 23 years old and from Farmerville, Louisiana.
"This is a horrible tragedy. Nothing that anybody would've ever wanted to have happened," Sutton said in an on-camera statement early Wednesday. "Our prayers are with the victims and their families. There's no place for violence on Grambling State University campus. We always encourage our students to be safe, to be aware, watch who they hang out with, and watch who's around at all times. This is a most unfortunate situation."
In a statement, the university's president offered his condolences for both victims and announced that a prayer vigil would be held this afternoon.
"We offer our deepest condolences to their families," Grambling State University President Richard Gallot wrote in the statement. "We are working with authorities to do all that we can to ensure your safety on campus, our first priority."
The Sheriff's Department said this morning that "investigators are in the process of gathering evidence, interviewing persons and securing warrants."
The sheriff's office said extra patrols will be provided on and around campus "for the foreseeable future."
Anyone with information is asked to contact Crimestoppers at 318-255-1111.
ABC News' Briana Montalvo, Matt Foster, Rachel Katz and Amanda Maile contributed to this report.