— -- A possible sighting of the suspect in a shooting rampage against his ex-wife and her family outside Philadelphia -- killing six people, including his 14-year-old niece -- expanded the search for the former Marine, authorities said.
Officials identified the suspect as Bradley William Stone, 35, a former Marine reservist who served from 2002 to 2011. He had one deployment to Iraq, leaving with the rank of sergeant, according to a Marine spokesperson.
Stone allegedly gunned down six members of his ex-wife's family at three separate locations - killing his ex-wife, his former mother-in-law, former grandmother-in-law, sister-in-law, brother-in-law and niece.
His former nephew, 17, was wounded and taken to a hospital in Philadelphia for treatment. Stone took his two children to a neighbor's home before the shootings began, Montgomery County District Attorney Risa Vetri told reporters, and they are safe.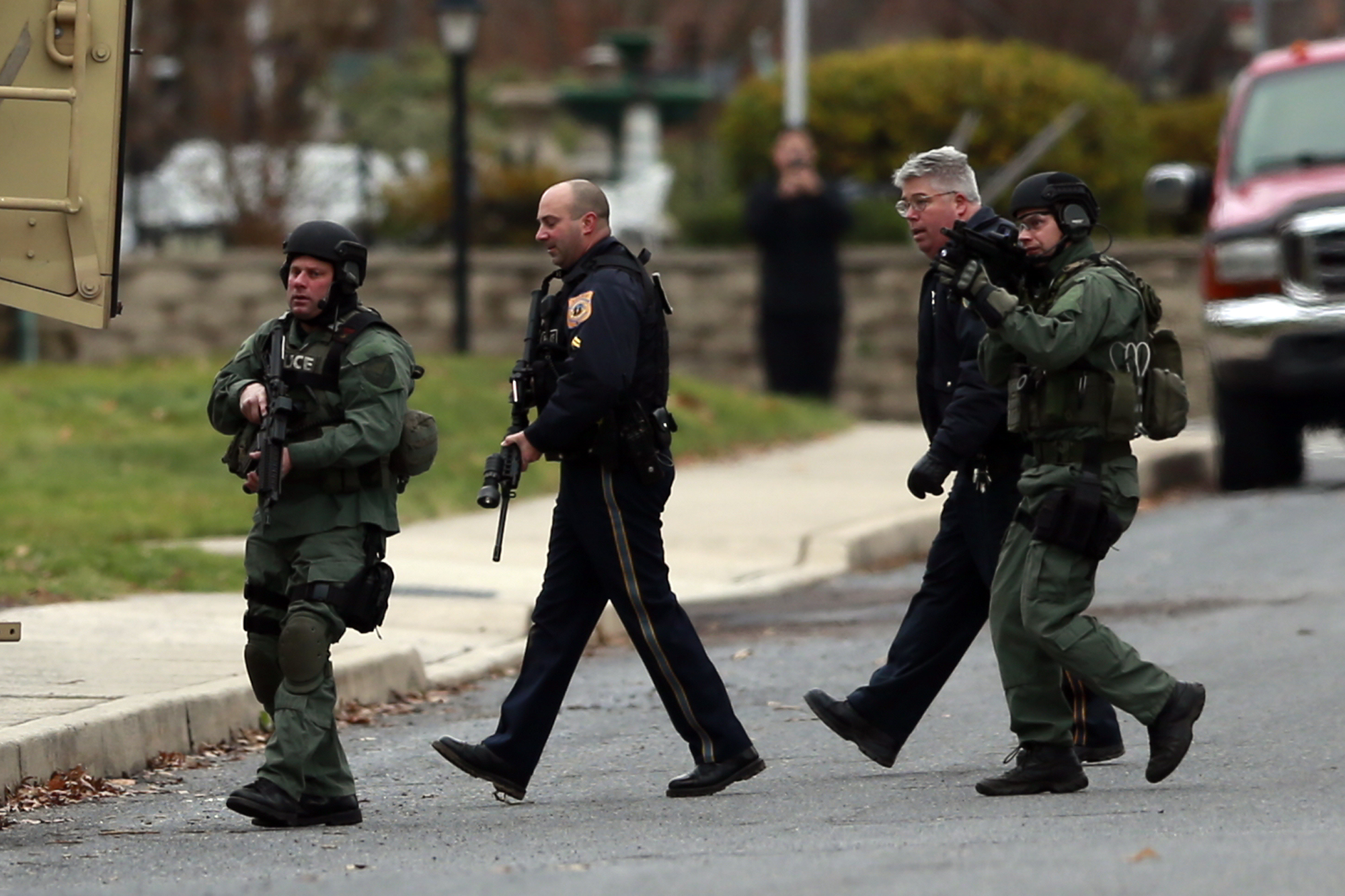 A man matching the description of Stone was spotted, in Doylestown, Bucks County, this evening after a resident was confronted by the man with a knife, according to a statement from Doylestown Township.
The victim was walking his dog when a man, described as a white male approximately 5'10" wearing camouflage clothing, demanded his car keys.
The victim resisted and fell to the ground, but had a gun and fired multiple rounds at the suspect, according to the statement.
The man matching Stone's description was last seen running into the woods.
Police scanner traffic indicated that a large number of police and K-9 units were searching the area this evening.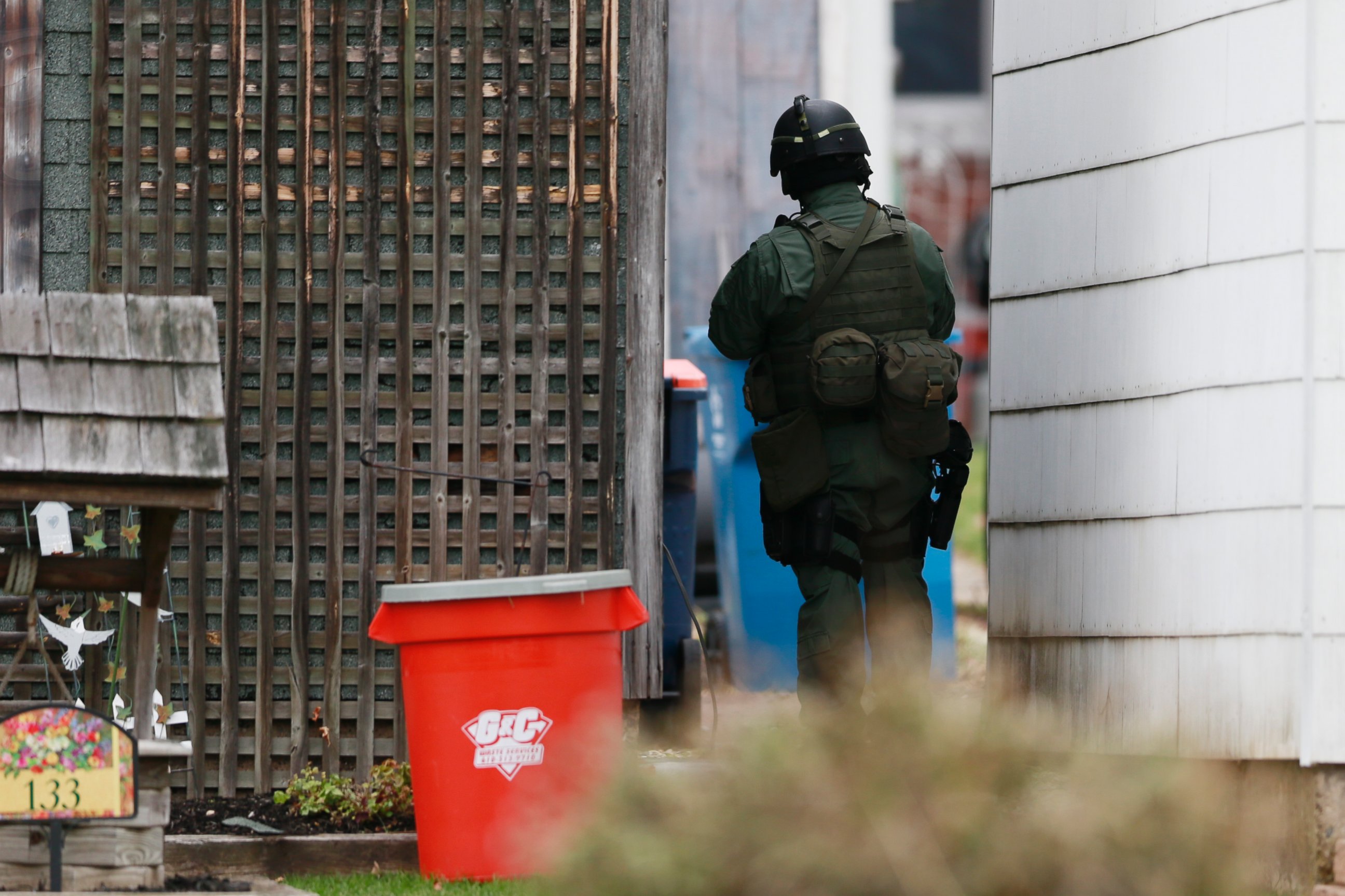 The town announced that schools in the area would be closed on Tuesday as the search continued.
Residents throughout Montgomery and Bucks counties were being told to stay in their homes and lock their doors as the search continued late into the evening.
"Stone may be wearing military fatigues, in either sand or green color," the district attorney's office said in a statement posted to Facebook. Stone is known to use a cane or walker.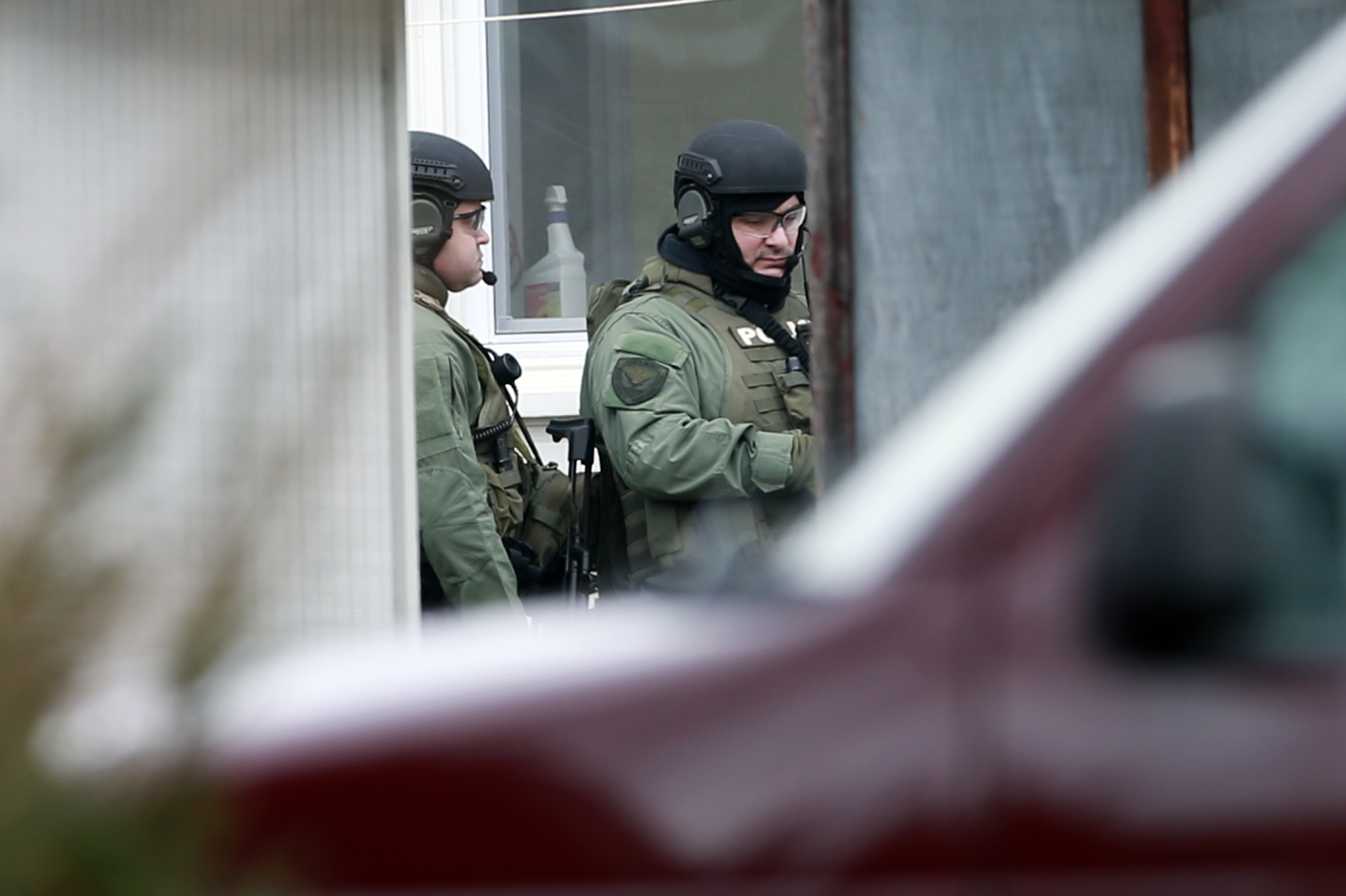 Matthew Schafte, who told ABC News that he's known Stone for 20-plus years, says he broke down in tears when he heard about the shootings.
"I would describe him as a laid-back guy -- loving his family, loving his country. I know he had issues with his children over a custody battle or something," he said. "A decorated veteran, who would do anything for his country, anything for anybody."
"I just broke down in tears. I couldn't believe it, I couldn't believe it, because this isn't the Brad that I know."
"A couple of months ago, I was hanging out with him, we sat down and had a drink," he added. "We were just talking about old times, how everybody was doing, and he told me he was going through some things with his kids, but that's about it."
Earlier in the day, SWAT teams surrounded a home at Penn and Highland avenues in in Souderton, Pennsylvania, where a suspect in the shootings was originally believed barricaded inside, police told ABC station WPVI-TV in Philadelphia.
Witnesses heard a loud boom shortly before an unidentified person was taken out of the house on a stretcher.
Police also surrounded another home in nearby Pennsburg.