— -- A fight that broke out between two groups of students at Northern Arizona University's Flagstaff campus left one person dead and three hospitalized after one of the students opened fire on the others.
The shooter has been identified as Steven Jones, an 18-year-old freshman at the school, who has been taken into custody by campus police, according to NAU police chief Greg Fowler.
Colin Brough has been identified by the school as the student who was killed in the incident, and Nicholas Prato, Kyle Zientek and Nicholas Piring were named as the individuals who were shot but are being treated at Flagstaff Medical Center.
Brough and the three young men who were injured were all members of the Delta Chi Fraternity, according fraternity rep Justin Sherman.
"The alleged gunman, Steven Jones, is not a member of Delta Chi," Sherman said in a statement sent to ABC News.
Jones has been charged with one count of first degree murder and three counts of aggravated assault by the Northern Arizona University police department, and he is due to make his initial court appearance and be read his charges this afternoon in Flagstaff Justice Court which is located in the Coconino County Court.
Fowler said that the altercation started at 1:20 a.m. when "several of our students, two separate student groups got into a confrontation."
Campus police arrived at the scene and apprehended Jones "without further trouble," Fowler said.
It is unclear what sparked the shooting, which took place near Mountain View Hall, a dormitory that houses most of the campus' students involved in Greek organizations.
Fowler said that none of the violence happened inside any residence halls.
Fowler said that the school's alert messaging was sent out "rather quickly," but a student who was in the audience at the new conference this morning told Fowler that he received the text alert at 2:52 a.m., more than an hour and a half after the shooting. Fowler said that "sometimes it takes us a little bit of time to stabilize the information" but added that the text was "a precautionary measure" as opposed to one telling students to actively take cover.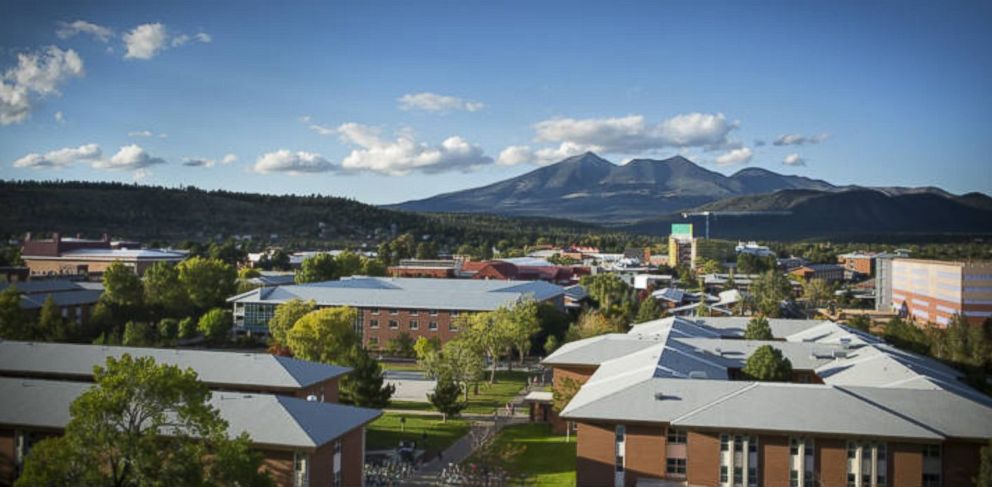 Fowler noted that the Arizona Board of Regents prohibits students form carrying guns around campus but students are allowed to store them in their cars. The specifics about the handgun in this case were not known.
The state school's Flagstaff campus has more than 20,000 students enrolled.
Sen. John McCain, R-Ariz., released the following statement this morning:
"My thoughts and prayers are with families of the person who was killed and the three others who were wounded in the horrific shooting on the campus of Northern Arizona University in Flagstaff early this morning. I appreciate the efforts of all state and local law enforcement officials, first-responders and school administrators, and continue to pray for the recovery of the injured, as well as all those in the NAU community who have been impacted by this terrible tragedy."
Get real-time updates as this story unfolds. To start, just "star" this story in ABC News' phone app. Download ABC News for iPhone here or ABC News for Android here.