Police Say Video Shows Keith Lamont Scott Had Gun in Hand
Earlier they said the video doesn't show if the gun was pointed at police.
September 22, 2016, 4:55 PM
— -- The family of Keith Lamont Scott has reviewed the video that shows the moment when police fatally shot him in North Carolina on Tuesday, the family's attorney said.
Police in Charlotte have confirmed to ABC News that they have video that shows Scott had a gun in his hand during his interaction with police officers before he was fatally shot. Charlotte-Mecklenburg Police Chief Kerr Putney said earlier today that the footage he reviewed does not provide "definitive visual evidence that would confirm that a person is pointing a gun."
"I did not see that in the videos that I reviewed," Putney said at a news conference. "So what I can tell you, though, is when taken in the totality of all the other evidence, it supports what we've heard and the version of the truth that we gave about the circumstances that happened that led to the death of Mr. Scott."
When the Scott family was asked if the video they saw matches what police has described, their attorney replied, "No comment."
Protests Continue in Charlotte After Fatal Police Shooting
Activists attempt to make their way onto Interstate 277 to block traffic as they march in the streets amid a heavy police and National Guard presence as they protest the death of Keith Scott Sept. 22, 2016, in Charlotte, North Carolina.
Brian Blanco/Getty Images
Earlier, Putney reiterated that he has no plans to publicly release the video, arguing that it would jeopardize the integrity of the investigation.
"We release it when we believe it is a compelling reason, but I'm not going to jeopardize the investigation," he told reporters.
Police say Scott was holding a handgun, which investigators recovered from an apartment complex in Charlotte, and posed a threat because he was not obeying police orders to remain in his vehicle and drop the weapon. An officer subsequently fired his gun, hitting Scott, who was later pronounced dead.
Scott's family, however, said he was not armed and was holding a book while waiting for his son to be dropped off from school.
The officers were searching for a suspect who had an outstanding warrant, according to a police statement. Police said Scott was not the suspect officers sought.
Police have identified the officer involved in the shooting as Brentley Vinson, who has been employed with the Charlotte-Mecklenburg Police Department since July 21, 2014, and is currently assigned to the metro division. He has been placed on paid administrative leave as the investigation continues, according to Putney.
Vinson was not wearing a body camera at the time, but the other officers who responded to the incident were.
North Carolina's State Bureau of Investigation is leading the investigation into Scott's shooting, Gov. Pat McCrory said at a press conference today.
Since Scott's death, Charlotte has been inundated with protests -- many of which have turned violent at night. At least 16 police officers were injured while trying to quell angry demonstrators Tuesday night, and multiple police vehicles were damaged. At least one person was arrested, police said.
On Wednesday night, protesters looted businesses, damaged property and threw objects at police. Five officers and nine civilians were injured during the riots. One person is in critical condition after suffering from an apparent gunshot wound. Police made 44 arrests overnight, with charges ranging from failure to disperse to assault to breaking and entering. The protests finally subsided around 3:30 a.m., according to Putney.
"I do not believe we have all the criminal suspects to charge with various crimes at this time," he told reporters today.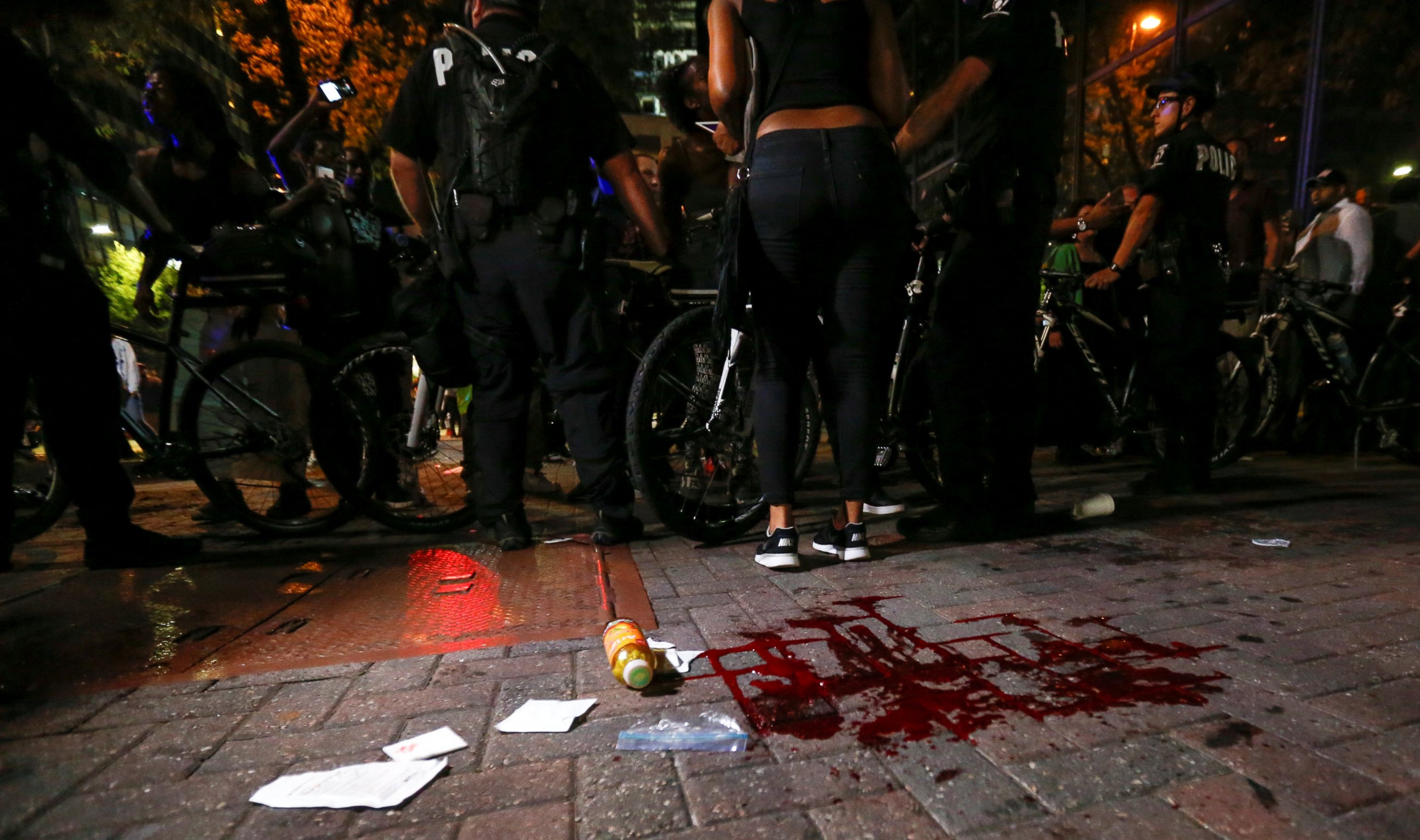 The violence prompted North Carolina Gov. McCrory to declare a state of emergency and call in the National Guard, which is helping law enforcement protect infrastructure in and around the Charlotte area. The governor has also allocated a number of state troopers to help protect the city's highways. Putney remains in charge of law enforcement in Charlotte, McCrory said.
"We're not going to let a few hours give a negative impact on a great city," the governor told reporters at a press conference this afternoon. "And this city is also very resilient. I know it because I still live here and I'm proud to live here."
Charlotte Mayor Jennifer Roberts said she has spoken with President Obama and his chief of staff, who offered federal resources to help keep the city safe. In an interview on ABC's "Good Morning America" today, she said she's considering imposing a curfew after two nights of violence.
"I will be consulting with our city manager and our police chief and other leaders in our response team to see if that might be a good idea for tonight," she said.
Putney said citizens can expect a heavy police presence throughout the city today and tonight, but he does not anticipate a curfew.
"We don't see a need to definitively shut the city down at a specific hour," he told reporters.