— -- One front yard in the planned community of New Territory in Sugar Land, Texas, has been turning heads because it looks like a scene straight out of "Jurassic Park."
Two life-like metal sculptures of dinosaurs -- a T-Rex and Velociraptor -- popped up this past weekend in front of the home of Nancy Hentschel and her husband, ABC station KTRK-TV reported.
"Obviously it does make a little bit of a statement," Henstschel told KTRK-TV. "And I've met more neighbors in the past 24 hours than I have in the 17 years we've lived here."
Hentschel and her husband have lived in their New Territory home for 17 years, and after a recent trip to Arizona, where she saw the metal sculptures for sale, she said she couldn't resist taking them back home, according to KTRK-TV.
Children in the community have stopped by to take selfies with the dinos, and adults also swing by out of curiosity, Hentschel said.
"It's creative and it's creating a real sense of community here," she said.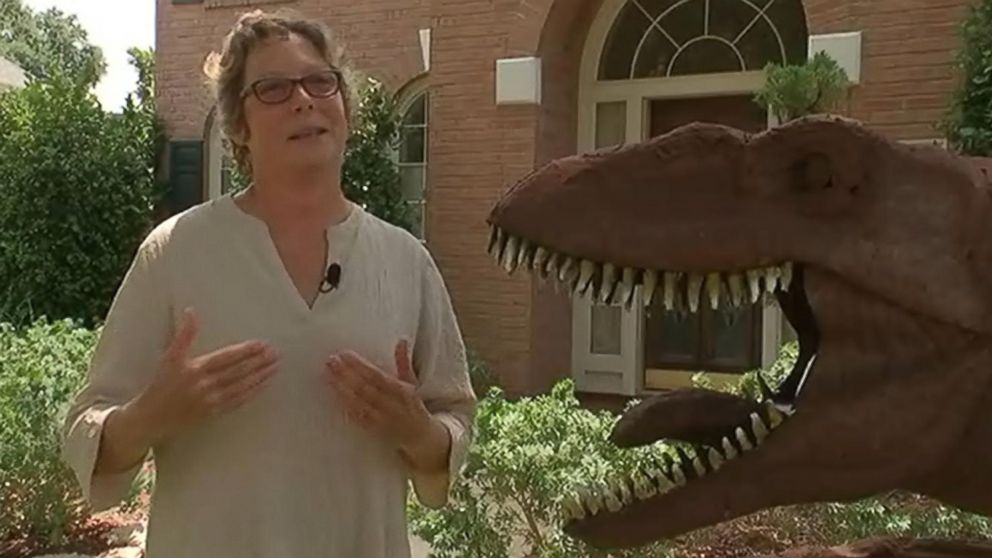 While most comments on a neighborhood Facebook page support the dinosaurs, others think they have no place in New Territory, a planned community with a lengthy homeowner's guide restricting residents' choices over the paint colors they can use on their home, the plants they can feature on their lawns and the decorations they can put in their yards.
The dinosaurs "do not belong in a deed restricted master plan community front yard," resident Janine Parker Vonderhaar wrote on a community Facebook page. "We are not a zoo, park, museum etc where these should be displayed. if u want something like this put in your back yard or move to an area besides a master plan community."
According to the New Territory Residential Community Association's Howmeowner's Handbook, residents "must have written Modification Committee approval prior to installation" of "yard decorations and furniture."
It was not immediately clear if Hentschel obtained approval for her dinosaurs in her lawn. She did not immediately respond to ABC News' requests for comment.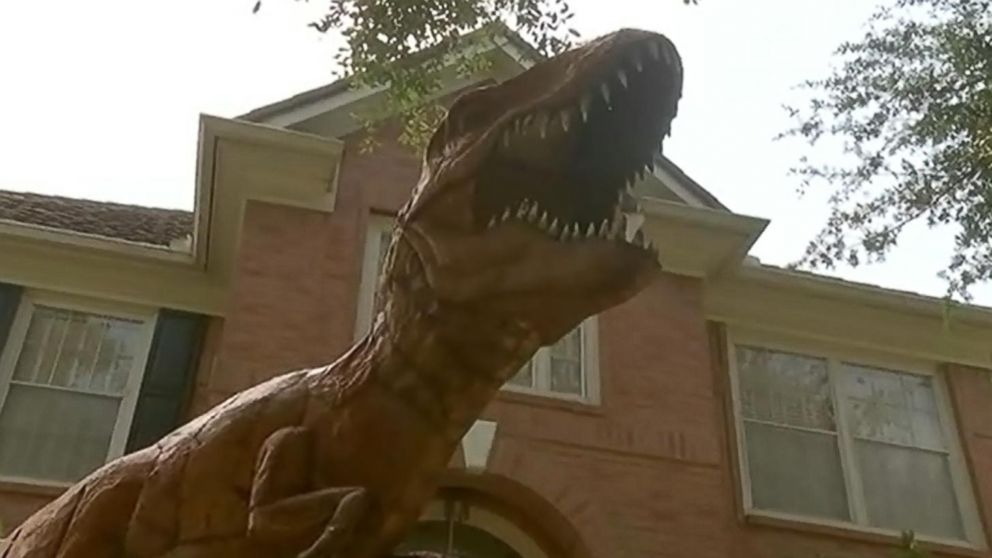 An NCTRA spokeswoman told ABC News that the association is declining to comment on Hentschel's front yard.
"The NTRCA does not seek to restrict individual taste or preferences," the association wrote in the "Modifications" section of the handbook. "In general, its aim is to (1) avoid harsh contrasts in the architectural themes and landscaping within New Territory, and (2) to foster thoughtful design so that there is harmony between residential homes and the environment created within the community."
Hentschel told KTRK-TV she was prepared to fight against any request that her dinosaurs be removed.
The sculptures were about creativity, not conformity, she said. "About creating a sense of community and letting yourself roar."
She added that she's planning to add in some special effects for Halloween.
New Territory is a master-planned community in Sugar Land, Texas, about 30 minutes from Houston, comprising 4,601 homes, schools, churches and retail shopping in Fort Bend County, which is the third fastest-growing county in the U.S., according to the community's website. Despite spanning 3,200 acres, the community still has "the feeling of Small Town America" and is situated "where once magnificent old pecan groves and sugar cane fields thrived," the website adds.