What awaits Hurricane Harvey evacuees after they leave shelters
Gov. says "evacuation centers are intended to be short-term facilities."
August 31, 2017, 11:41 AM
— -- In the wake of Hurricane Harvey's devastating path through southeastern Texas, FEMA Administrator Brock Long said his agency is operating more than 200 shelters and housing more than 32,000 people in the state.
But displaced Texans also can't stay in evacuation shelters forever, Texas Gov. Greg Abbott said at a press conference Wednesday.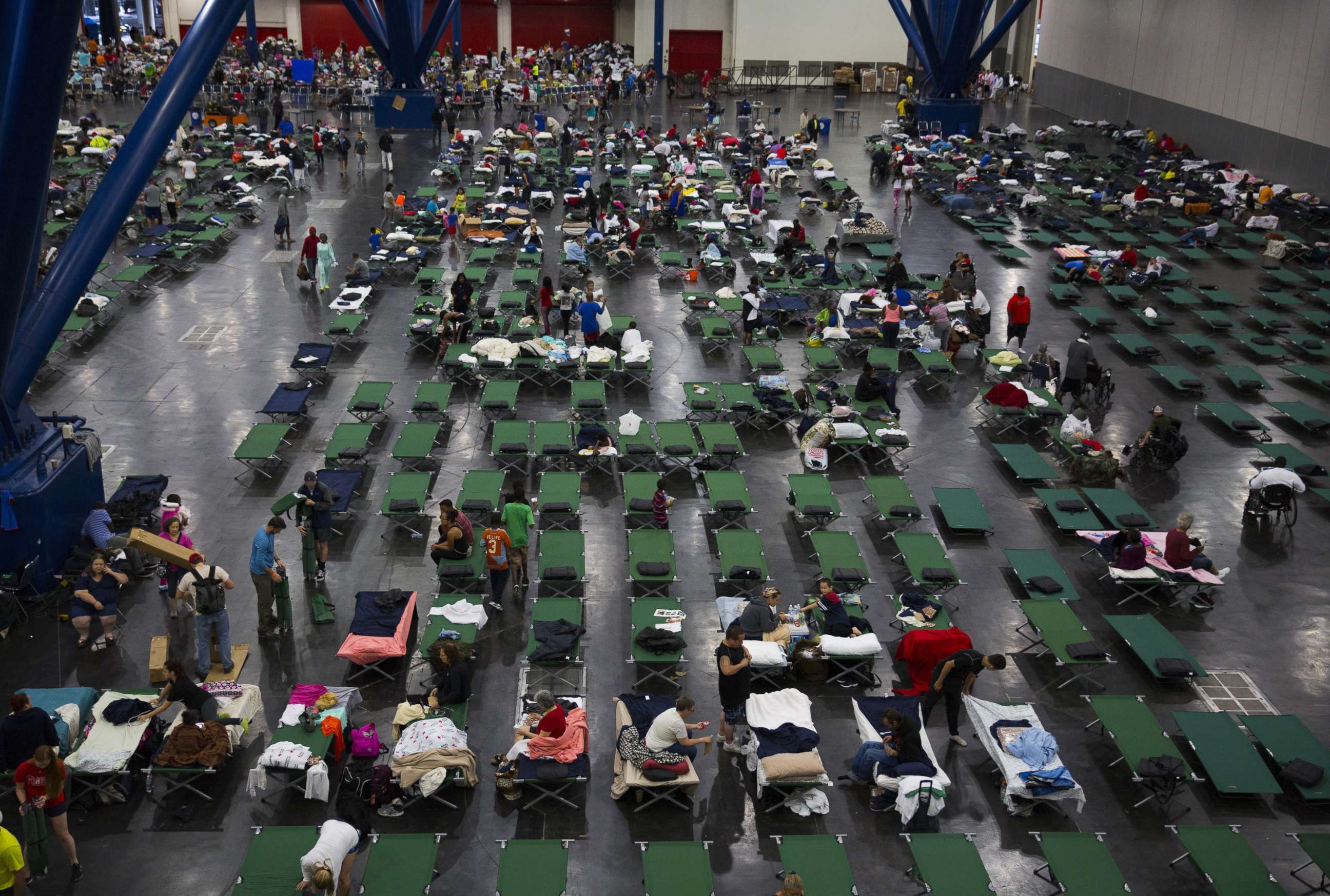 Long -- who said the agency's mission at this time is taking care of people and restoring hope -- said officials will start trying to move displaced people from shelters into local hotels. More than 1,800 flood survivors have already been placed in hotels or motels by FEMA, he said. Then, officials will help residents clear out their inundated homes so they can return to them, although some houses will be too damaged for residents to return anytime soon.
Gulf Coast residents struggle to recover after Hurricane Harvey
Members of First Baptist Church of Loeb chain saw pews and clean up the church on U.S. 69 that had eight feet of water in it due to Hurricane Harvey flooding in Lumberton, Texas, Sept. 7, 2017.
Abbott said that "shelters and evacuation centers are intended to be short-term facilities," explaining that officials want to quickly move people from them into locations "where there are living rooms and bedrooms and bathrooms that people can use as a family unit."
Abbott added that there are nearly 2,000 post-evacuation center rooms that have already been set up, and officials "want to provide more as soon as possible."
Long said that housing people in FEMA travel trailers much like the ones that were used after Hurricane Katrina in 2005 is a "last resort."
Evacuees have also been bused to different parts of the state, with many being sent to the Dallas region, Abbott said Wednesday.
He also urged Texans affected by the storm "to sign up at disasterassistance.gov so you can register to begin to receive the money and other resources you need that you can get from FEMA for the next transition."
Long said that so far, 325,000 people have registered for FEMA assistance and $57 million has been distributed.
Harvey has had a devastating impact so far, killing at least 31 people, forcing thousands more to evacuate and flooding thousands of homes since it first made landfall nearly one week ago. Recovery efforts will take years, officials have said, and only some residents have begun surveying their damaged homes.
In Port Aransas, Texas, William Weeks returned Wednesday to his home to assess the damage and meet with a FEMA representative.
Weeks had fled his trailer during the storm with his then-pregnant wife and two children. The hurricane flipped the Weeks' two-bedroom trailer on its side after it made landfall late Friday night, spilling most of its contents onto the land around it.
Weeks' wife has since given birth to the couple's third child.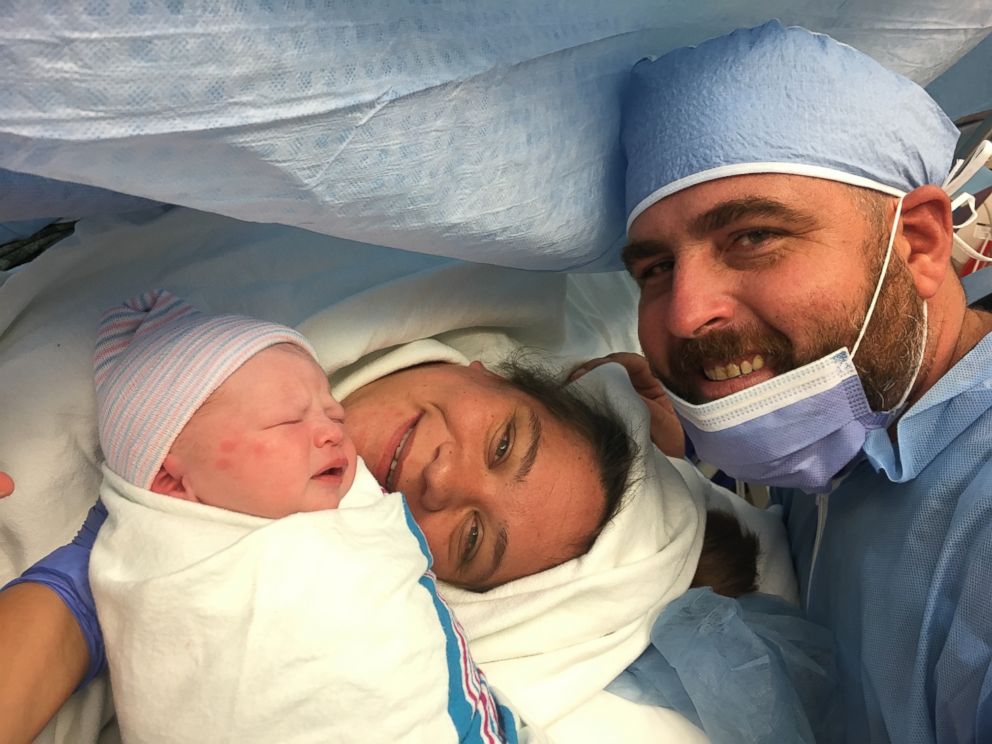 On Wednesday, neighbors had to use a chainsaw to cut a hole in the roof of the trailer in order to gain access inside. Weeks cried as he peeked into his former home for the first time and surveyed the destruction. The family's belongings, including toys and clothing, littered the ground surrounding their home.
"It's just hard," he told ABC News.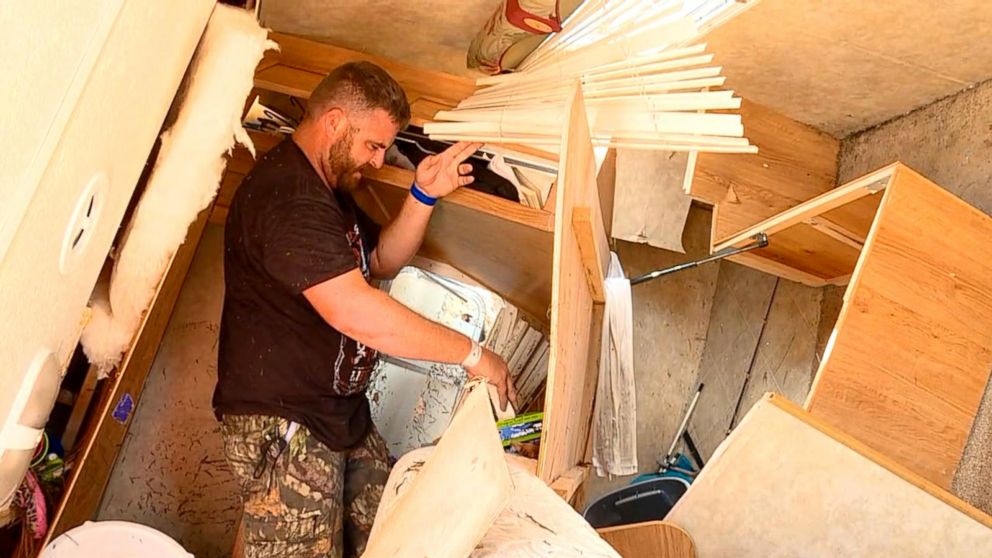 Weeks and his mother, Beth Campbell, searched the home for what little belongings they could salvage.
Campbell found a dress embroidered with an anchor that she had bought her 5-year-old granddaughter, Annabella, for her first day of school in their new seaside town.
"So, maybe we'll be able to wash it and save it. It's just dirty. It might not be ruined," Campbell said. "I feel lucky that I found it."
Weeks became emotional as his mother showed him the dress.
"We're saving that for sure," he said.
The Weeks family said they want to return to Port Aransas, but it's expected to take two years to rebuild. In the meantime, the family plans to live in a donated tiny home.
Take part in Disney's Day of Giving: To support people impacted by Hurricane Harvey, call 1-855-999-GIVE, donate at www.RedCross.org/ABC or text "HARVEY" to 90999 to make a $10 donation.
ABC News' Janet Weinstein contributed to this report.