Dog Survives Gunshot to Head During Burglary of Owner's Home in Florida
The five-year-old dog just underwent surgery to get the bullet removed.
— -- A five-year-old dog recently survived being shot in the head during a burglary at his owner's home in St. Petersburg, Florida.
The Rhodesian Ridgeback named Anubis had the bullet -- which went through his skin, grazed his skull and lodged in his neck -- removed today by Dr. Andrea Smith, a veterinarian with a BluePearl emergency veterinary clinic in Clearwater, according to a BluePearl spokeswoman.
"It's incredible, he's very fortunate," the spokeswoman said. "The bullet nearly missed major arteries and blood vessels."
The 150-pound dog's owner, Chris Watson, told ABC News that "Anubis has been in unusually high spirits" despite all the trauma's gone through in the past 24 hours.
"Anubis has been handling the whole situation better than I am," Watson, 39, told ABC News. "He's the most friendly dog you can meet. He's like a little boy. He loves people, and he's been the highlight of the clinic here. That's what makes this all the more painful. I don't understand why anyone would want to shoot a dog like him in the head."
The St. Petersburg Police Department wrote on Facebook that Watson's home had been broken into and ransacked on Monday morning and that investigators are hoping the bullet retrieved from Anubis will provide a clue to help catch the burglar still at large.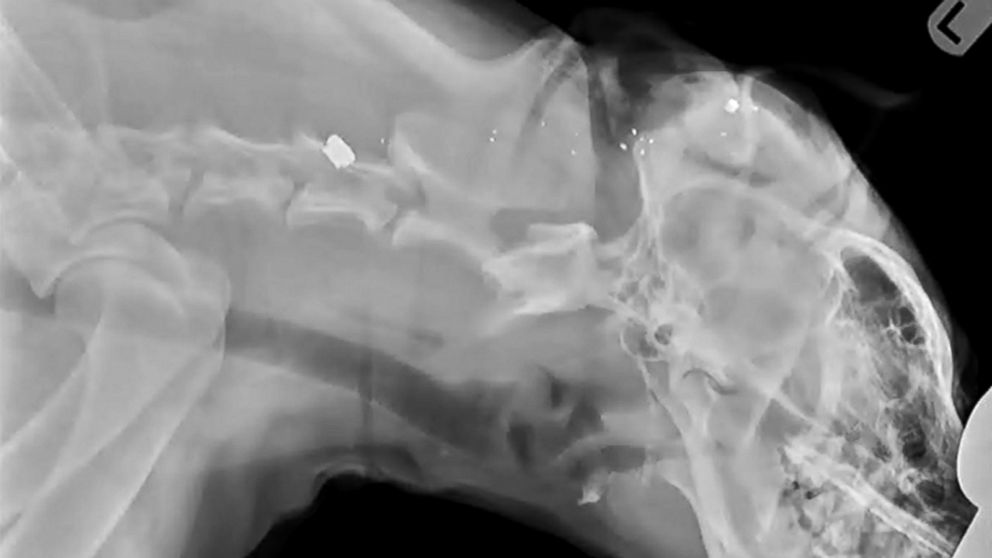 Watson, an independent distributor for Pepperidge Farm, explained that he left for work around 3:45 a.m. on Monday and that when he came home around 11 a.m., he discovered his "entire house destroyed."
"I tried calling out for Anubis, but he didn't answer, so I called police, and the K9 unit went in for me because I was too shaken up," he said. "Sure enough, Anubis came around the corner, and when he saw me, he immediately came over and put my head to my lap. That's when I realized he was bleeding."
Police then shined a light and saw a "prominent bullet hole" in Anubis' scalp, Watson said, adding that his father came and took Anubis to a primary care vet and that Anubis was later transferred to BluePearl.
"Anubis is my son," he said. "I can have my items stolen or my house damaged, and all that is replaceable. But Anubis? He's family."
Watson, who lives alone with Anubis, added that he plans on moving out of the area soon.
Police ask that anyone with information about the suspect or incident please call 893-7780 or text SPPD and the information to tip411.