Some educators slam DeSantis' war on 'woke' in education
DeSantis has requested school data on college race and diversity courses.
Some Florida educators and students are concerned about Florida Gov. Ron DeSantis' vow against "trendy ideologies" in state colleges and universities.
"We must ensure that our institutions of higher learning are focused on academic excellence and the pursuit of truth, not the imposition of trendy ideologies," DeSantis said during his Jan. 3 inauguration speech.
Some faculty members and students say they fear DeSantis' "anti-woke" policies will be harmful, impacting school clubs, diversity, equity and inclusion (DEI) requirements and committees, as well as courses that touch on racial history, or race-based perspectives.
Bryn Taylor, a graduate student at the University of Florida, told ABC News that getting rid of DEI efforts would "take us back in social progress" and leave opportunities in higher education for privileged people.
"It's about lowering barriers ... for any marginalized group," Taylor said, adding that it doesn't just affect people of color and LGBTQ populations. "That includes first-gen students, low-income students, international students, students with disabilities."
Taylor is the co-president of the Graduate Assistants United at the University of Florida and a member of a DEI committee at the school.
"Why don't you want your base to become educated?" Taylor said. "Why don't you want your citizens to have the best access to the best schools in the world?"
The DEI movement and critical race theory, the systemic racism via the legal system, have been around for decades, scholars have told ABC News.
DeSantis' anti-"woke" efforts in education
The governor's self-proclaimed war against "woke" beliefs has begun.
Woke is defined by the DeSantis administration as "the belief there are systemic injustices in American society and the need to address them," according to DeSantis' general counsel, as reported by The Washington Post.
In December, DeSantis' office requested data on funding, staffing and more for courses and programs that include "diversity, equity and inclusion" and "critical race theory" in a recent memo to school administrators across the state.
In response to backlash, his office told ABC News that "the governor, as chief executive of the state, has every right to ask how public dollars are being spent by public state entities, like state colleges and universities. In fact, that is good government."
However, DeSantis' "Stop WOKE" Act -- which restricts race-related curriculum and conversation in workplaces, schools and colleges -- has been temporarily blocked from being implemented in colleges and universities. The law is still being battled out in the courts.
WOKE in the bill stands for "Wrongs to Our Kids and Employees."
DeSantis has also stacked the board of trustees at Sarasota's New College of Florida -- a college known for its progressive campus culture -- with conservative figures such as Christopher Rufo, who popularized misinformation on critical race theory.
The governor's office told ABC News that DeSantis made his decisions because "the public expects their tax dollars to go towards [New College's] statutorily stated mission of 'provid[ing] a quality education.'"
"Instead, New College has publicly committed to 'eliminating outcome disparities for underrepresented and underserved groups,'" a statement from DeSantis' office read.
DeSantis' office asserted that the college's statement "quite literally admits the institution will adjust outcomes based on non-academic factors of their choosing."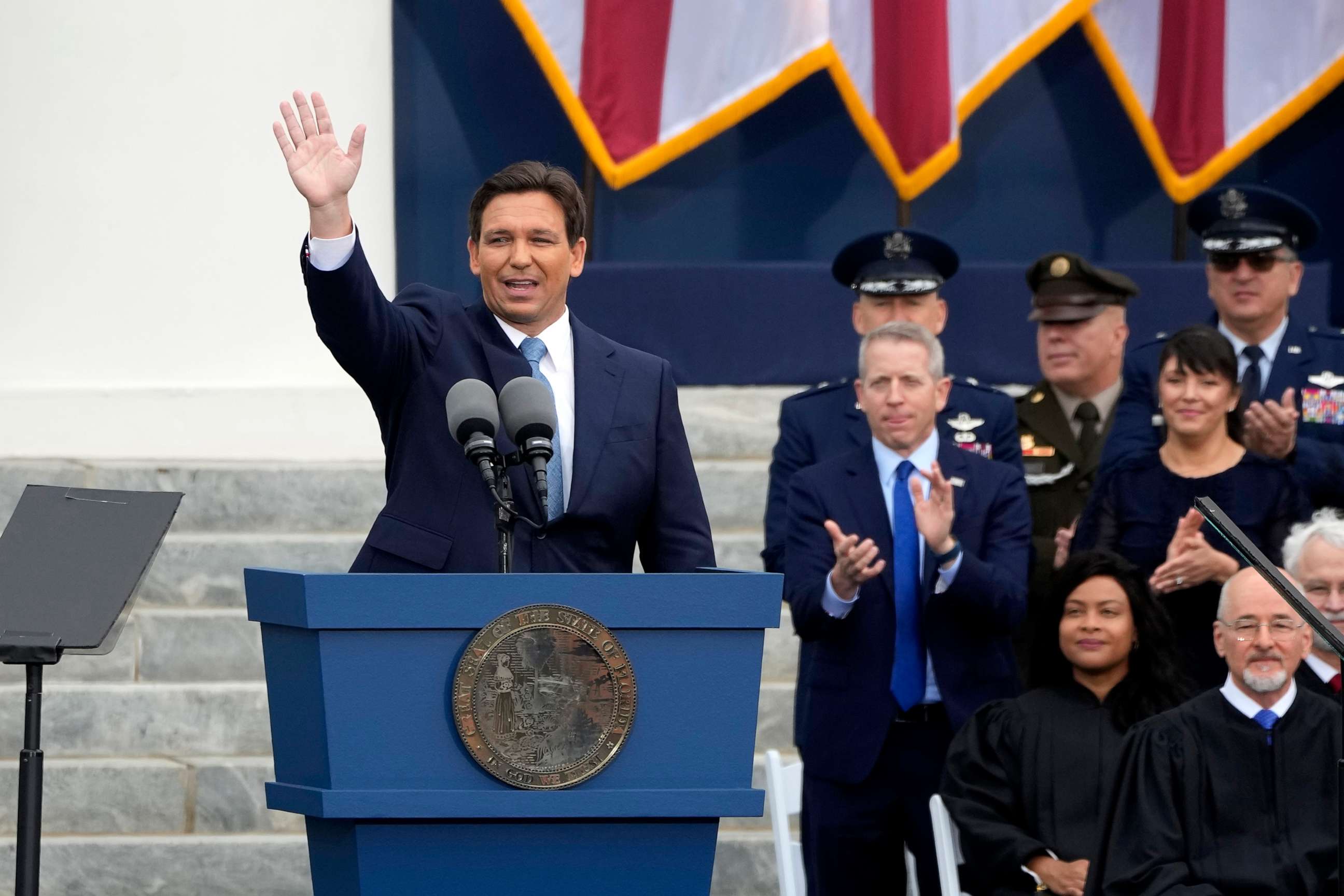 Educators and students fight back
Andrew Gothard, the president of the United Faculty of Florida union, said that one of the complaints he's heard from faculty against recent education restrictions is that "nobody really knows what the governor and the Office of the Governor are looking for here."
"When we listen to politicians talk about this subject matter, they seem to use it as a catch-all for any course or topic or subject matter that talks about people who aren't white," Gothard told ABC News. "In higher education, we know that DEI and CRT are much more specific in their usage, but they also can relate to a larger array of issues."
Critical race theory, which is taught in universities and colleges, seeks to understand how racism has shaped U.S. laws.
"Students in a higher education classroom should be educated on what this is, so that then they can make their own decisions about how they feel about it," Gothard said.
Educators and librarians are left to ask themselves: "How do I know if my subject area is DEI- or CRT-related in the way that the governor thinks those terms work?" according to one librarian.
Kestrel Ward, a librarian at the University of Florida, fears the reaction to the lists being made of the funding, staffing and production of programs and courses relating to DEI and race.
"People in power creating lists of people they find undesirable has not led anywhere good for the people who are on those lists," Ward said.
Ward said restrictions on DEI and "critical race theory" could be far-reaching -- and could affect their book displays, programs and library selection.
Ward has considered leaving the position at the library due to the impending restrictions.
"It is becoming increasingly untenable, particularly for marginalized people, but for lots of people to work in higher education because there's so much hostility from the government, which is an infringement on our academic freedom, but it's also an infringement on our First Amendment rights," Ward said.