— -- The state is investigating whether excessive force was used during the arrest of a 20-year-old black University of Virginia student after he attempted to enter a bar near the college early Wednesday morning, officials said.
Third-year student Martese Johnson was arrested by Alcoholic Beverage Control agents after he was rejected entry from a University Avenue bar, authorities said. The agents then approached Johnson and "a determination was made" to arrest him – during which time "the arrested individual sustained injuries," according to the ABC agency, which is charged with enforcing alcohol laws in the state.
Cell phone video of the incident shows the student lying face down on the sidewalk with two agents detaining him as bystanders yell, "His head is bleeding!" From another angle, he is shown with his face bloodied, shouting, "I go to UVA!" and then "You f---ing racists!"
He was charged with public intoxication and obstruction of justice, ABC officials said in a statement. They would not comment on the case beyond details of the arrest. "The individual received treatment for his injuries at a local hospital and was released," according to the statement.
University Vice President for Diversity and Equity Marcus L. Martin and Dean of African-American Affairs Maurice Apprey described the incident in a message to students and staff as "appalling" and said the student's head was "slammed into the hard pavement with excessive force."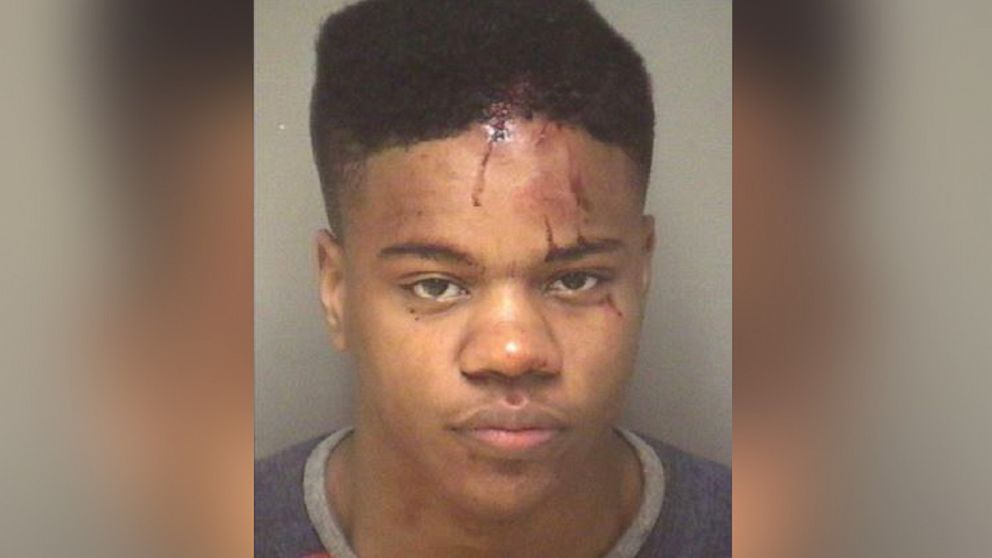 "This was wrong and should not have occurred," Martin and Apprey said in a written statement. "We view the nature of this assault as highly unusual and appalling based on the information we have received."
The governor has asked the state police to begin an independent investigation into the incident.
Tonight, a large group of students gathered on campus at a rally in the wake of the incident, including Johnson.
Daniel Watkins, an attorney for Johnson, said in a statement that Charlottesville Police charged Johnson with two misdemeanors: obstruction of justice without force and profane swearing and/or intoxication in public. The student was released early this morning and has not yet entered a plea to the charges.
"Contrary to early police reports, Mr. Johnson has not been accused of possessing false identification.Just before handcuffing him, police took Martese to the ground, striking his head on the pavement and causing him to bleed profusely from the gash on his head," Watkins said. "This morning he received ten stitches at the University of Virginia Medical Center. Fortunately, Martese's physical wounds are beginning to heal."
He added: "He holds numerous leadership positions on grounds, including Vice Chair for Community Relations of the Honor Committee, Vice Polemarch of the Eta Sigma Chapter of Kappa Alpha Psi, and a Chair of the Leadership Development Committee of the Black Student Alliance. He has no criminal record.
"As evidenced by both his academic and extracurricular achievements, Martese is a smart young man with a bright future," Watkins said. "I have spoken with him several times today, and he is absolutely devastated by yesterday's events. Currently, we are preparing to investigate and defend this matter vigorously. Please keep Martese in your prayers during this difficult time."
Virginia ABC said in the statement that they are restricting the special agents involved in the incident to administrative duties while the investigation into the matter is underway.
This is not the first time an ABC agent has caused a controversy at the school. In 2013 they mistakenly thought the bottled water Elizabeth Daly was carrying to her car from the grocery story was beer, and the plain clothed officers surrounded her car, one even drawing a gun.
Daly panicked and drove away, because she didn't know the men were police. She ended up spending one night in jail. Daly later sued the Alcoholic Beverage Control and collected a $212,500 settlement and a letter from the ABC board explaining the circumstances of her arrest to present to any future employer, according to a July 30, 2014 statement from the state Attorney General's office. The ABC did not admit any wrongdoing in the case.
Editor's note: An earlier version of this story incorrectly attributed quotations characterizing the incident to University of Virginia President Teresa A. Sullivan. The quotations actually were from a written statement by Vice President for Diversity and Equity Marcus L. Martin and Dean of African-American Affairs Maurice Apprey.