A newspaper serially publishing the Declaration of Independence on social media this week got an unexpected surprise: Facebook had blocked one of the posts.
The Liberty County Vindicator, a newspaper in southeastern Texas, had been posting portions of the Declaration on Facebook each day leading up to the Fourth of July. But the tenth installment of the foundational document didn't post -- and Facebook said it was because of hate speech.
"Somewhere in paragraphs 27-31 of the Declaration of Independence Thomas Jefferson wrote something that Facebook finds offensive," Casey Stinnett, managing editor of the Vindicator, said on the paper's website Monday. "The Vindicator received a notice from Facebook saying that the post 'goes against our standards on hate speech.'"
Stinnett speculated that the phrase "merciless Indian savages" was what had triggered Facebook's response.
"He has excited domestic insurrections amongst us, and has endeavoured to bring on the inhabitants of our frontiers, the merciless Indian Savages, whose known rule of warfare, is an undistinguished destruction of all ages, sexes and conditions," the Declaration's text reads.
"Perhaps had Thomas Jefferson written it as 'Native Americans at a challenging stage of cultural development' that would have been better," Stinnett wrote. "Unfortunately, Jefferson, like most British colonists of his day, did not hold an entirely friendly view of Native Americans."
Facebook said the removal was a mistake, noting that in other contexts "Indian savages" could violate the company's hate speech policies.
"The post was removed by mistake and restored as soon as we looked into it," a Facebook spokesperson told ABC News. "We process millions of reports each week, and sometimes we get things wrong."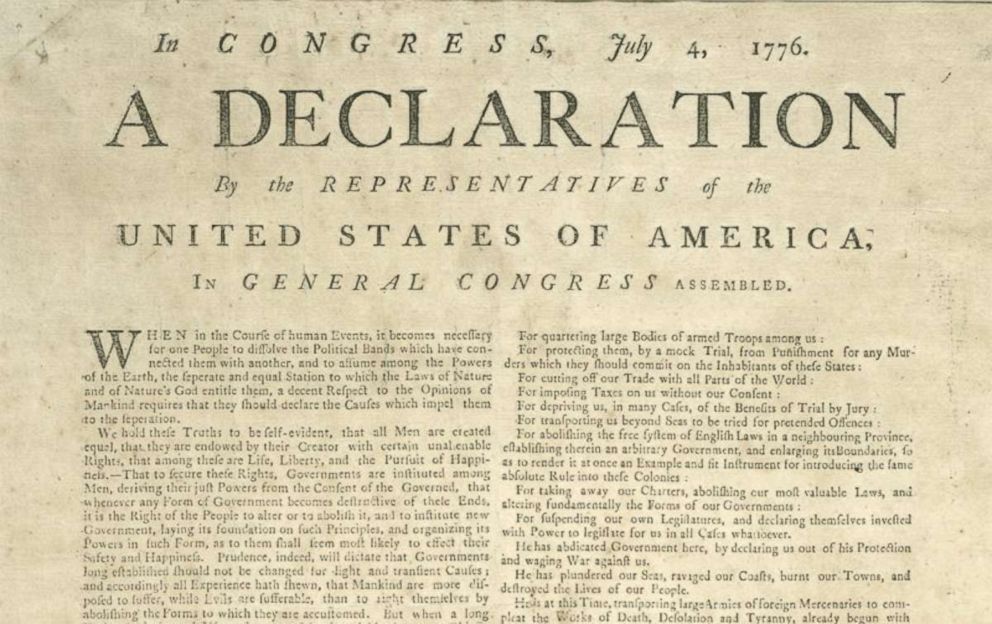 In a post outlining its approach to hate speech questions, Facebook notes that intent is one of the factors considered when weighing whether to remove a post.
The social media platform has been under increasing pressure to police content posted on its site following scrutiny over its alleged use in Russian disinformation campaigns during the 2016 election, which featured content that often played on politically divisive rhetoric.
On Tuesday, Stinnett posted an update, thanking Facebook for restoring the post.
"The Vindicator extends its thanks to Facebook," Stinnett wrote. "We never doubted Facebook would fix it, but neither did we doubt the usefulness of our fussing about it a little."
This is not the first time the Declaration of Independence has been misconstrued on social media. Last summer, National Public Radio tweeted out the entire Declaration of Independence in 113 consecutive 140-character chunks, prompting numerous Twitter users unfamiliar with the language in the founding document to lash out – accusing NPR of trying to incite a rebellion against the Trump administration.
Dennis Powell contributed to this report.