— -- The bodycam footage from a white Fort Worth police officer's controversial arrest of a black woman who called 911 last month has been released by the woman's legal team.
On Dec. 21, Jacqueline Craig and two of her daughters were arrested by Fort Worth Police Officer William Martin after Craig called police to complain about a neighbor who had allegedly choked her son, according to her attorneys. Cellphone video of part of the incident was posted on Facebook, sparking outrage in the Fort Worth community.
On Thursday, Craig's legal team released Martin's bodycam footage from the incident, which begins as he approaches the scene. Several people are seen gathered in the street, and Martin initially approaches a man, asking him, "What's going on?"
The dialogue between the officer and the man is mostly inaudible, but according to Craig's attorney Lee Merritt it was during that conversation in which the neighbor, identified by police as Itamar Vardi, allegedly admitted to Martin that he first grabbed Craig's 8-year-old son by the arm after he allegedly refused to pick up litter he had dropped on Vardi's property. Then, Vardi allegedly admitted he grabbed the boy by the back of the neck in an attempt to force him to pick the litter up, Merritt said.
Merritt said he learned of the contents of the conversation from a statement to internal affairs made by Martin. ABC News has not obtained a copy of that statement.
However, Fort Worth Police Department Public Information Officer Sgt. Marc Povero denied that the neighbor made any admission of guilt to Martin.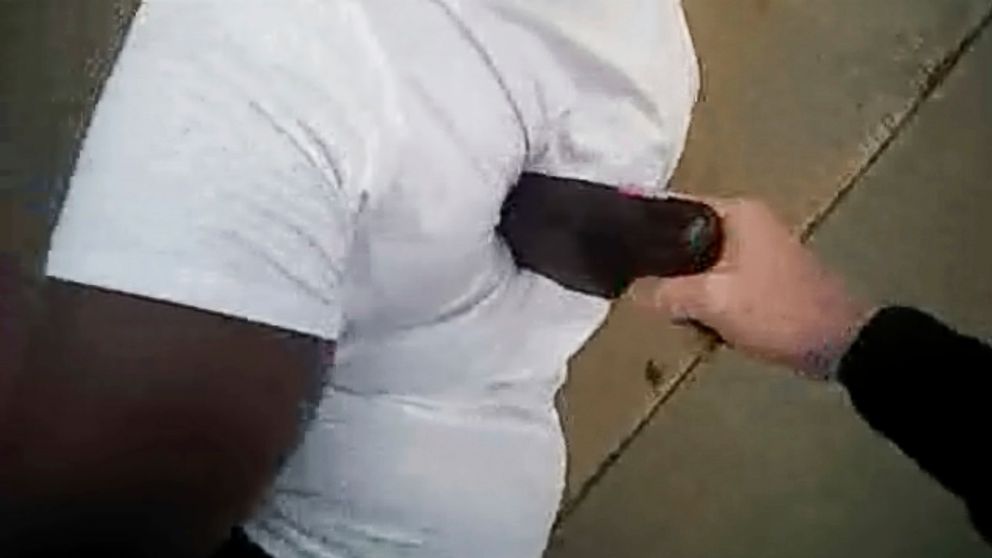 In the bodycam footage, which was posted to YouTube, Martin then turns to Craig and asks, "What's going on with you?"
Craig explains to Martin that her son informed her that Vardi had "grabbed him and choked him." She then says she approached Vardi and asked why he put his hands on her son.
She continues to explain that Vardi said her son "defied" him and "that's why he did it."
Craig tells Martin that Vardi should have come to her instead of putting his hands on her son, to which Martin replies, "So, why don't you teach your son not to litter?"
Craig then says, "It doesn't matter" if her son littered or not, and that it doesn't give Vardi "the right to put his hands on him."
"Why not?" Martin asks.
The situation then begins to escalate. Craig's voice becomes noticeably louder, and Martin asks her why she is yelling.
"If you keep yelling at me, you're going to piss me off, and I'm going to take you to jail," Martin says.
"No you're not," Craig's 15-year-old daughter says to Martin before stepping between him and her mother.
Martin then reaches over the teen to grab Craig and points his Taser at her while telling her to, "Get on the ground, now." He then points to others who are gathered around them and tells them to get on the ground as well before handcuffing both Craig and her daughter.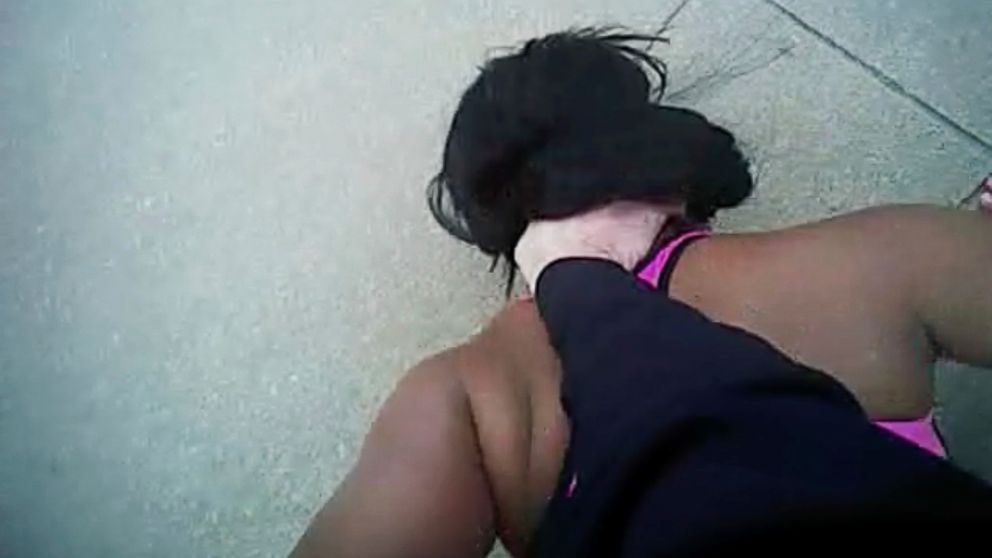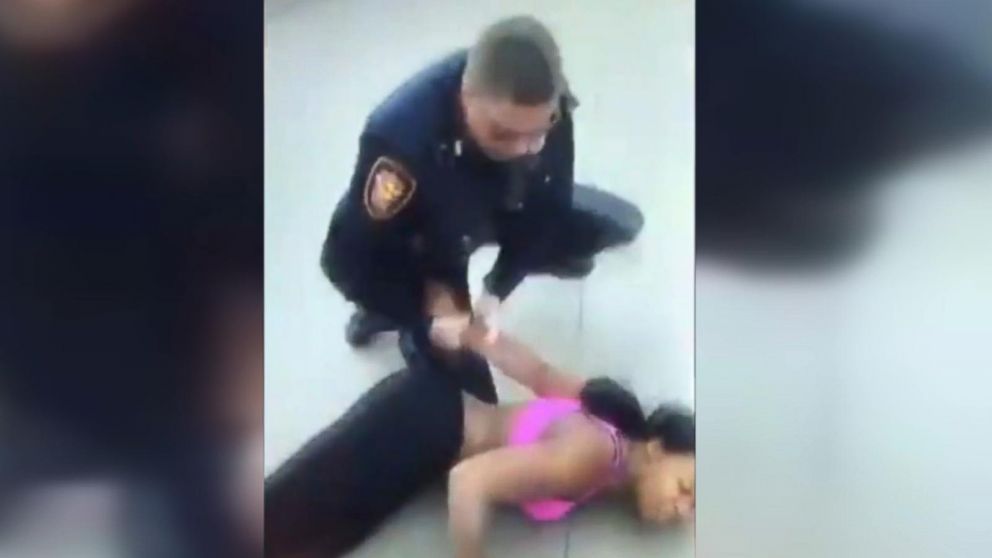 After Martin led the 15-year-old to the patrol car, he allegedly kicked her as she tried to wiggle inside, Merritt said Thursday. Povero told ABC News that the teenager would not put her foot in the car, so Martin "used his foot to push her leg in," as his hands were on Craig at the time.
In the bodycam video, Martin then tells Craig's 19-year-old daughter, Brea Hymond, who filmed the cellphone video posted to Facebook, that she is going to jail as well and grabs her. It is at that moment that the original cellphone video ends.
After calling for a backup patrol car to transport Hymond, Martin warns the remaining bystanders that if anyone else approaches him, "They're going to jail, too."
Craig's legal team obtained the bodycam video from journalist Shaun King, Merritt said. King is a writer for the New York Daily News and is also active in the Black Lives Matter movement.
On Thursday, the Fort Worth Police Department announced that charges against Craig and Hymond had been dropped. Those charges included resisting arrest, Merritt said. It is unclear if charges were also filed against Craig's 15-year-old daughter and if those charges were dropped. Povero declined to discuss those details since she is a juvenile.
Vardi was issued a citation for assault by contact "as a result of his actions in the initial incident," police said in a press release Thursday.
Fort Worth Police Chief Joel Fitzgerald told ABC Dallas-Fort Worth affiliate WFAA Thursday that he consulted with the Tarrant County District Attorney's Office when deciding the appropriate citation for Vardi. However, Craig's attorneys compared his class-C misdemeanor citation to that of a speeding ticket. The citation carries a maximum fine of $500, and they believe that Vardi should have been charged with felony assault, they said.
"When someone assaults your minor child, and they hurt them, that is felony assault under Texas law," Merritt said.
Fitzgerald said that he believes the decision to arrest Craig was "the right thing to do, discretionary-wise."
"I stand by that decision, and I'm ready to move forward and help the community," he said.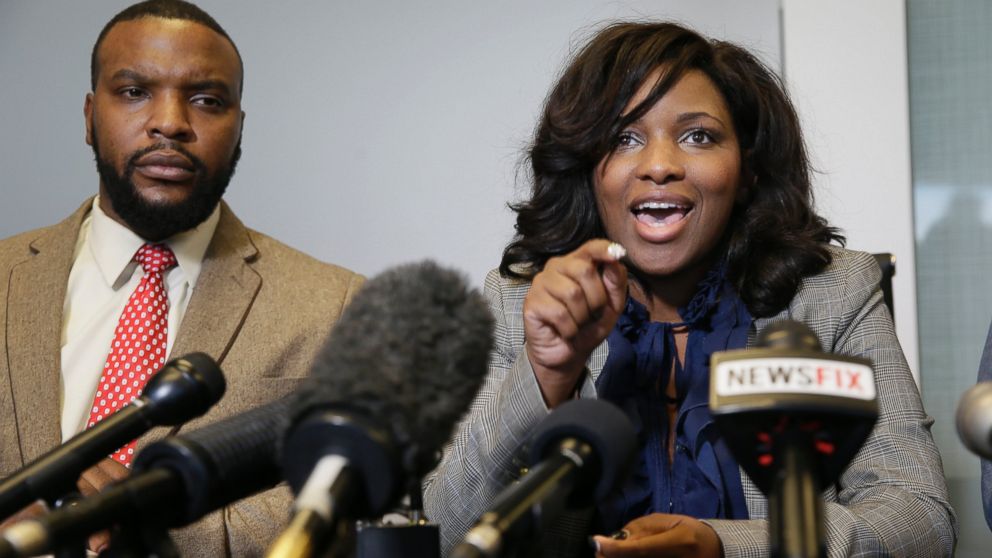 Craig's attorneys said that she and her daughters should have never been arrested because there is "clear evidence that no offenses had occurred."
Martin was disciplined with a 10-day unpaid suspension and will not be returning to his original patrol assignment in Fort Worth's Rock Garden neighborhood, according to police. He is also undergoing retraining, Fitzgerald told WFAA.
Martin is appealing the disciplinary action, and the hearing has been set for a later date. Fitzgerald told WFAA that he believes that Martin was disciplined appropriately.
The Fort Worth Police Department declined to comment on the bodycam video released Thursday since Martin's internal case is under appeal.
Merritt alleged Thursday that Martin has a history of excessive force, citing a previous internal investigation into whether Martin appropriately used his Taser when he fired it at two people at a nearby high school. Povero denied any previous accusations of excessive force against Martin. Requests for further clarification were not immediately returned.
Merritt also alleged that Martin falsified information to a magistrate judge in an affidavit -- specifically that Craig's 15-year-old daughter had pushed him as he was placing handcuffs on Craig -- which resulted in charges being filed against Craig and Hymond. Povero denied this allegation as well, adding that all arrest paperwork was reviewed internally and that there were no inconsistencies in what happened.
Craig's attorneys are requesting that the Fort Worth community speak up and call for Martin to be fired.
The police department "failed to fire an officer who has been now exposed someone who continually engages in excessive force," Merritt said.
The Fort Worth Police Department acknowledged that it has work to do to improve relations between its officers and civilians.
"The Police Department recognizes we must work to repair the fractured relationships in our community," police said in a statement. "We are committed to ensuring all Fort Worth Police officers live up to restoring the trust you have lost in our department."
ABC News could not immediately reach Vardi for comment.