— -- The FBI has launched a civil rights investigation into a video that appears to show sheriff's deputies beating a man in California after he attempted to get away on horseback.
Ten San Bernardino County deputies were put on paid administrative leave following the release of the video, Sheriff John McMahon said Friday.
KNBC-TV captured the video from a helicopter on Thursday. It shows the deputies pursuing the suspect, identified as Francis Jared Pusok, who is riding on a horse through a desert-like landscape, and then appearing to beat him after he is lying on the ground.
McMahon said he was "disturbed and troubled" by the video.
"It doesn't appear to be in line with our policies and procedures," McMahon said.
McMahon said his department has launched an internal investigation regarding the use of force, and members of the Specialized Investigations Detail are conducting a criminal investigation into the actions of Pusok, 30, and the deputies involved.
Pusok had fled a home where police were attempting to serve a search warrant in connection with an identity theft investigation, McMahon said, but didn't expect to see Pusok or anybody else at the residence. On a prior occasion, authorities had seen Pusok shoot a puppy, he added, and for that reason and others believed he had an "aggressive nature," McMahon said.
Though he wasn't the target of the home search, Pusok fled the scene in a vehicle and failed to yield when sheriff's deputies tried to stop him, McMahon said, speculating that he may have feared he was being approached over a potential parole violation.
Pusok later ditched the vehicle and stole a horse, and he later was booked on suspicion of felony evading, theft of a horse, possession of stolen property and reckless driving, McMahon said. Pusok tentatively is scheduled to be arraigned Monday at 12:30 p.m. via video in Victorville Superior Court, the San Bernardino District Attorney's Office tweeted.
The chase continued for miles through rough terrain, with Pusok on horseback and officers the San Bernardino County Sheriff's Office and California Highway Patrol on foot, in vehicles and in helicopters, McMahon said.
When Pusok falls off the horse, two officers, who the San Bernardino Sheriff's Department said were from its Victor Valley Station, can be seen on the news video approaching him and appearing to stun him with a Taser.
Pusok then falls face down on the ground with his arms spread out, barely moving. That's when the two officers on the scene appear to kick Pusok in the head and groin, and to punch his back repeatedly. Immediately, Pusok puts his hands behind his back and does not appear to resist.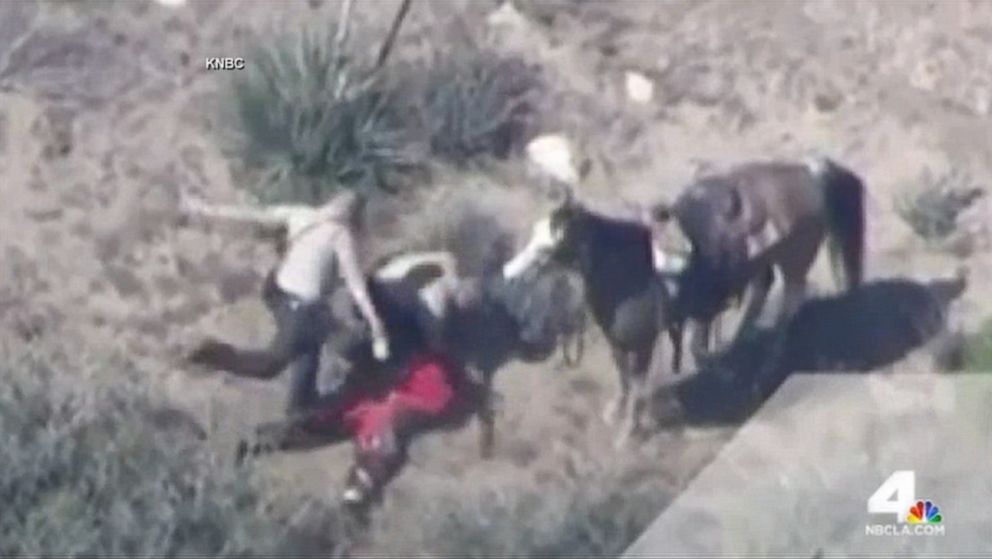 More officers arrive on the scene, and Pusok continues to get hit.
"We have identified 10 deputies involved in the use of force during the arrest & they have been placed on paid admin leave," McMahon tweeted following his news conference.
"This is as bad, if not worse, than what they did to Rodney King. This was terrible. It kept going and going and going," Pusok's attorney, Jim Terrell, told ABC's Los Angeles station KABC.
Terrell did not immediately respond to ABC News' request for comment.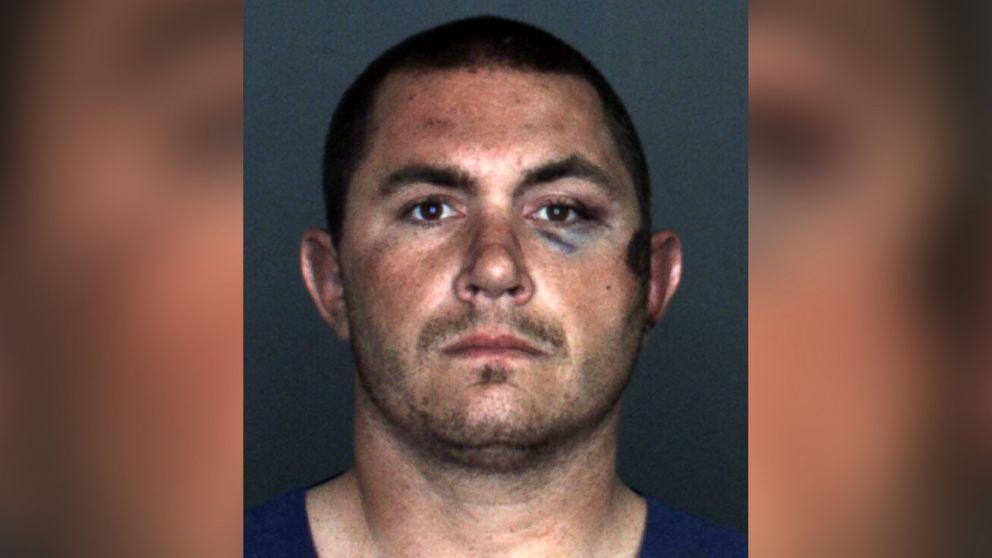 Pusok's injuries included abrasions and bruising, according to police. He was treated a hospital before being moved to a detention center.
Officials were not releasing the names of officers because they say they've received threats on social media. The 10 individuals placed on administrative leave included a sergeant and a detective, and two had to be taken to a hospital for treatment of injuries sustained during the chase including abrasions, a knee injury and a back injury.
Pusok's girlfriend, Jolene Bindner, told KABC that she doesn't understand the use of force used on her boyfriend of 13 years. The couple has three daughters and a son on the way.
"They beat the crap out of him," Binder told KABC. "And now they're trying to do everything that they can to avoid them being in any trouble."
This story has been updated to remove a reference to an agency not connected to the sheriff's deputies involved in this case.