Firefighters Meet Paralyzed Father of Waitress Who Performed 'Selfless' Act
Woodwards' GoFundMe page has collected more than $60,000.
— -- Two New Jersey firefighters, who were touched by a waitress' "selfless" decision to pay for their breakfast last week, are paying it forward as they help raise money for the waitress' paralyzed father.
Firefighters Tim Young and Paul Hullings greeted waitress Liz Woodward with a hug Sunday, according to ABC's Philadelphia station WPVI-TV, and the firefighters finally got to meet the man they are helping raise funds for -- Woodward's paralyzed father, Steve.
The firefighters brought Phillies tickets for Steve, according to WPVI, which could be the first time Steve gets to leave the house other than doctors' appointments in five years.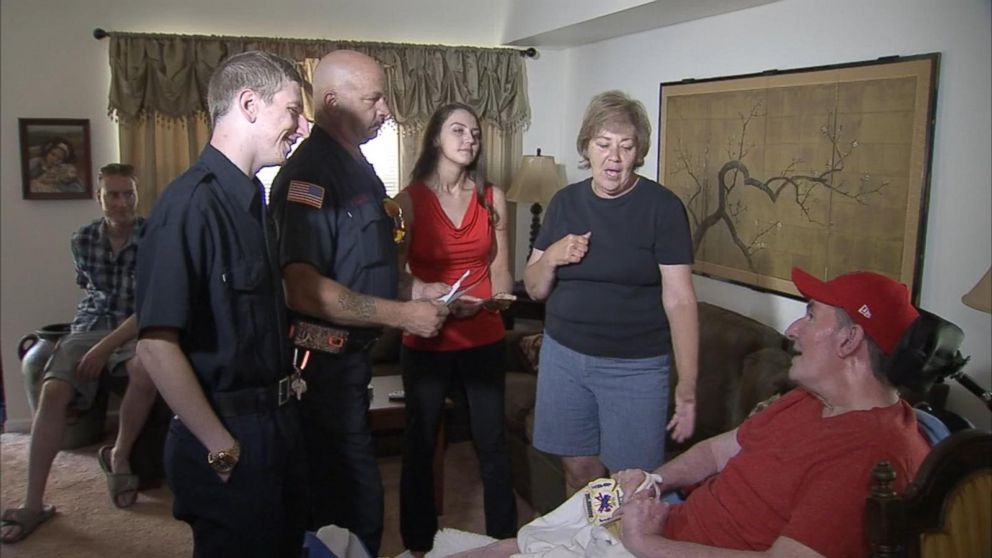 The firefighters' and Woodwards' story began last week, when Young and Hullings stopped at the Route 130 Diner in Delran after an overnight shift containing a warehouse fire, according to WPVI. When Woodward overheard their conversation, she decided to pay them back for their efforts.
Young shared a photo of the check on Facebook, along with a call for his friends to visit the diner, and to "tip big" if they ever had Woodward as a waitress.
But the story didn't stop there. When Young and Hullings heard that Woodward started a GoFundMe campaign in December to pay for a wheelchair-accessible van for her paralyzed father, they wanted to help spread the word.
"Weddings, Funerals, Celebrations and Graduations ... He's missed them all," a post on the GoFundMe page said. "Family picnics on 4th of July or out to park to watch fireworks (we've always watched them out of his hospital window). We've shared everything with him on cell phones in videos and photographs since he couldn't get there."
The GoFundMe page was originally hoping to raise $17,000. Now, after help from the firefighters, it has collected more than $60,000.
Young said they've been "sharing the word as much as possible."
"We're not just firefighters," Hullings said to WPVI. "We're also caring people, we want to be part of everybody's life."
"All I did was pay for their breakfast, and I didn't think anything would come about it except they would leave with a smile," Woodward told WPVI.
"The message is to be kind to each other, to pay it forward when you can, that even the smallest gestures can change somebody's life," Woodward told WPVI.