An active weather pattern across the U.S. will bring several weather events over the coming days, including a multi-day heavy rainfall event, possible severe weather in the Plains, the season's first widespread snow in parts of the Northern Rockies and a drastic difference in temperatures across the country.
Additionally, there is the potential for a tropical system to become more organized and move toward the Gulf.
Heavy rain and isolated severe storms have fired up early Saturday along a slow-moving frontal system from Texas to Michigan. Already there have been reports of 2 to 3 inches of rain in parts of eastern Iowa with rainfall rates of 1 to 1.5 inches of rain per hour. Flash flood watches are in effect for parts of Iowa, Illinois and Wisconsin through much of Saturday.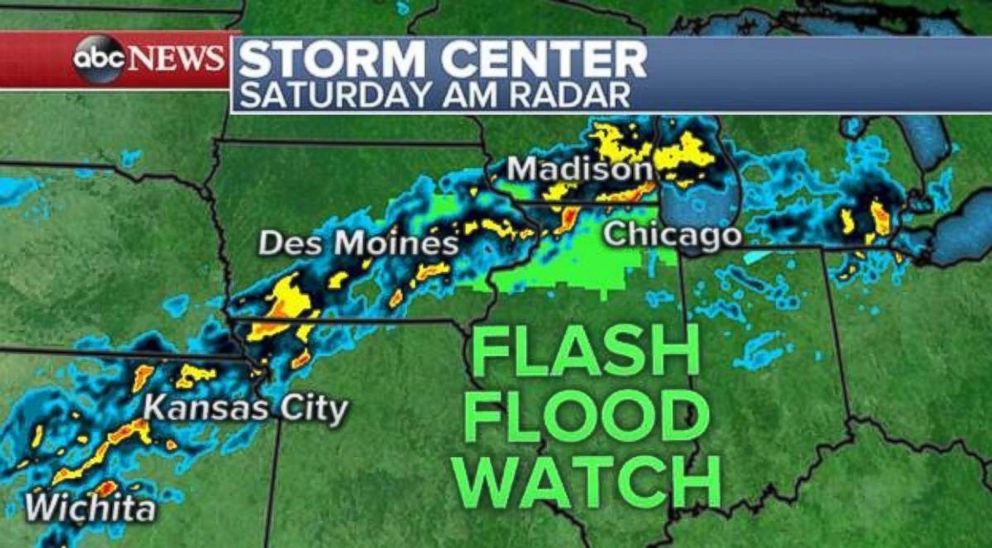 Rainfall totals of over 4 inches locally on Saturday are possible. Further south in parts of Kansas and west Texas, winds of 60 mph have been reported.
Storms will continue to fire along this frontal system Saturday, sliding slightly east. Numerous strong storms with locally heavy rainfall are possible from northern Texas to Ohio. Unfortunately, this frontal system is slow to move out this weekend, and another system is quickly moving in behind it.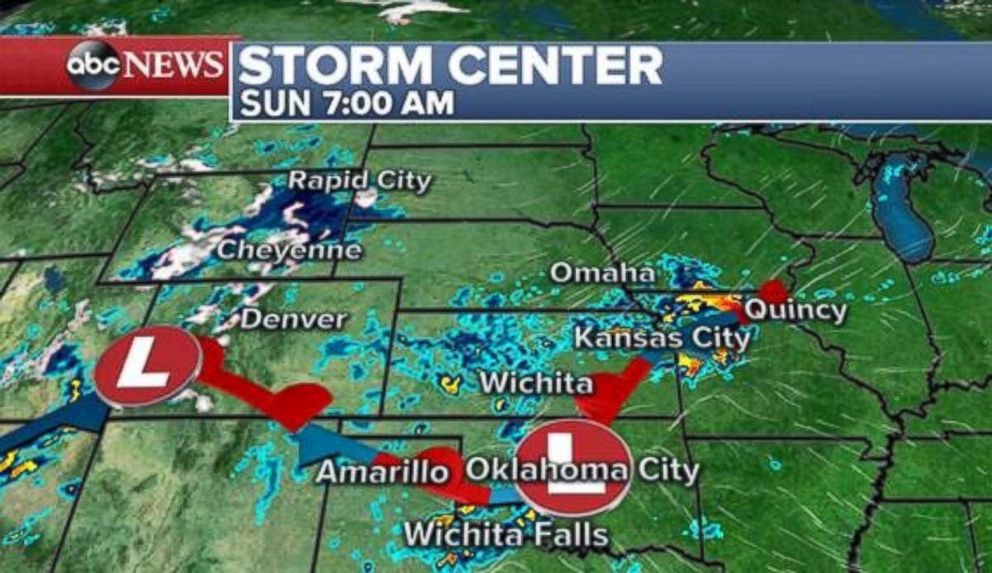 This will cause even more rounds of heavy rain across the central U.S. By Sunday morning, more heavy rain will fall in the Plains, especially from Wichita Falls, Texas, to Kansas City, Missouri. Yet another system is coming in quickly from the west and much of the central U.S. could see impactful weather by Sunday evening.
Locally strong to severe storms will affect parts of Texas and New Mexico. The main threat will be damaging winds and hail. The severe weather will then slide toward western Texas and Oklahoma on Monday. The main risk on Monday will be damaging winds, large hail and tornadoes.
Meanwhile, rain and some heavy snow move into the Northern Rockies and Northern Plains.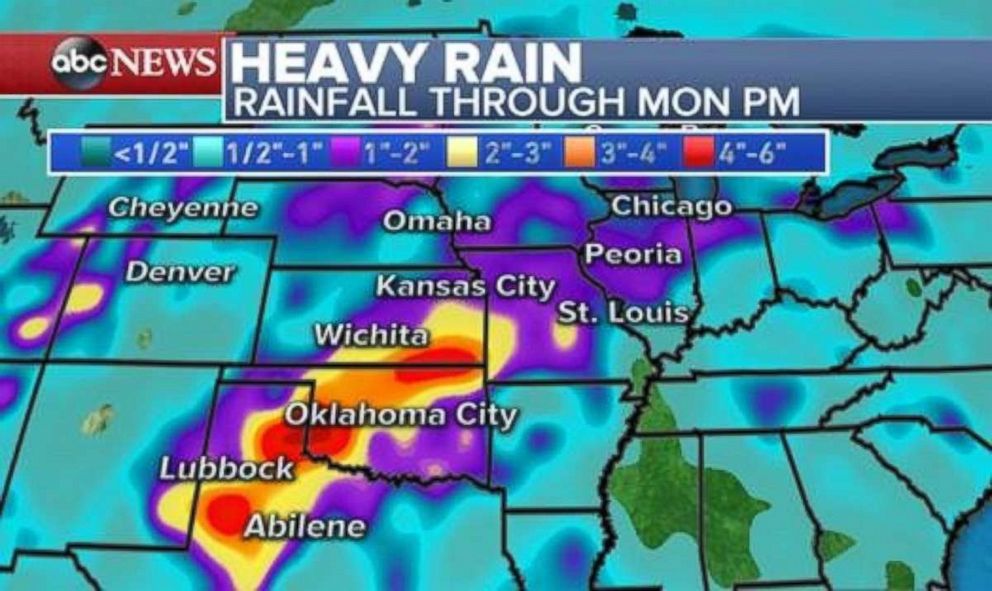 The rainfall forecast shows 4 to 6 inches of rain locally in parts of the central U.S. just through Monday. There is more rain on the way for this region on Tuesday and Wednesday as well. Over a one-week period, it is possible that rainfall totals could reach 7 to 10 inches in the central U.S., especially from Texas to Kansas. Unfortunately, due to repeated rounds of heavy rain, the flash flood threat will persist through this region through much of the upcoming week.
As the storm deepens over the central U.S. by Monday and Tuesday, colder air behind it will also possibly bring the first widespread snow of the season to parts of the northern Rockies and Plains. Nearly 6 to 10 inches of snow is possible across parts of the northern Plains from Saturday through Monday.
Potential tropical system
A cluster of thunderstorms near Honduras is being monitored for potential organization into a tropical system. It is likely that this system will become a tropical depression this weekend. If the disturbance were to become a named tropical system -- which happens if it becomes a tropical storm -- it would be titled Michael.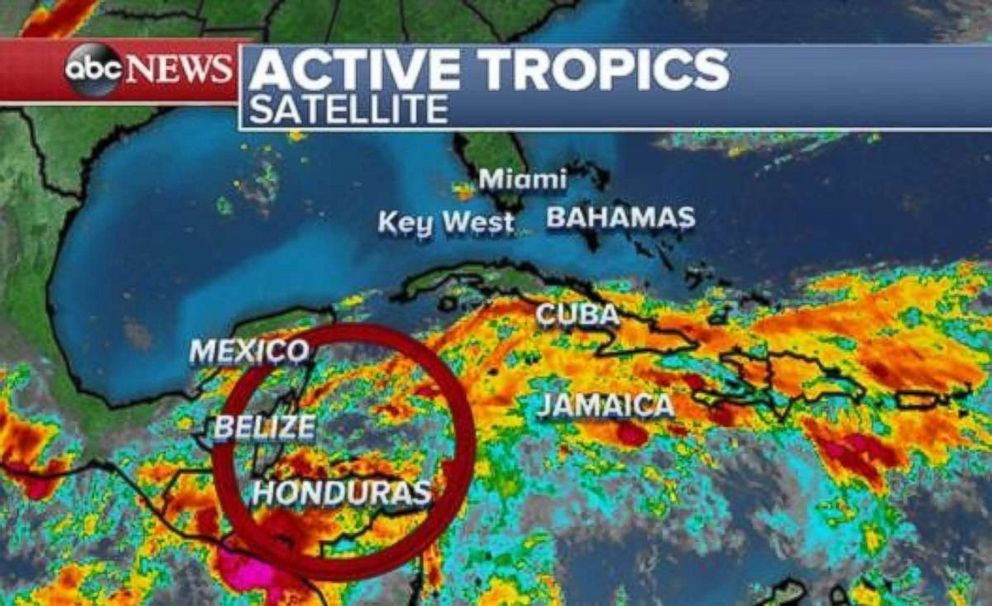 The spaghetti models do show this system moving into the Gulf of Mexico over the next three to five days. The two global forecast models Saturday morning are showing the system becoming more organized and moving toward the Gulf Coast by midweek. However, there is a lack of agreement in terms of intensity and organization for this tropical system. Also, the timing of a highly amplified, upper-level pattern over the U.S. will ultimately decide where this tropical system may track.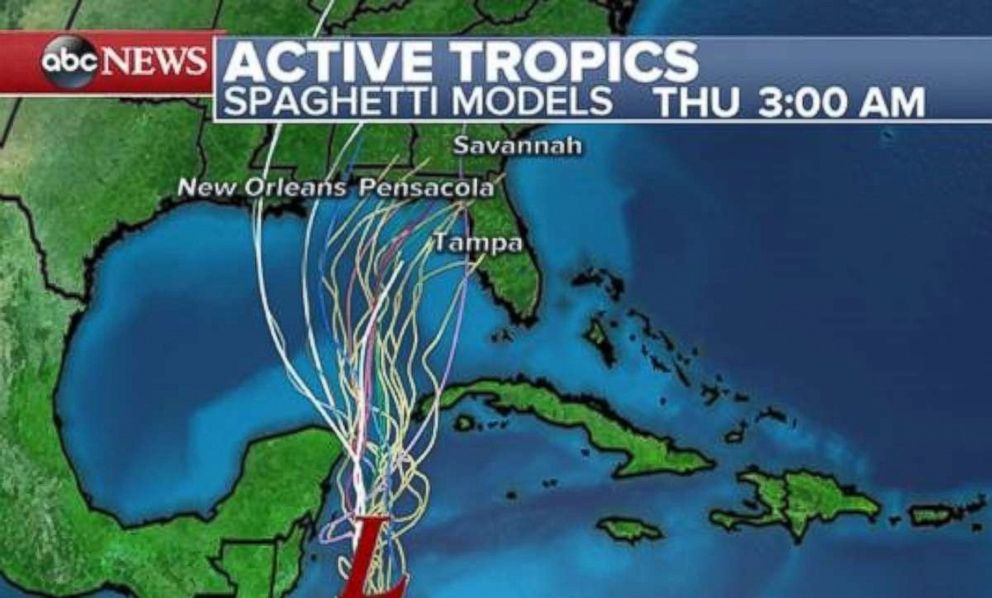 At this time, it is too early to determine what, if any, impact this tropical system will have on the U.S.