— -- Some people will line up to score deals days ahead of a big sale, and even though Black Friday is more than a month away, Kevin Sutton is already camped out at Best Buy -– but he's doing it to raise awareness about homelessness.
Sutton, 37, of Orlando, Florida, pitched a tent Sunday outside the Best Buy on South Orange Blossom Trail. From there, he's accepting donations of canned goods that he'll give to the Love Pantry, a program that provides basic hygiene and emergency food items to needy students in Orange County schools.
Sutton, a local radio host and program director for a fatherhood program, got the idea years ago when he lined up at Best Buy to get a great deal on electronics for himself. As he waited, he saw homeless people come and go.
He saw one man dig through trash, retrieve a sandwich and start to eat it. He offered the man some of his own food and struck up a conversation.
"And he was like, 'Aw man, I haven't eaten in three days,'" Sutton said Tuesday in an interview with ABC News.
He learned the man had lost his job as a driver, been arrested for DWI and then served jail time. He lost his family as a result, and had nowhere to go upon his release from jail.
"We sat and talked for about an hour and that was the most heartwrenching conversation I ever had. ... You know, that hit me so hard where I was like, 'I don't know what I can do to change this for anyone else,'" Sutton said.
As a father, he's particularly touched by the plight of homeless children in the area.
Last year he camped out at Best Buy for 15 days, and decided to ask friends who would frequently stop by to chat to donate items. He collected about three tons of canned goods for Catholic Charities, he said.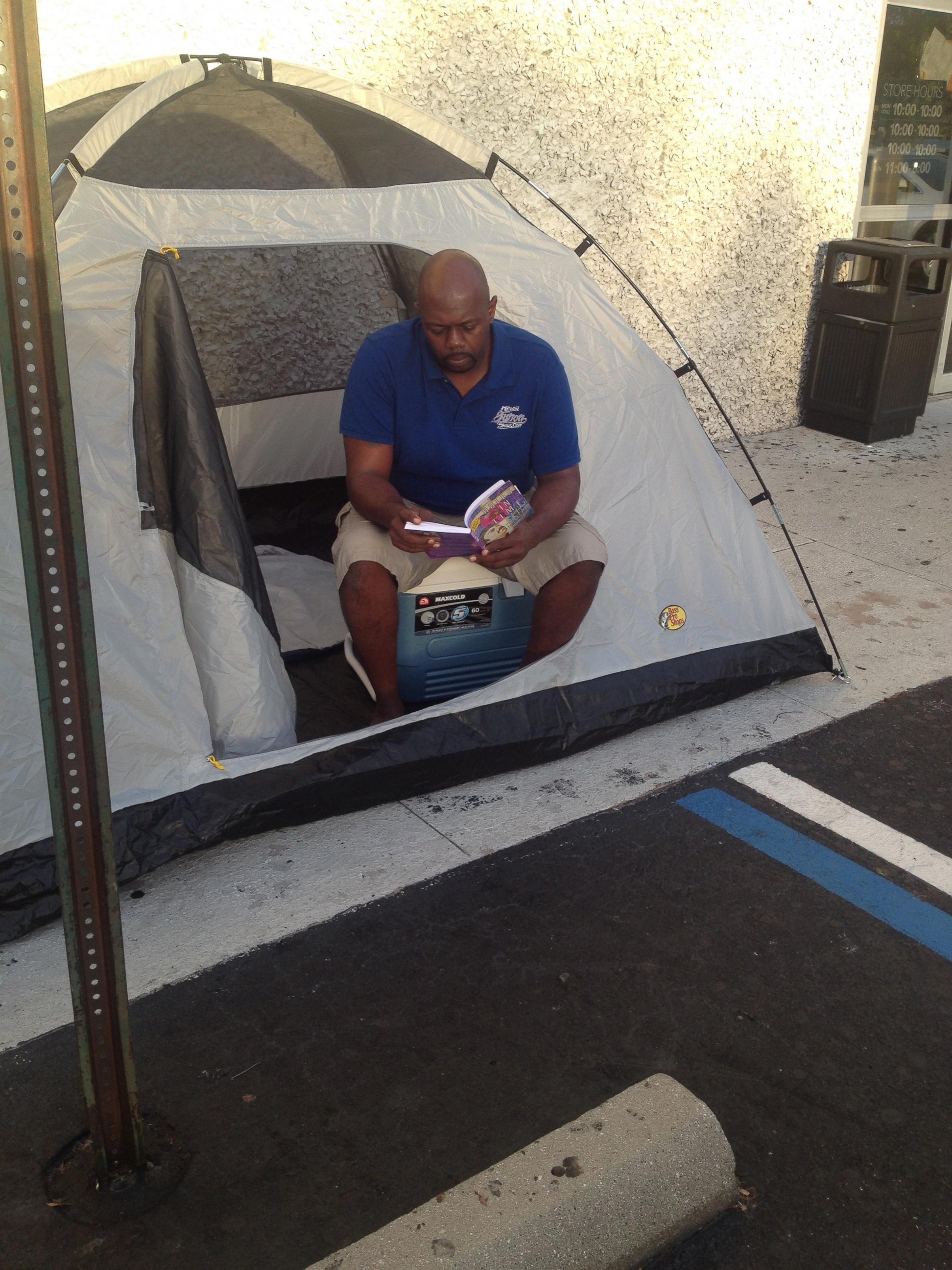 He decided to camp out for 33 days this year. Best Buy allows him to use the restroom during store operating hours, and he charges his cellphone in his van. He broadcasts the hourlong "Kevin Sutton Show" via Wi-Fi from the store's parking lot.
Sutton freshens up with baby wipes and eats canned food that people give him, he said. He accepts coffee and hot chocolate, but when he gets gifts of meals -- such as pizza or burgers -- he gives those to the homeless.
"I do not shower. I live as close to being homeless as possible," he said, adding that while he brushes his teeth, "after a while deodorant doesn't cover enough."
Some people who aren't aware of his goal offer negative feedback. He says people have taunted him and told him to "get a job."
"People are so rude," he said.
Sutton sees his wife and daughter for short moments every day, and said the entire experience has taught him the value of family and companionship.
"I would say the biggest thing is like, emotionally, not having anyone to talk to. I could see where most homeless people start developing things mentally," he said.
Sutton will remain in the parking lot until closing time on Black Friday. Asked what it would be like for him to spend Thanksgiving away from his family, he said others -– including those in the military –- spend far much time away from their loved ones.
"This is one month. ... Thanksgiving is a beautiful thing that you get to share with people, but knowing that there's a family that doesn't have food to put on the table for Thanksgiving? I'll lose Thanksgiving every year," he said.