— -- Four days after the unexplained death of Freddie Grey, questions still surround what happened while the 25-year-old was in Baltimore police custody.
Police have not clarified why Grey was arrested or how he became injured, but perhaps the most mysterious part of the incident is what exactly happened during Grey's approximately 30 minutes inside a Baltimore police van.
"I know that when Mr. Grey was placed inside that van, he was able to talk and he was upset," Baltimore Deputy Police Commissioner Jerry Rodriguez said at a news conference Monday. "And when Mr. Grey was taken out of that van, he could not talk and he could not breathe."
"I am deeply troubled by this," Rodriguez added.
Here is what has been reported:
Before the van:
A lawyer for the family said Grey was "chased" by police the morning of April 12 "without any evidence he had committed a crime." According to authorities, a police van was requested at 8:42 a.m. to transport him, and Grey asked for an inhaler.
Cellphone video taken at one point appears to capture Grey screaming as officers drag him to the police van.
In the van:
At 8:46 a.m., after Grey was in the van, the driver believed Grey was acting "irate," police said. An officer asked the van to stop so paperwork could be completed, police said, and Grey was taken out of the vehicle, placed in leg irons and then put back in the van.
At 8:59 a.m., the van driver requested that an additional "unit" check on Grey, police said.
Police union officials don't believe Grey was wearing a seat belt in the van, they said at a press conference Wednesday.
Who else was in the van?
A second person was inside the prisoner transport wagon with Grey, police said Wednesday. He is considered a witness in a criminal investigation so his name will not be released, police said.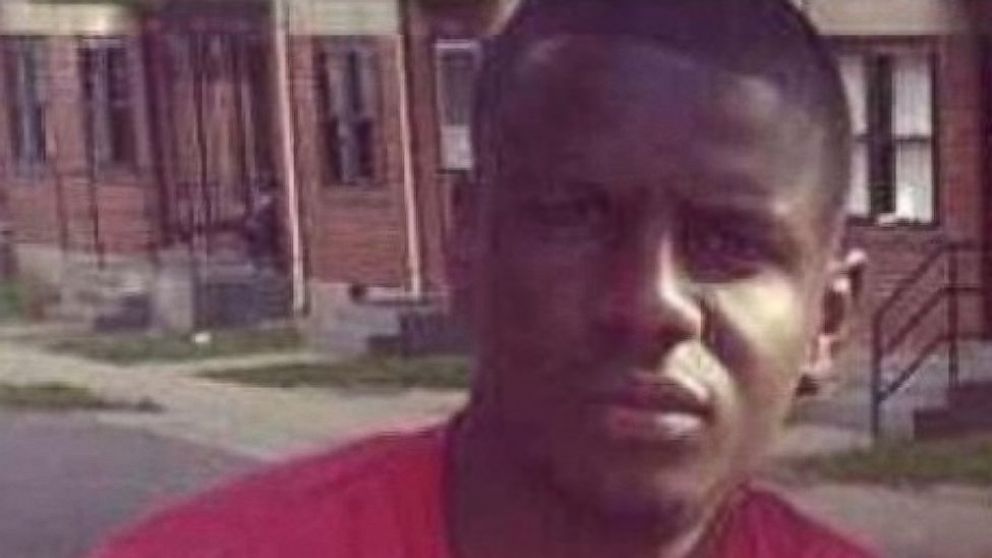 Grey's condition:
At 9:23 a.m., medical services directed a technician to respond for an injured patient, as heard on a recording of the call that was publicly released.
At 9:24 a.m., the police requested paramedics take Grey to an area hospital. In a subsequent charging document, police said, "During transport to Western District via wagon transport the Defendant suffered a medical emergency and was immediately transported to Shock Trauma."
At 9:37 a.m., medical responders said Grey was not breathing, according to EMS reports.
Family lawyer William Murphy Jr. said, "While in police custody, his spine was 80 percent severed at his neck. He lapsed into a coma, died, was resuscitated, stayed in a coma and last Monday, underwent extensive surgery at Shock Trauma to save his life."
The Baltimore police agree that Grey suffered a spinal injury, but the department is still investigating how and when.
The police union put forth its theory Wednesday.
"Our position is something happened inside that van," said Michael E. Davey, an attorney for the Baltimore police union said at a news conference Wednesday. "We need to figure out what happened."
The Department of Justice is looking into whether a "prosecutable civil rights violation occurred," a Justice Department official said Tuesday.
According to Baltimore police, the investigation into Grey's death will be turned over to the state attorney's office on May 1.
ABC News' Katherine Faulders contributed to this report.