Fugitive Pennsylvania killer used previous escapee's 'crab walking' breakout method: Warden
Fugitive Danelo Cavalcante broke out of the Chester County Prison on Aug. 31.
As the manhunt for an escaped Pennsylvania inmate went into its eighth day Thursday, an investigation has found convicted murderer Danelo Cavalcante followed a strategy used by an inmate who bolted from the same county facility in May, officials said.
Cavalcante absconded from the Chester County Prison on Aug. 31 by scaling a wall to gain access to the roof and pushing through razor wire before jumping down to a less secure area to make his getaway, Howard Holland, the acting warden of the Chester County Prison, said at a news conference Wednesday.
The 34-year-old Cavalcante, who was at the facility awaiting a transfer to the state prison after being convicted of murder in the fatal stabbing of his ex-girlfriend, followed the same method of escape and route used by an inmate at the Chester County Prison, Holland said.
Inmate Igor Vidra Bolte broke out of the prison in Pocopson Township on May 19 by scaling a wall in an exercise yard to gain access to the roof, according to a criminal complaint obtained by ABC News.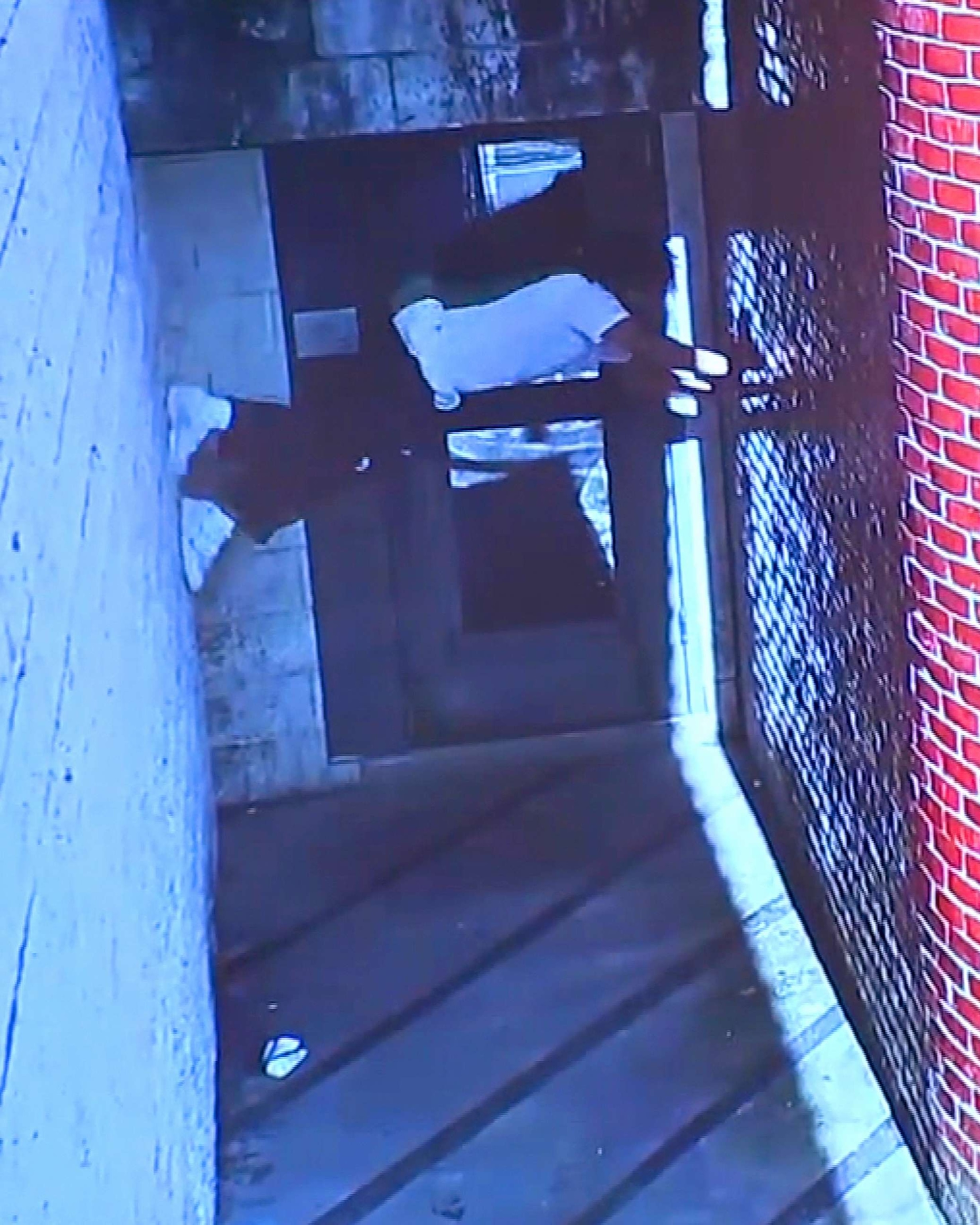 A Chester County Prison surveillance camera captured Bolte's escape, according to the complaint.
"While the defendant was in the exercise yard for Section 6, he is observed scaling a narrow hallway by placing his feet on one wall and his hands on the other. The defendant then climbs the walls in a horizontal position until reaching the roof," according to the complaint. "Once at the roof, the defendant is able to use an exposed I-beam to climb up onto the roof of the building. The defendant then runs out of frame across the roof of the prison traveling west."
The 30-year-old Bolte, who later told authorities he was a rock climber, was caught within 5 minutes after getting out of the prison by climbing down from the roof by the visitors' entrance where there is less security and running off the grounds on the south side of the prison, according to the complaint.
"This escape was similar to the methodology of the escape by Cavalcante," Holland said.
He noted "one key difference" between the two escapes was the actions of a tower guard whose primary responsibility was to monitor inmates in the exercise yard.
"In Bolte's escape, the tower officer observed the subject leaving the yard area and contacted control immediately. That is why Bolte was apprehended within 5 minutes," Holland said. "In the escape of Cavalcante, the tower officer did not observe nor report the escape. The escape was discovered as part of the inmate counts that occur when the inmates come in from the exercise yard."
Holland laid out a timeline of Cavalcante's escape, noting that the fugitive was missing for nearly an hour before anyone noticed.
He said security video showed Cavalcante escaping at 8:51 a.m. on Aug. 31.
Cavalcante escaped from the prison by "crab walking" up a wall, pushing his way through razor wire installed after Bolte's escape, running across the prison roof and scaling more razor wire, Holland said.
He said Cavalcante was first noticed missing when inmates were brought back in from the exercise yard at 9:35 a.m. and that the prison was placed on lockdown and a head count confirmed he had vanished. He said a public escape siren was sounded at 10:01 a.m.
Bolte's brief escape came less than two months before Michael Burham, a murder suspect and a self-taught "survivalist," broke out of the Warren County Jail in northern Pennsylvania on July 6, using similar climbing techniques as both Bolte and Cavalcante.
Like Bolte, Burham escaped from a recreation yard by "elevating himself" on top of exercise equipment and exiting the yard through a hole in the metal-grated roof, Warren County officials said. He then used bed sheets fashioned into a rope to lower himself to the ground and flee on foot, officials said.
An official who viewed surveillance video of the Burham's escape said the inmate "looked like a spider" as he quickly climbed to the roof and got away.
Burham was captured after a massive nine-day manhunt.
Cavalcante, who authorities said is also wanted in his native Brazil in a homicide investigation, is the subject of a manhunt involving hundreds of state and local law enforcement officers as well as the FBI and the U.S. Marshals Service.
The search for Cavalcante is centered in an area near the Chester County Prison, where he has been spotted at least eight times, officials said.
The latest possible sighting of Cavalcante occurred around noon on Thursday near Longwood Gardens, a sprawling horticulture attraction about 5 miles southwest of the prison he escaped from, said Lt. Col. George Bivens, deputy commissioner of operations for the Pennsylvania State Police. Bivens said officers were swarming the area of Longwood Gardens Thursday afternoon.
He said a citizen reported seeing a man matching Cavalcante's description running through the area. On Tuesday, the Pennsylvania State Police, which is leading the search for Cavalcante, released images of the fugitive taken by a trail camera Monday night in Longwood Gardens.
Bivens said officers were maintaining an 8-to-10-square-mile perimeter in the area.
"I have every reason to believe he is in that perimeter," said Bivens, explaining that there had been no credible sightings of the fugitive reported outside the perimeter.
Bill LaTorre, a retired Pennsylvania State Police sergeant who now runs his own security consulting firm, told ABC News on Wednesday that he is not surprised Cavalcante is suspected of using the same escape method as the one Bolte. But he said he was surprised that officials didn't do more to "defeat that strategy to escape."
Holland said that after Bolte's escape, security advisors were brought in and recommended placing razor wire on the wall where he escaped to block the route.
"One of the issues brought up was that once the razor wire was put in place, it was determined by our security advisors that this one level of security was sufficient," Holland said. "In fact, what was perhaps overlooked was the fact that addressing the single point of security countermeasure should have been bolstered by additional means."
He said steps are being taken now to completely enclose the eight exercise yards at the prison, which are now open-air. He said additional security cameras will also be installed and additional officers will be on the ground to help the tower officers monitor the inmates in the exercise yards.
LaTorre noted that another high-profile escape involving a suspect accused of killing four people occurred at the Philadelphia Industrial Correctional Center on May 7. In that case, inmate Ameen Hurst, 18, the suspected killer, and a second inmate, 24-year-old Nasir Grant, fled the facility through a hole in the recreation yard's fence, officials said.
Hurst was captured in Philadelphia following a 10-day manhunt while Grant was taken back into custody by U.S. Marshals a few days earlier.
"The common thread across all these is they're county facilities," LaTorre said.
He said that compared to state and federal prisons, county jails and prisons have the least funding and resources to guard against escapes or to conduct threat and vulnerability assessments on a regular basis.
"Yet we have these people on trial for homicide, people who have been convicted of homicide and that's where they are. They're in a less secure facility and these are the guys who have every reason to escape," LaTorre said. "I know these county prisons sometimes have more secure areas within the building, but the prisoners generally traverse throughout parts of the building and that's where they find these vulnerabilities. Capitalizing on these vulnerabilities is what allows them to escape."
Holland said prison officials are rethinking protocols for housing inmates suspected in violent crimes, including those alleged to have committed homicides or convicted of killings.
LaTorre said taxpayers should be aware that the alternative of not doing risk assessments and fortifying prisons and jails is having to pay millions of dollars to search for often dangerous inmates who escape.
"Isn't that money better spent at the county level to secure the prison?" LaTorre said.
He added, "It does have to be taken seriously. There needs to be oversight of these prisons. Wardens are put in charge of these prisons and we trust that they're doing the things they're supposed to be doing, but what I would say for the citizens is, you have to take escapes seriously. Anyone who escapes is making the decision that they're willing to take the risk of the additional penalty to escape over whatever it is they are running away from, and that is what makes them dangerous."
A 2016 report titled "Escape from Correctional Custody: A New Examination of an Old Phenomenon" analyzed 611 inmates involved in 503 escape incidents at 398 different U.S. lock-up facilities. Bryce Peterson, an adjunct professor at John Jay College of Criminal Justice who co-authored the report, told ABC News earlier this year that many of the escapees also appear to have the motivation to run, saying inmates serving long sentences or facing serious charges like murder "are the most likely to escape."
"It just comes down to when they have a chance to do it," Peterson told ABC News.
ABC News' Jared Kofsky and Bernie Lubell contributed to this report.