— -- Police in Texas said today that the American Freedom Defense Initiative had spent $10,000 for security at their Sunday event at which cartoons of the Prophet Mohammad were displayed in Garland, where two men opened fire, injuring one officer.
Security included security officers, uniformed officers, SWAT, FBI and ATF, Joe Harn of the Garland Police Department said at a news conference.
Harn said the police told the AFDI what security they thought they needed, and "that's what they adhered to."
The event began at 5 p.m. was to go to 7 p.m., Harn said. The event in Garland, about 20 miles northeast of Dallas, was going "very smoothly," he said, until about 10 minutes before 7 p.m., when a dark-colored car pulled up and two men exited.
Both men had assault rifles, Harn said, and they came around the back of the car and started shooting at a police car.
An officer began returning fire and struck both men, Harn said.
Both men died on the street, he said. One security guard was injured in the attack.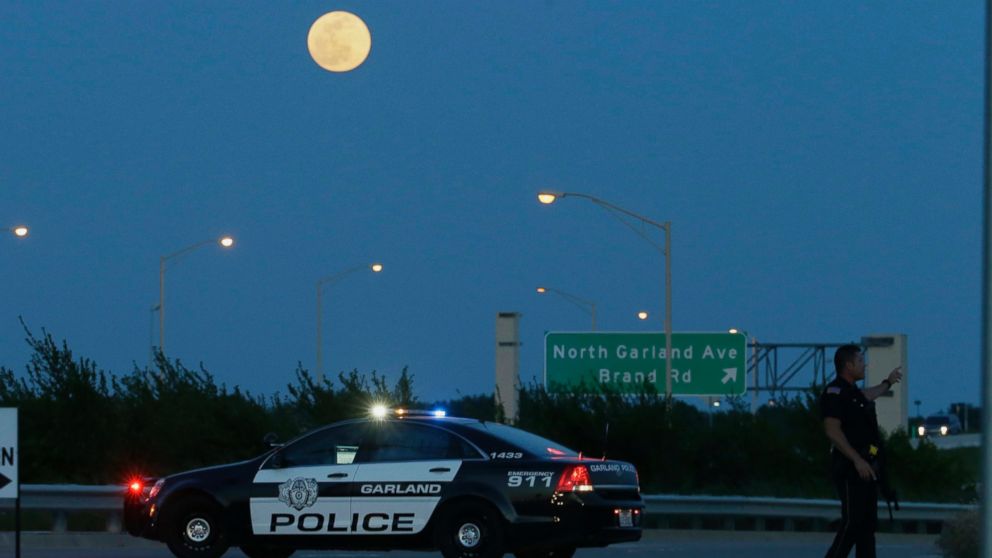 Harn said a SWAT team already at the back of the building responded "within seconds" to help secure the scene. A bomb unit responded, but no bomb was found in the suspects' car.
On April 21, the FBI said it sent a notice to law enforcement in Texas and elsewhere notifying them of the event. The notice said "the event will likely ... provoke threats" based on past "acts of violence in response to depictions of the Islamic prophet Mohammad."
The scene is still active today, Harn said, as both the FBI forensics team and Garland forensics team investigate.
The controversial event, where attendees competed to draw the prophet -- which is explicitly banned in Islam and seen as a sign of grave disrespect -- was hosted by a group known for being anti-Islam.
The event took at the Curtis Culwell Center, next to Garland's Naaman Forest High School, and included speeches from AFDI president Pamela Geller and Geert Wilders, a Dutch leader known for criticizing Islam.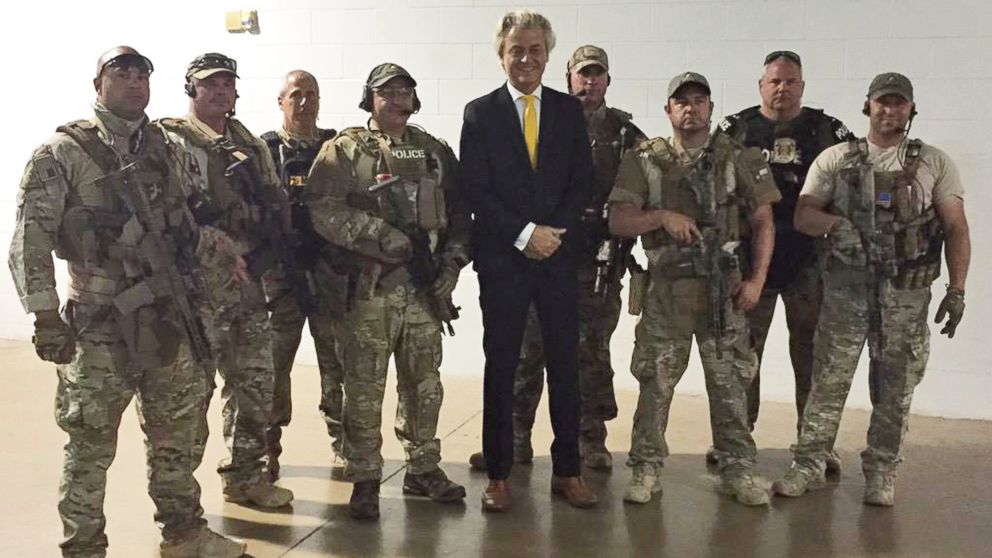 The Garland School District said on its website that Naaman Forest High School is on a normal schedule today and the area around the Culwell Center is secured. The school district added that "additional officers and district security will also be present throughout the day."
The Ahmadiyya Muslim Community USA said in a statement today they "recognizes the legal right to free speech. The Community additionally implores all individuals to elevate their personal morality in speech, and to maintain civility and justice in all affairs."
Dr. Nasim Rehmatullah, National Vice President of Ahmadiyya Muslim Community, said in the statement, "Violence is never an acceptable response to hate speech, no matter how inflammatory and uncivilized that speech is."
He added, "While we do not yet know what motivated these shooters, we urge calm and defer to local, state, and federal authorities to peaceably and justly resolve this."
Get real-time updates as this story unfolds. To start, just "star" this story in ABC News' phone app. Download ABC News for iPhone here or ABC News for Android here.