— -- A squadron of volunteer firefighters in Maryland is rallying around one of their own after the firefighter lost his home in a fire that he helped fight.
Mike Heim, a 15-year veteran of the Solomons Volunteer Rescue Squad and Fire Department in Solomons, Maryland, was 30 minutes away from the end of a 12-hour shift Friday morning when a call came in around 5:30 a.m. for a house fire.
Heim joined his colleagues on the fire truck but soon after arriving at the fire, he realized the blaze was burning down his own home.
"He was hooking up to the hydrant and didn't realize it was house until he started walking up to it," the department's public information officer, Norman Rea, told ABC News. "But he saw his friends and buddies battling the house fire so he still jumped on the line and helped out.
"Even in his emotional state he was still doing his job," Rea added.
The fire, which took hours to fully extinguish, was caused by an electrical malfunction in one of the home's bedrooms, a Maryland State Fire Marshal regional supervisor confirmed to ABC News.
All that was left for Heim to salvage from his home were a coffee container, a brass nozzle from an old fire truck, a photo album and a copy of The Book of Mormon that was found nearly unscathed in the same bedroom where the fire started.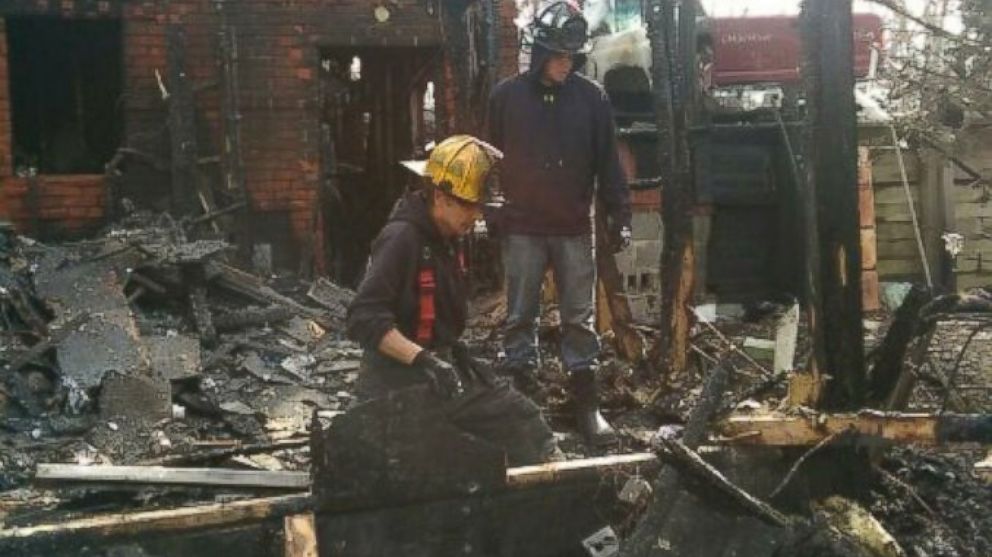 No one was injured in the fire as Heim, described by Rea as in his 40s and a part-time handyman, lived alone.
"Thank God he didn't go home," Rea said of Heim, who unable to speak with ABC News today.
In order to help Heim, Rea and his fellow firefighters have started a GoFundMe page and are also accepting PayPal donations on the department's website.
"Right now he has his own space at the firehouse and we're taking care of him day-by-day," Rea said. "We're making sure he has food and other firefighters have gone out to buy him some clothes.
"He's pretty emotional but he's back on the trucks, going to help other people. This guy doesn't stop," Rea added. "He's hurting on the inside but he's still out there to help everybody."
Heim's colleagues have already raised $14,000 of their $50,000 goal on GoFundMe since launching the page five days ago. The donations have come from nearly 300 people, many of whom are community members or complete strangers who say they are firefighters themselves.
"It's now our community, everyone around here," Rea said, "It's our turn to rescue him."