— -- Graphic coroner photos were shown in court today during the murder trial of a former University of Cincinnati police officer accused of fatally shooting an unarmed black man.
The fatal shooting happened in July 2015 after Ray Tensing, then a University of Cincinnati police officer, pulled over driver Sam DuBose near the university campus.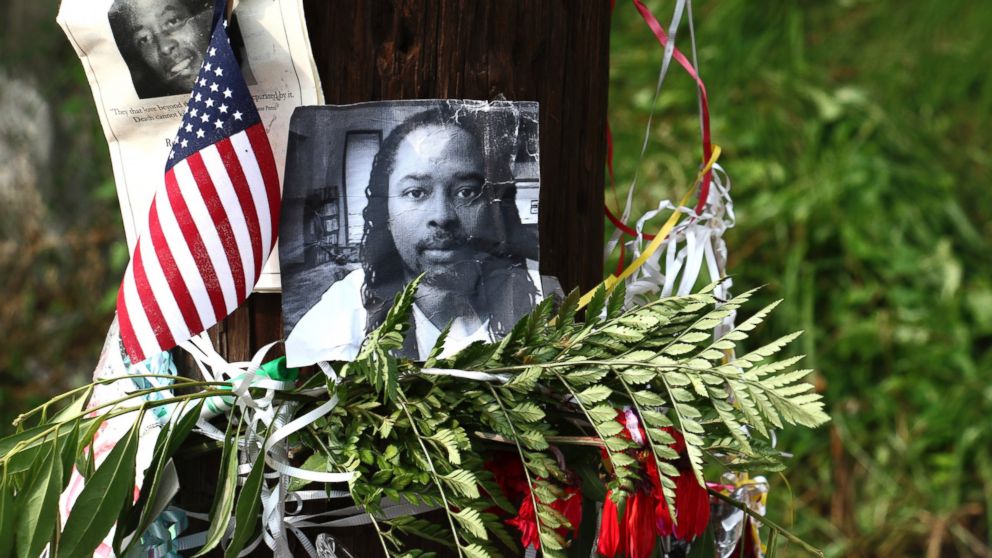 Tensing, 26, lost his job after DuBose's death and was charged with murder and voluntary manslaughter. He has pleaded not guilty.
Dr. Karen Looman, chief deputy coroner at the Hamilton County Coroner's Office, testified for the prosecution that DuBose was shot in the head and that the bullet hit his brain stem. Looman said DuBose died instantly.
In court today, Tensing looked down when a photo of DuBose's entrance wound was shown, ABC affiliate WCPO in Cincinnati reported. When DuBose's face was shown, WCPO reported that Tensing put his head in his hands and looked away.
Jurors looking intently at the coroners photos. One has hand over their mouth. @WCPO #RayTensing
— Libby Cunningham (@WCPOLibby) November 7, 2016
Photos from the autopsy depicted a hole on the left side of Dubose's head, above his ear, where the bullet ripped through his skin and skull bone before severing his brain stem. Looman also presented to the jury a fragment of the bullet that was lodged in his head.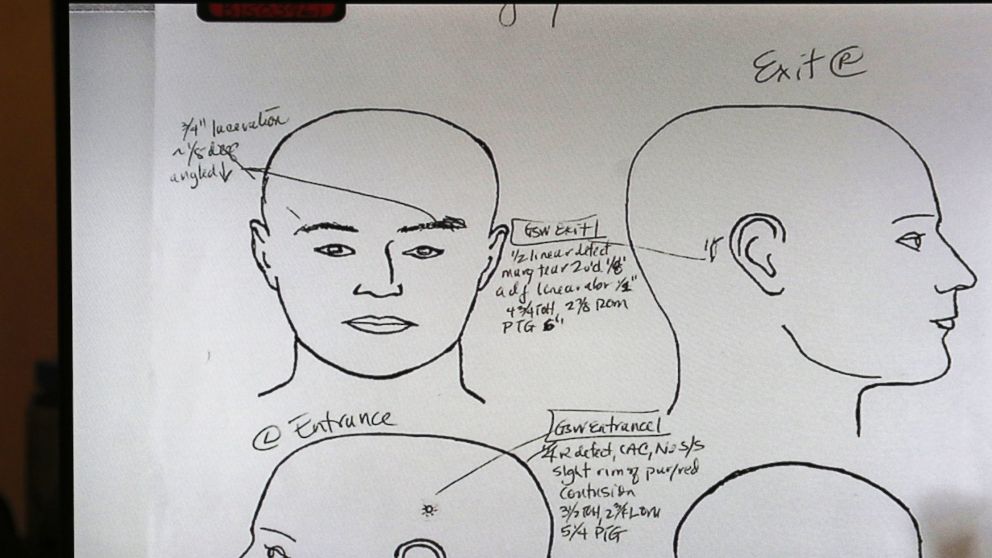 Looman, who performed an autopsy on DuBose's body the morning after his death, testified that the bullet entered the left side of DuBose's head above his ear, penetrated the skin and the bone of his skull and "cut off the brain stem."
The brain stem "tells your heart to beat, it tells you to take a breath, so that is a serious injury," Looman said. "As soon as the bullet cut off that brainstem, there was no more thought...there was no more purposeful movement."
After DuBose was shot while sitting in the driver's seat of his car, his car rolled away and crashed.
Looman said she did not find any other cause internally that would have contributed to DuBose's death that day. "The cause of death is a single gunshot wound to the head," Looman said. "The manner of death is homicide."
When asked if DuBose was completely healthy when he died, Looman said no, but did not elaborate; the judge barred DuBose's medical history from being used in the trial.
Asked if DuBose was completely healthy when he died, Looman responds "No." No further elaboration. Judge barred medical history from trial.

— WCPO (@WCPO)

November 7, 2016
Tensing's trial began last week with prosecutors telling the jury in their opening statement, "You will hear from Tensing's own mouth that he intentionally shot Mr. DuBose in the head." Prosecutors called the shooting "completely intentional" and "truly unjustified."
Tensing's defense attorneys said during opening statements that Tensing's actions were "justified." They said Tensing was close to being run over by DuBose's car. Although DuBose didn't have a gun, the defense argued that he turned his car into a weapon. Tensing instinctively drew his weapon and fired "to stop the threat" and save his own life, the defense claimed.
The murder charge carries the possibility of life in prison if he is convicted. The voluntary manslaughter charge carries the possibility of 3 to 11 years in prison.