More Than Half Country Bans Controversial Guardrail
30 states put a hold on installing guardrail blamed for deaths.
October 30, 2014, 1:28 PM
— -- More than half the nation, 30 states, have now announced they are suspending further installation of a controversial guardrail system used on roads around the country following what critics said was a cover-up of a dangerous change in the guardrail's design made nearly a decade ago.
A flood of states have announced suspension of new installation of the ET-Plus guardrail after a Texas jury found earlier this month that the guardrail maker, Trinity Industries, had defrauded the government by making modifications in 2005 and failing to tell federal or state transportation officials at the time. Trinity was ordered to pay some $175 million in damages – an amount that's expected to triple by statutory mandate.
Thirty states have said they'll no longer install the ET-Plus system, some latest states to join being Kentucky, Tennessee, Kansas, Georgia and Trinity's home state of Texas. One state, Virginia, said last week it is making plans to remove the guardrails from its highways, but would consider leaving them in place if Trinity can prove the modified version is safe.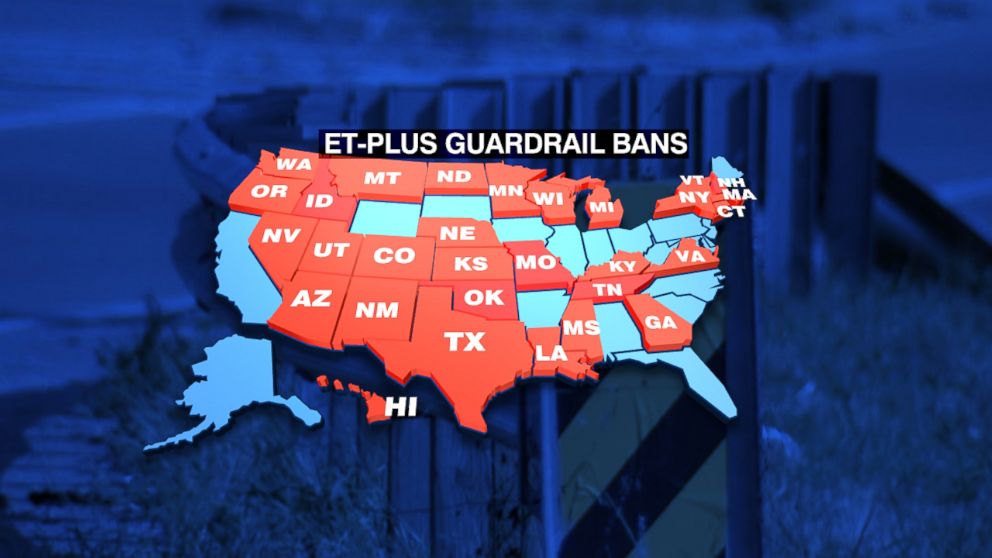 The ET-Plus System was the subject of an ABC News "20/20" investigation in September that looked into allegations from crash victims that the modified guardrail can malfunction when struck from the front by their vehicles'. Rather than ribboning out and absorbing the impact as designed, the guardrails "locked up" and speared straight through the cars, severing the motorists' limbs in some cases.
According to an internal email obtained by ABC News, a company official estimated one particular change – reducing a piece of metal in the guardrail end terminal from five inches to four – would save the company $2 per guardrail, or $50,000 per year.
The Federal Highway Administration has given Trinity until October 31 to submit plans to crash test the guardrail or face a nationwide suspension of its eligibility for sale. Some of the 28 states have said the ET-Plus ban is in place at least until results of those crash tests are available.
Trinity has maintained the guardrails are safe, noting that the FHWA approved the modified guardrail for use after questions about the modifications were raised in 2012. The company plans to appeal the Texas verdict and has previously told ABC News it has a "high degree of confidence in the performance and integrity" of the ET-Plus system.
States That Have Taken Action in Regard to the ET-Plus System:
Arizona
Colorado
Connecticut
Georgia
Hawaii
Idaho
Kansas
Kentucky
Louisiana
Massachusetts
Michigan
Minnesota
Mississippi
Missouri
Montana
Nebraska
Nevada
New Hampshire
New Mexico
New York
North Dakota
Oklahoma
Oregon
Tennessee
Texas
Utah
Vermont
Virginia
Washington
Wisconsin
ABC News' Lee Ferran contributed to this report.
This report has been updated.