Hurricane Harvey: Heroes rise to the occasion to help rescue those stranded by storm
The Cajun Navy, a group of Louisiana boatmen, assisted with rescue efforts.
— -- Southeastern Texas has been absolutely pummeled with flooding in the wake of Hurricane Harvey, leaving thousands of residents stranded and in need of help. Fortunately, some citizens have stepped in to assist with the rescues.
Professional and amateur rescuers snatched up people from submerged streets and flooded homes throughout the day on Sunday and into the morning on Monday, some of them using kayaks and canoes.
George and Alex Jackson were among the residents who answered the call from local police departments to help those stranded by the floods.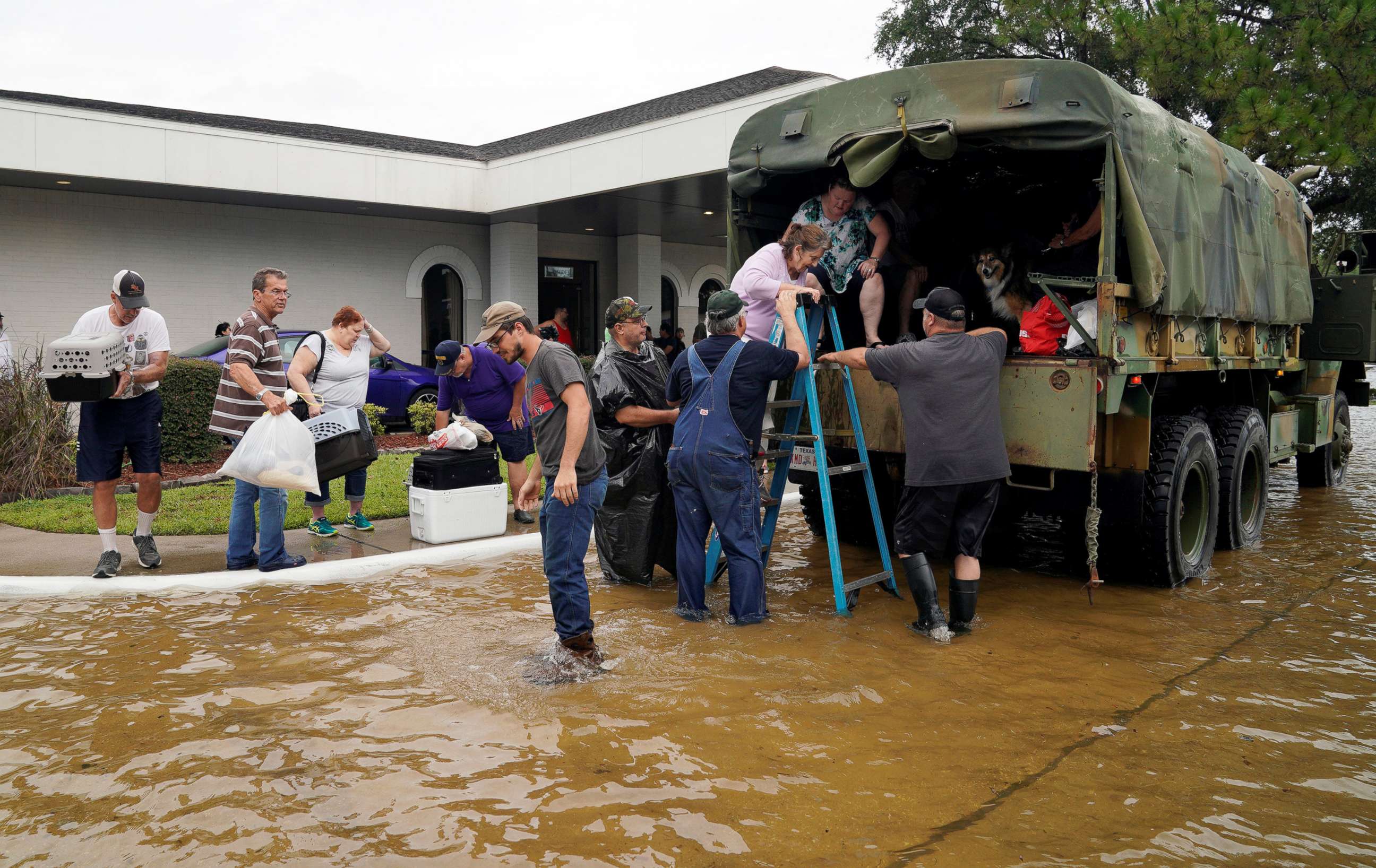 Take part in Disney's Day of Giving: To support people impacted by Hurricane Harvey, call 1-855-999-GIVE, donate at www.RedCross.org/ABC or text "HARVEY" to 90999 to make a $10 donation.
The roads in their neighborhoods were flooded so badly that they looked like canals, but the brothers used their motor boat to provide assistance.
"There's some older people that needed some attention and we're trying to convince them the best thing they can do is get out," George Jackson told "Good Morning America" today.
Abe Minor, a UPS worker, told "GMA" that he used his nephew's boat to help rescue some of his wife's friends on Sunday. After he went to get them, he realized that other people needed assistance and got to work helping others.
"People were screaming out, 'Help, help, help,' and you know, 'We'll come back for you. We'll come back for you,'" Minor said. "One turned to two, two turned to three, three turned to four, next thing you know there's 20 different people you've rescued, along with their animals."
ABC Houston station KTRK-TV reported that members of the so-called Cajun Navy, a group of volunteer citizens who rescued people during Hurricane Katrina in 2005, got the proverbial band back together for a mission in Houston.
The affiliate described a caravan of pickup trucks and small motorized fishing vessels that ventured out from Louisiana swampland and into Houston.
There, they worked until the early morning hours on Monday, pulling people from flooded homes, and posted images of their exploits on Facebook.
"It's a mix of emotions," a member of the Cajun Navy named Jeff told KTRK. "You hate to see people lose all they have. All we can do is get them to dry land."
Today, on "Good Morning America," Texas Gov. Greg Abbott called the flood "the worst we've ever seen in the state of Texas" and an "unprecedented" weather event, echoing the word used by the National Weather Service yesterday.
He added that he was proud of how Texans came together to help each other.
"You have to be proud to see the way our fellow Texans have responded," Abbott said, "whether they be the first responders or just neighbors helping neighbors to deal with this overwhelming catastrophe."