The horse is a symbol of the American West and a necessity of ranch life but recently many have been found starving and left to die. This once-respected animal is now a victim of the economic downturn, where good intentions have met with unintended consequences.
In Nebraska alone, more than 315 neglected or abandoned horses, many found starving, were seized this year. In October in Dixon County, 80 were found ankle deep in manure and mud, the ribs exposed. In April, more than 200 horses were confiscated in Morrill County. In July in Fillmore County, 35 were confiscated, five of whom have died.
"They were so malnourished, they were eating the bark off trees," Bill Burgess, Fillmore County sheriff, said.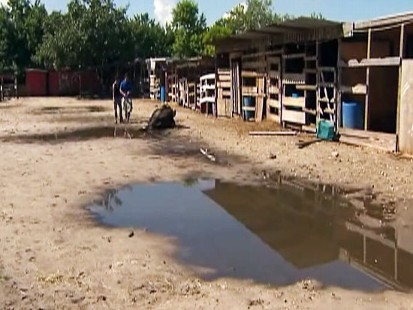 Those problems are not confined to Nebraska. So far this year, officials have seized more than 312 horses in New York, New Hampshire, Vermont, Texas and Iowa.
Nancy Perry, VP of government affairs for the Humane Society of the U.S., told ABCNews.com that the poor economic climate, as well as high hay prices have led to the increase in animal neglect.
The market for horses themselves is down as well.
"People who used to be able to afford two horses can now afford four or five," said Kristie Biodrowski, a field supervisor for the Nebraska Humane Society. "Now you can pick up a horse for about 50 bucks."
The Unwanted Horse Coalition just released a survey of 23,000 people involved in the horse industry. It found 87 percent of the respondents believed unwanted and neglected horses to be a big problem, compared with three years ago, when only 22 percent believed it was a problem.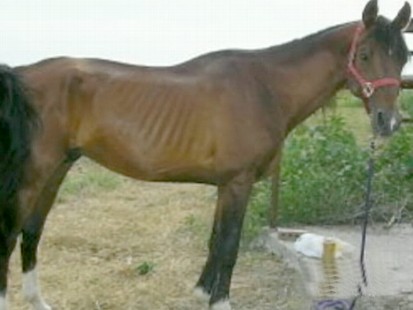 "It's just like a dog or cat when the owner can't keep it anymore, they dump it," said Deputy Sheriff Bob Hester, lead investigator on the Fillmore County case.
Nebraska State Senator Cap Dierks, a rancher who owns cattle and horses, calls the situation "a travesty."
"There is more pain now for the horses than ever," Dierks said.
Slaughterhouses: The Unintended Consequences
Sheriff Hester and others lay the blame for horse neglect on another factor: the closing of slaughterhouses.
Organizations such as the Humane Society of the U.S. and local politicians advocating for constituents whose property values were being decreased by a slaughterhouse in the neighborhood, succeeded in closing most of the establishments that slaughtered horses. In 2005, Congress cut funding for the USDA to inspect horse meat. Without proper inspection available, the remaining slaughterhouses closed. The last one shut down in Illinois, in 2007.
Horse Cruelty on the Rise in Omaha
"The slaughtering of a horse is a whole lot more humane than letting them starve to death," said Hester.
But now companies that used to slaughter horses in the U.S. have moved their operations to the borders, both Mexico and Canada.
Lloyd Woodward, general manager of Central Nebraska Packing Inc., which processes horse meat for zoos, confirmed that the company used to get meat from Texas and Illinois. Now that meat is imported from Canada. He says the supply is unpredictable and it's more expensive, but it's the horses, he adds, that are suffering from the change.
"It's resulted in cruelty and inhumane treatment to the horses," Woodward said.
Pam Weise, a spokesperson for the Nebraska Humane Society, said that in the Omaha metro area, the society usually receives one or two horses every couple of years.
This year and last, it's taken in 30.
Even those who oppose horse slaughterhouses agree horse neglect is increasing.
"It's even more of a problem across the state," she said. "Slaughtering was not a good situation to begin with, but now it's created other problems."
The issue has reached Congress. The Government Accountability Office has been asked to study the link between the closing of slaughterhouses and horse neglect and report its findings by March 1, 2010, to the Agriculture Appropriations Committee. Another piece of legislation, "The Prevention of Equine Cruelty Act of 2009," would prohibit the transport of horses to the border for slaughter. It is currently in committee; it was introduced by Representatives John Conyers (D-MI) and Dan Burton (D-MI) and Senators Mary Landrieu (D-LA) and John Ensign (D-NEV).
Hope for Neglected Horses
Not everyone agrees that the closure of slaughterhouses is the main reason for horse neglect.
Perry, of the U.S. Humane Society, told ABCNews.com that the organization's research shows the amount of horses being slaughtered has remained steady despite the fact that the killing is being done at the borders rather than in the U.S.
Lin Beaune, the director of EPONA Horse Rescue in Kearney, Neb., said she doesn't see any correlation between the shutdown of slaughterhouses and increased neglect.
"They haven't slowed down the slaughtering of horses, they're still being slaughtered over 100,000 a year at the borders, just not in the U.S.," Beaune said. "I think the neglect is from the economy, people losing their jobs and homes." EPONA is full, she said, and can't take any more horses.
Meanwhile, the neglect continues. Owners are dropping off unwanted horses in fields and forests, leaving them to starve.
"I wish we could rescue horses and take them to slaughterhouses and be able to dispose of them in a dignified manner, and right now we can't do that," Sheriff Dean Chase, of Dixon County, Neb., said.
The 35 horses seized in Fillmore County have cost the county more than $30,000. But there is good news: Of the 30 horses that survived, 16 have found homes, and the county expects to have the rest adopted by the end of this week.
ABCNews.com contributor Elicia Dover is a member of the University of Nebraska ABC News on Campus bureau.