— -- Sixteen people are dead after a large hot air balloon struck a high-voltage power line, caught fire and crashed in a pasture near Lockhart, Texas, this morning, according to Texas authorities and the Federal Aviation Administration.
The Caldwell County Sheriff's Office received a 911 call around 7:44 a.m. local time about a possible vehicle accident. The fire apparently broke out during flight in the basket portion of the hot air balloon.
Witnesses described hearing popping sounds and then seeing a blaze of flames.
"The popping sound was the balloon connecting with the electric lines and then by the time I turned and saw the fireball go up, the basket was on the ground," witness Margaret Wylie said.
"All you could tell it was a fire, a big ball of flames and you could tell nothing what it was or anything," witness Don Schulle said.
The Sheriff's Office said that investigators are still determining the number and the identities of victims.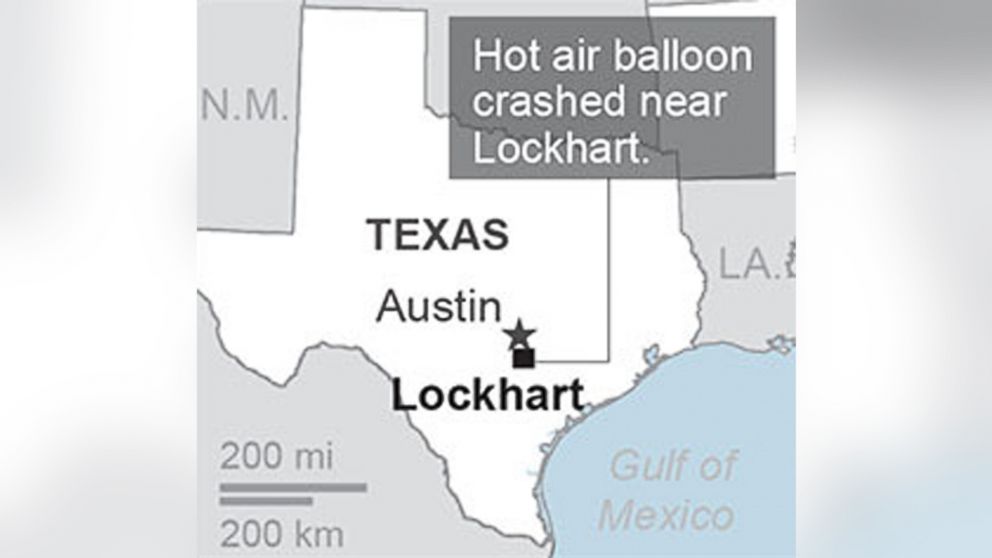 The FAA said its investigators are on their way to the crash scene and the National Transportation Safety Board, which will be in charge of the investigation, has been notified.
A full team of 13 NTSB are expected to arrive at the scene on Sunday.
"The FAA and NTSB do not release the names of pilots or passengers. Names will be released by local officials after relatives have been notified," FAA spokesperson Lynn Lunsford said in a statement.
The balloon was operated by the Heart of Texas Hot Air Balloon Rides. The company is owned by Skip Nichols, who regularly celebrated his love of flying, posting photos and videos on his Facebook page. There were tributes posted on his page tonight, remembering a "great pilot" and a man who had a "happy go lucky outlook on life."
Today's hot air balloon crash was the deadliest in U.S. history since NTSB records began in 1964.
Texas Gov. Greg Abbott and his wife expressed their sympathy in a statement, saying "[We] extend our deepest condolences for all those who have been affected by today's heartbreaking tragedy. Our thoughts and prayers are with the victims and their families, as well as the Lockhart community."
ABC News' Jeff Cook, Marilyn Heck and Josh Margolin contributed to this report.