Hot and dry weather continues to spark wildfires in the Southwest. It will not be letting up anytime soon.
Interested in
Weather?
Add Weather as an interest to stay up to date on the latest Weather news, video, and analysis from ABC News.
Phoenix reached 110 degrees Monday for the first time this year.
Meanwhile, the battle against raging wildfires in the area continues. A fire that ignited in Los Angeles County grew to 1,400 acres Monday and stands at 30 percent contained.
In Arizona, the so-called 377 Fire grew to 1,500 acres, and people had to be evacuated. It was at zero percent containment.
Some of the heat will move into western Texas and the Southern Plains starting Tuesday, and some areas could approach records in the next few days.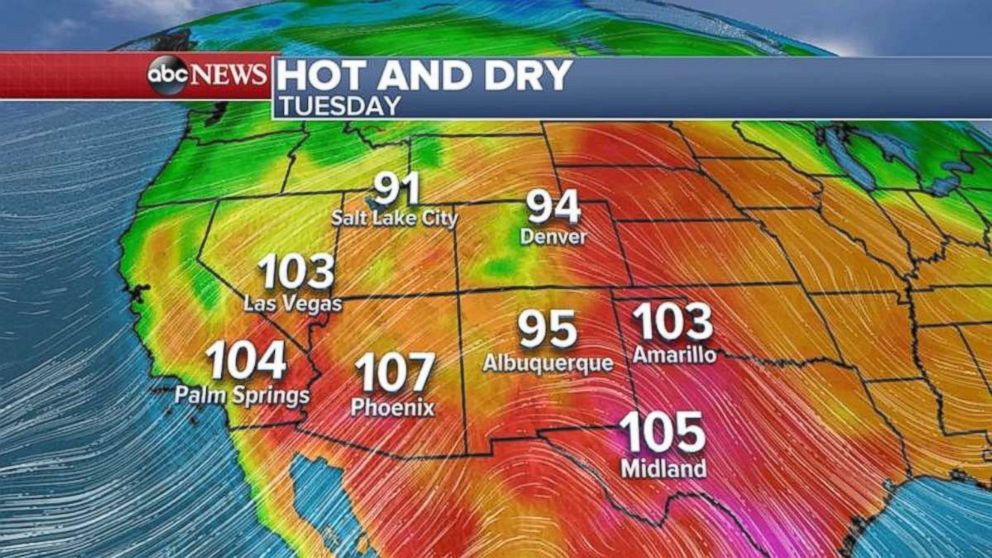 Severe weather hits Plains
Severe storms are forecast for the Midwest and Plains over the next several days as a storm system and a cold front move through the area.
Severe storms will develop Tuesday in the Dakotas and into Minnesota. The biggest threat will be damaging winds, large hail and tornadoes.