— -- The first official hurricane warnings were issued for Florida by the National Hurricane Center late Thursday evening as the storm continues to draw closer to the U.S.
South Florida and the Florida Keys were both issued hurricane warnings and storm surge warnings as the National Weather Service sent out its 11 p.m. update on Thursday.
"A Storm Surge Warning means there is a danger of life-threatening inundation from rising water moving inland from the coastline, during the next 36 hours in the indicated locations," the NWS said in its newest warning.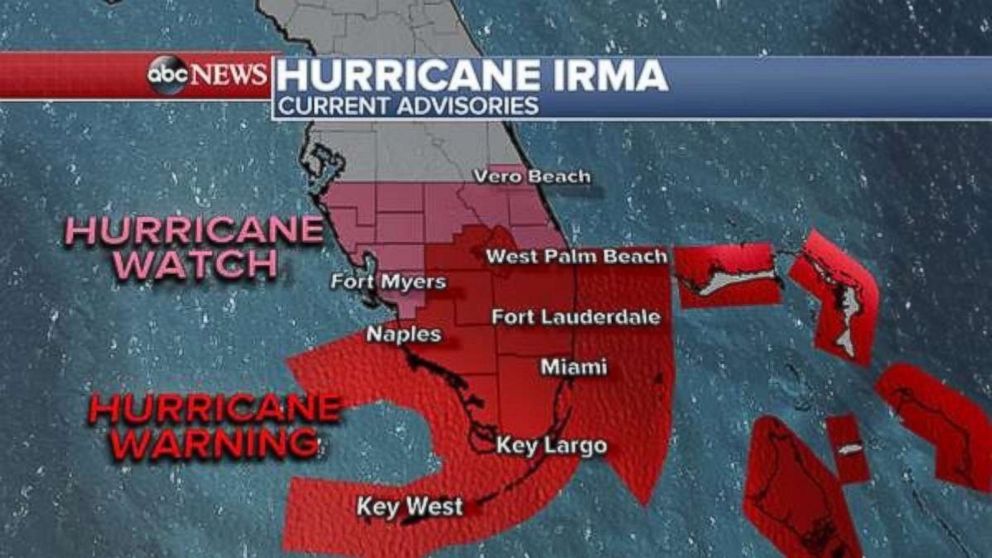 Hurricane Irma is currently "pummeling" Turks and Caicos with powerful winds, according to the National Hurricane Center's latest advisory. It is located about 535 miles southeast of Miami and should make landfall in South Florida on late Saturday or early Sunday.
The record Category 5 storm, which skirted north of the Dominican Republic early Thursday, has set its sights on South Florida after leaving a trail of death and destruction in the Caribbean. At least 13 people have been killed.
Irma, dubbed the most powerful Atlantic storm in a decade, had maximum sustained winds of 160 mph at 2 a.m. Friday as it moved over the Dominican Republic and Haiti. The wind speeds had dropped from Wednesday by about 25 mph.
"Some fluctuations in intensity are likely during the next day or two, but Irma is forecast to remain a powerful Category 4 or 5 hurricane during the next couple of days," the National Hurricane Center said in its advisory.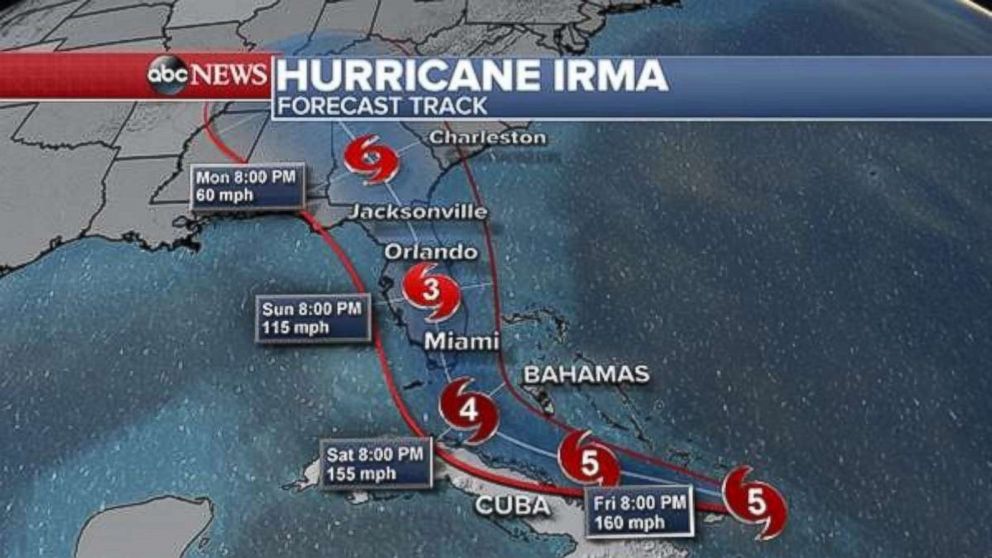 As of 2 a.m. ET on Friday, Irma was moving at 16 mph and was located about 20 miles east-southeast of Great Inauga Island, the southernmost island in the Bahamas, where the storm was expected to hit Thursday night. Much of Turks and Caicos and the Bahamas could get 8 to 12 inches of rain, with up to 20 inches in isolated spots through Saturday. A storm surge could bring water levels up to 20 feet above ground in Turks and Caicos.
A storm surge could also reach 5 feet on the northern coast of the Dominican Republic where Irma swept by on its way to Turks and Caicos.
Millions of children in Haiti and the Dominican Republic are at risk, according to Save the Children organization.
"Deadly storms have a bias against children. Storms often leave a lasting impact on young minds. Relief efforts should prioritize children – their needs, their emotional well-being," Unni Krishnan, director of Save the Children's emergency health unit, said in a statement Thursday.
Florida Gov. Rick Scott, who declared a statewide emergency earlier this week, has warned that the "massive storm" could be more treacherous than Hurricane Andrew, which devastated the Sunshine State 25 years ago.
"I want everybody to understand the importance of this. This is bigger than Andrew," Scott said Wednesday in an interview from Tallahassee with ABC News' "Good Morning America" co-anchor Robin Roberts. "This could be worse."
Irma leaves path of destruction
A girl rests her head on a set of towels supplied by the American Red Cross at a makeshift shelter, after arriving in San Juan, Puerto Rico, Sept. 14, 2017, on a cruise ship with families evacuated from Caribbean islands devastated by Hurricane Irma.
At a press conference Thursday, Scott said Irma could bring "life-threatening" damage to Florida and he urged residents on the state's east and west coast to be prepared to evacuate and to heed warnings from local officials, saying a storm surge could bring water levels up to 10 feet above ground.
"This could impact any part of our state," Scott told reporters. "We'll be doing evacuations, but everybody's got to listen."
Scott said he expects additional evacuation orders will be given once the storm gets closer.
Mandatory evacuations have already been ordered for parts of several Florida counties, including Brevard County, Broward County, Indian River County, Lee County, Martin County, Monroe County, Miami-Dade County, Palm Beach County, St. John's County. Most of the mandatory evacuation zones were issued for barrier islands, coastal areas and for those living in mobile homes.
As of Thursday afternoon, about 650,000 people had been asked to evacuate Miami-Dade County alone, the southeastern-most county on the U.S. mainland with more than 2.7 million residents.
ABC News estimates about 1,200,000 Floridians statewide have been asked to evacuate.
Meanwhile, Palm Beach Mayor Gail Coniglio on Thursday declared a state of emergency for the town and ordered a mandatory evacuation for the entire island, where President Donald Trump's Mar-a-Lago resort is located.
Voluntary evacuations have also been issued for certain regions.
Hurricane and storm surge watches were in effect for portions of south Florida and the Florida Keys on Thursday afternoon, according to the National Hurricane Center.
Irma leaves 13 dead in the Caribbean
The islands of St. Martin and Barbuda were especially hard hit in the storm on Wednesday, and officials there are continuing to assess the damage.
Irma delivered massive destruction to St. Martin, and at least eight people were killed and 21 more injured on the small island, according to French Interior Minister Gérard Collomb.
There are about 6,000 Americans stranded on St. Martin, according to The Associated Press, which said the U.S. Consulate General in Curacao is working to get them off the island.
Although the airport was not destroyed, it is also not functional and support will have to be delivered via helicopter, Collomb said. He noted that 100,000 military emergency rations will be sent to the population.
One person -- a toddler -- was killed in Barbuda. The toddler drowned as the child's mother tried to move to safer ground on Wednesday, according to Antigua and Barbuda Prime Minister Gaston Browne.
Barbuda suffered near-total destruction, with 90 percent of its structures destroyed, according to the prime minister, who described Irma like a "bomb" that shot "missiles" of debris across the island.
"When you have an unprecedented storm like this that comes with such significant wind force, this is like having a bomb literally thrown on a city," Browne told ABC News in a telephone interview Thursday. "It is really the sheer magnitude of the winds that destroyed these properties."
Barbuda recorded the strongest winds of any island in the path of Irma, with 155 mph gusts measured Wednesday morning. The prime minister on Thursday called for voluntary evacuations of Barbuda's 2,000 inhabitants to Antigua, which fared better than its sister island during Irma, as a second hurricane, Jose, is strengthening and appears to be taking aim at the Caribbean.
One person also died in Anguilla where Irma caused "moderate to severe damage" to "critical infrastructure," including the hospital, airport, fire station, police station, government buildings, public utilities and roads, according to the Department of Disaster Management in the British territory.
The U.S. Virgin Islands experienced a peak wind gust of 131 mph on Buck Island north of St. Croix on Wednesday.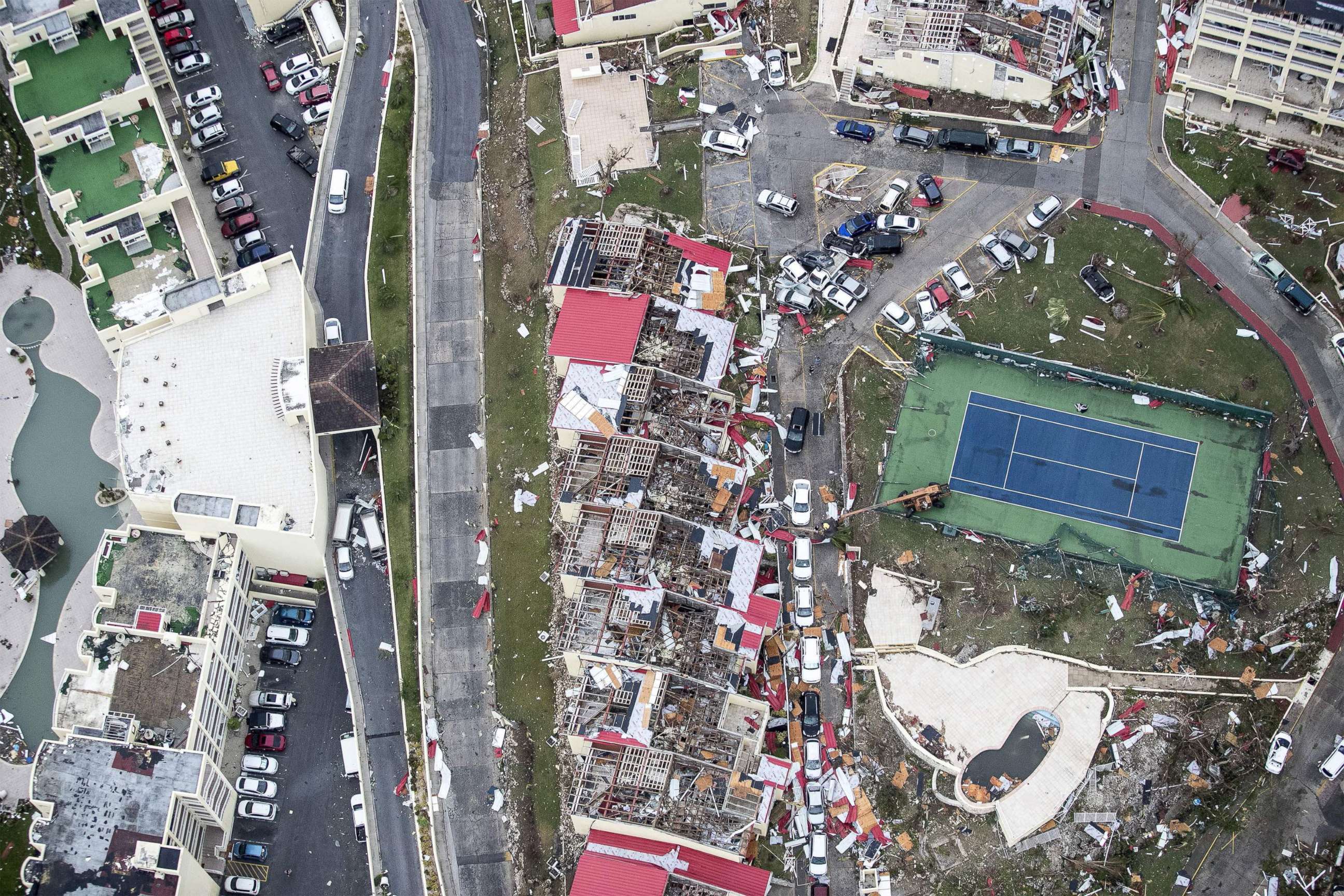 Although Puerto Rico largely avoided the worst of Irma, with the highest wind gust on the Caribbean island measured at 70 mph, at least three people died there as a result of the storm's impact, according to the governor's office. A 79-year-old woman died at the hospital after she fell while being transported to a shelter, another woman died of electrocution and a man died in the hospital after getting in a car accident while driving in poor weather conditions.
Puerto Rico Gov. Ricardo Rossello said at a press conference Thursday morning that 6,200 people had hunkered down at shelters while Irma dropped 2 to 8 inches of rain across the island and up to 12 inches of rain in some isolated spots. One million customers were without power and 17 percent of the U.S. territory doesn't have access to safe water.
Officials began assessing the extent of the damage Thursday, Rossello said.
Meanwhile, the U.S. Coast Guard on Thursday launched crews to conduct search and rescue flights in Puerto Rico and the U.S. Virgin Islands to assist anyone potentially in distress after Irma, while also conducting overflight and surface port assessments.
"Our first priority is ensuring safety of lives and helping anyone in distress. Following that, reopening the ports is a top priority, but we have to make sure we also do it safely," Capt. Eric King, commander of Sector San Juan and the incident commander, said in a statement. "Opening the port prematurely could create a situation for a greater risk or incident, which could ultimately result in an even longer port closure. We must ensure the port is clear of any obstructions and any significant damage to the port infrastructure from the storm that would prevent the flow of commercial commerce."
ABC News' Benjamin Gittleson, Max Golembo, Joshua Hoyos, Aaron Katersky and Benjamin Stein contributed to this report.