What You Need to Know About Hurricane Matthew's Storm Surge
Seven to 11 feet of storm surge is expected in some parts of Florida.
October 7, 2016, 11:41 AM
— -- Hurricane Matthew is forecast to bring potentially devastating storm surge today from Cape Canaveral, Florida, all the way to Charleston, South Carolina, according to forecasts.
The National Weather Service warned that Florida could see storm surges worse than the devastation New Jersey and New York saw during the deadly Superstorm Sandy in 2012.
Storm surge is defined as "an abnormal rise of water generated by a storm, over and above the predicted astronomical tide," according to the National Weather Service.
"Storm surge is basically water piling up along the shore ahead of, and inside, the hurricane," ABC News meteorologist Ginger Zee said.
When a hurricane is out over the open ocean, as pressure falls in the center of the storm, water levels rise. As the hurricane closes in on land, the storm's strong winds will push that water towards the coast, so it essentially has nowhere else to go but up and inland, Zee added.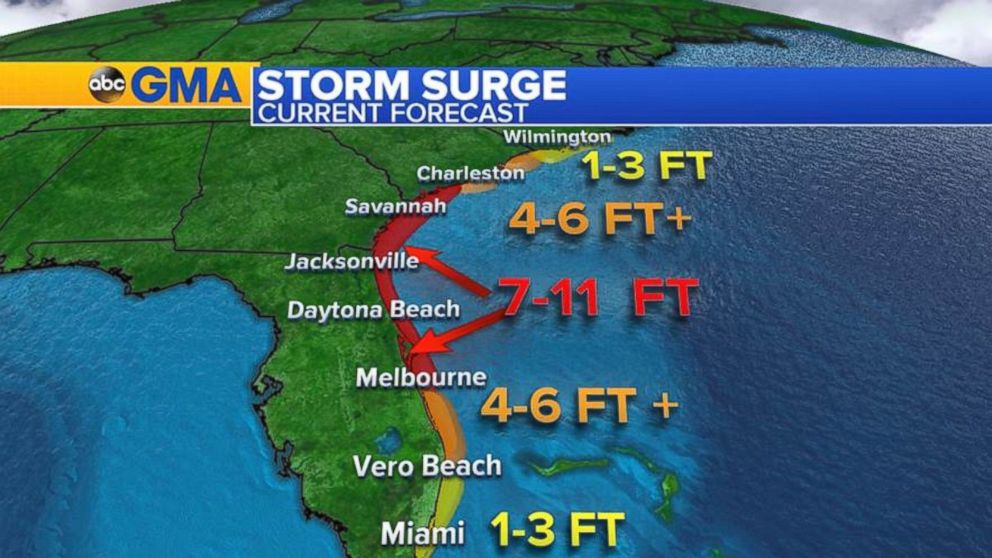 President Obama also warned of the dangers of storm surge today.
"Many of you will remember Hurricane Sandy, where initially people thought this doesn't look as bad as we thought and then suddenly you get massive storm surge and a lot of people were severely affected," Obama said. "We're still on the front end of this hurricane, we're not on the back end. So, we don't know how bad the damage could end up, we don't know how severe the storm surge could end up being. And we're not going to know for three, four, five days what the ultimate effects of this are."
"If they are telling you to evacuate, you need to get out of there and move to higher ground, because storm surge can move very quickly," the president added.
The National Hurricane Center warned that Hurricane Matthew could bring a "combination of dangerous storm surge, the tide, and large and destructive waves will cause normally dry areas near the coast to be flooded."
Surge-related flooding would depend on the timing of the surge and the tidal cycle, according to the National Hurricane Center, meaning it can vary greatly even between short distances apart.
There is a possibility of "life-threatening inundation" over the next 36 hours along the coasts of Florida, Georgia and South Carolina, all the way from Jupiter Inlet, Florida, to South Santee River, South Carolina, according to the National Hurricane Center.
Hurricane Matthew Leaves Flooding and Destruction in its Wake
From left, Cassandra Rush, Anyah Carpenter, and Rosa Rush walk through floodwaters in their neighborhood, Oct. 15, 2016, in Lumberton, North Carolina.
Sean Rayford/Getty Images
Sebastian Inlet, Florida, to Edisto Beach, South Carolina, including portions of the St. Johns River in Florida, is expected to get storm surges of seven to 11 feet.
Edisto Beach to South Santee River, South Carolina, is expected to get inundated with a storm surge of four to six feet of water.
Jupiter Inlet to Sebastian Inlet, Florida, is forecast to be hit with four to six feet and South Santee River, South Carolina, to Cape Fear, North Carolina, could see two to four feet of storm surge.