The husband of a professor who was accused of participating in the murder of her alleged rapist nearly two decades ago said it was "heartbreaking" to watch his wife taken into custody for a crime she didn't commit.
"I saw my wife shackled and taken away. It was heartbreaking," Norma Patricia Esparza's husband, Jorge Mancillas, told ABC News Thursday after his wife was handcuffed and taken into custody during her bail hearing in Orange County (California) Superior Court.
Mancillas is now left with the job to explain the situation to the couple's young daughter.
"What do you tell a 4-year-old? How do you explain to a four-year-old that mommy has been taken away?" Mancillas added.
Esparza, 39, and three other people, including her former lover, face charges in the 1995 killing of Gonzalo Ramirez, 24, who prosecutors allege was hacked to death with a meat cleaver and left on the side of the road. A fourth suspect is deceased.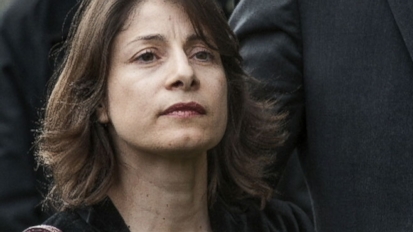 Esparza, who is a professor at Webster University in Geneva, Switzerland, declined a plea deal that would send her to prison for three years. The judge revoked the bail of the psychology professor after prosecutors said she refused to accept the plea deal.
Prosecutors had offered the psychology professor a deal that would require her to plead guilty to manslaughter and serve three years in prison for the stabbing death of her alleged rapist, Susan Schroeder, a spokeswoman for the Orange County District Attorney's Office, told ABCNews.com.
Esparza will now await trial on one felony count of special circumstance murder during the commission of kidnapping.
Esparza said at a news conference Wednesday that it would be a "lie" if she accepted the deal.
Esparza was arrested in the cold case when she re-entered the United States last year for an academic conference.
Her next court appearance is scheduled for Dec. 23. If convicted, Esparza could face life behind bars.
Professor Says She Wasn't Willing Participant in Murder
On the night of April 15, 1995, prosecutors allege Esparza, who was then 20 years old, went to a bar with a group of friends and pointed out Ramirez, who she said had raped her earlier that spring in her dormitory at Pomona College.
When Ramirez left the bar early the next morning, prosecutors allege Esparza, along with an ex-boyfriend Gianni Van and two friends, intentionally rear-ended Ramirez' vehicle and kidnapped him.
Ramirez was driven to an automotive shop where his alleged captors were met by two more friends, according to prosecutors. Hours later, prosecutors said Ramirez' body was found dumped on the side of Sand Canyon Road in Irvine.
Through it all, Esparza said she wasn't a willing participant and was instead kidnapped and forced to watch.
After the murder, Esparza said Van coerced her into marrying him. She claimed that fear, the alleged assault and a history of sexual abuse as a child had silenced her for more than a decade.
"All I knew is that these people were dangerous," Esparza said Wednesday, "And I just needed to stay quiet."
Esparza eventually divorced Van, married Mancillas and moved to France where the family now resides. Esparza says her testimony helped indict Van, Shannon Gries and Diane Tran.
The three suspects have been charged and awaiting trial. They have pleaded not guilty.