— -- The amendment to Indiana's controversial religious freedom law stops businesses and individuals from refusing service or goods to people based on sexual orientation, gender identity or other reasons -- but the law could still serve as the basis for some denials of services or goods, though only when religious officials or groups are involved, experts say.
A suggested "fix" to the Religious Freedom Restoration Act (RFRA), which was signed into law by Indiana Gov. Mike Pence today, also prohibits discrimination based upon race, color, religion, ancestry, age, national origin, disability, sex or U.S. military service. But legal experts say that won't hinder the original intentions of the law -- which was intended as a legal defense for people or employers who felt that their religious beliefs were being infringed.
"If you had a religious claim that says, 'I don't have to pay attention to a gay rights statute,' that claim will lose. Those laws were never going to do that," Robin Fretwell Wilson, a law professor at the University of Illinois told ABC News.
"Once you put the carve-out there, you inoculate [the] law from a claim that was wrong all along," she said.
State legislatures in Indiana and Arkansas may have drawn the most attention by passing versions of the "religious freedom" law this week, but similar religious freedom laws are in place in 19 states across the country, and 10 others have similar bills in the works, according to the National Conference of State Legislatures.
Douglas Laycock, a law professor at the University of Virginia, said RFRA claims are rarely brought to court and generally come in the form of "low-profile conflicts between diverse religious practices and diverse laws and regulations."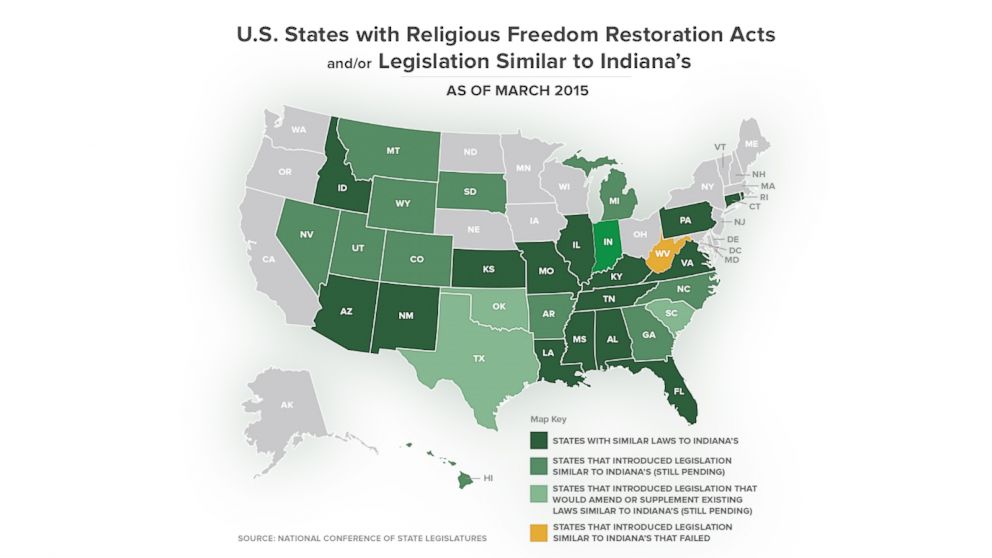 "There are remarkably few cases and there are even fewer wins for the religious side, but they're extremely important to the people affected," he told ABC News.
One example of a RFRA case that was upheld that was cited by both Laycock and Wilson came in a case involving an Amish population that argued with local authorities who wanted to put bright orange reflective triangles on the back of their buggies.
Other examples included a case when neighbors bristled at the idea of a church feeding the homeless in the building's basement or when someone is fired because they refuse to work on the Sabbath, Laycock said.
The amendment was announced this morning following meetings between state representatives and business leaders who had threatened to pull their business from the state if exemptions were not made. Pence signed it into law later in the day, saying in a statement that "resolving this controversy, making clear that every person feels welcome and respected in our state is best for Indiana."