Inside the Coast Guard's record $6 billion year in cocaine seizures
Drug fatalities "will only go up," said Adm. Paul Zukunft.
September 20, 2017, 9:09 PM
— -- Miles off the coast of California, a Customs and Border Protection aircraft armed with high-powered surveillance cameras locked in on a tiny object glimmering in the horizon. Suspicious, authorities zoomed in closer and observed a triangular submarine-like vessel operating almost completely underwater to avoid observation and radar.
The Coast Guard Cutter Steadfast was dispatched to intercept the suspected smuggling boat.
It's been a record year for high seas drug seizures like these — 50,000 pounds of cocaine and heroin valued at more than a half-a-billion dollars have been confiscated since August.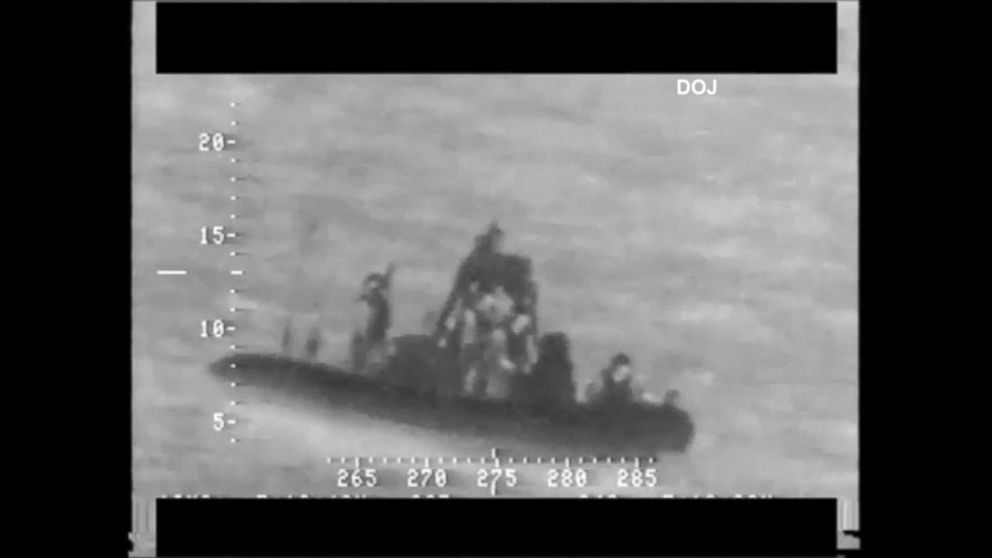 A record $6 billion dollars in drugs have been intercepted this year and nearly 600 suspected traffickers were arrested and turned over to federal authorities for prosecution, according to the U.S. Coast Guard and Department of Justice.
On Wednesday, the Coast Guard offloaded 50,550 pounds of cocaine and heroin worth an estimated $679.3 million in San Diego, CA. This morning's offload, which was attended by Attorney General Jeff Sessions, was the result of 25 separate seizures conducted by four Coast Guard cutters and a Navy ship, which began on Aug. 2, 2017.
"We are facing a challenge in this country with drug abuse, addiction like we've never seen before," said Sessions.
Sessions credited this rise to the availability, purity and low price of illicit drugs.
Including today's offload, more than 455,034 pounds of cocaine, worth over $6.1 billion, has been intercepted by the Coast Guard in Fiscal Year 2017, which topped the 2016 record of 443,000 pounds.
Nearly 600 suspected smugglers were apprehended by the Coast Guard and turned over to federal authorities for prosecution in the U.S. during the year. That's up from 465 suspects in 2016 and 373 in fiscal year 2015.
Commandant Admiral Paul Zukunft said Wednesday that while the Coast Guard is "getting better" at intercepting these drug boats, there is also increase in cultivation and production, particularly in Colombia.
Most of the cocaine consumed here in the United States originates in Colombia, according to the Coast Guard.
"Last year, we had 60,000 fatalities due to drug usage [in the U.S.] and that number will only go up next year," said Zukunft while making the case for the need for a bigger Coast Guard.
Back on that August day, out at sea, the camera picked up four passengers who glow as if radioactive. Soon teams of heavily armed members of the Coast Guard surrounded the semi-submersible or so-called narco submarine and the suspects raised their hands in the air — the result of a joint Coast Guard, CBP and Drug Enforcement Administration investigation.
On board the suspected smuggler's vessel, more than 3 tons of cocaine — millions of dollars' worth — is found, allegedly bound for the U.S.