— -- After thousands of Hurricane Harvey evacuees streamed in by the busload to Houston's George R. Brown Convention Center, the shelter has now swelled to over double its capacity.
As of Tuesday afternoon, there were more than 10,000 people living at the convention center in downtown Houston.
The Red Cross had planned for 5,000 people.
With only 5,000 cots, nearly half of the evacuees are sleeping on the cold tile floor of the 2-million-square-foot convention center that includes exhibit halls, meeting rooms, a ballroom and a 3,600-seat amphitheater.
Officials are working to ensure enough cots are provided, as well as attempting to reduce the population at the convention center, Houston Mayor Sylvester Turner said in a press conference Tuesday evening.
The Toyota Center will be used as an additional shelter to help ease the number of people at the convention center, Turner said. Residents seeking shelter will need to go through the George R. Brown Convention Center first, though, Turner said.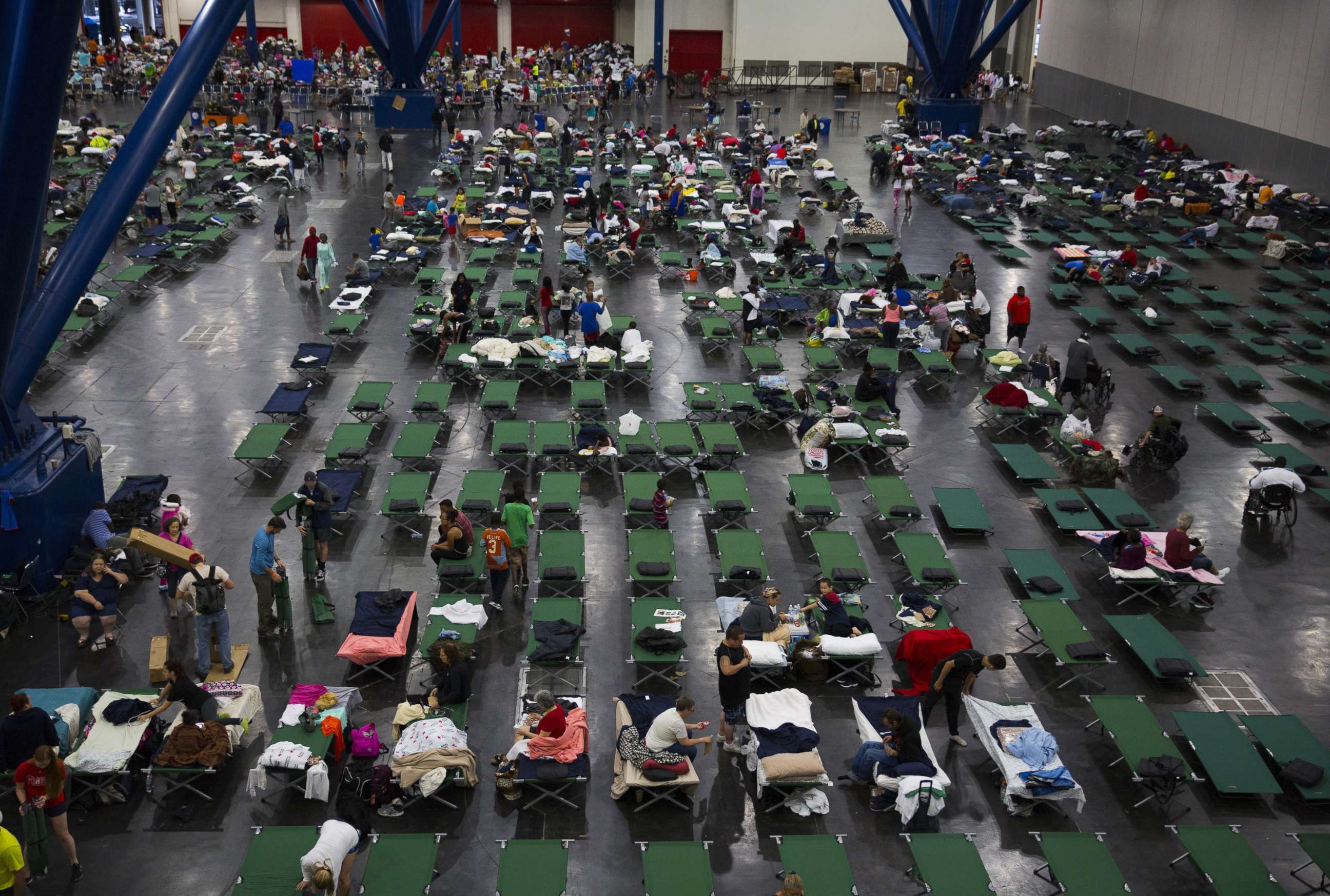 Even though the conditions are imperfect, those inside are safe, dry and more, importantly, out of the danger zone.
The relocation comes after Hurricane Harvey, which has since been downgraded to a tropical storm, tore through the Houston area this weekend, causing at least nine deaths, forcing evacuations and wiping out homes. The National Weather Service deemed the flooding "epic and catastrophic" and Texas Gov. Greg Abbot said the aftermath of Harvey will likely be "horrific" and leave behind a mess that will "take years" to rebuild.
Gulf Coast residents struggle to recover after Hurricane Harvey
Members of First Baptist Church of Loeb chain saw pews and clean up the church on U.S. 69 that had eight feet of water in it due to Hurricane Harvey flooding in Lumberton, Texas, Sept. 7, 2017.
Some evacuees sheltering at the convention center, which is among the 10 largest in the United States, told ABC News they lost everything.
At times there are long lines of people arriving at the shelter, tired, waterlogged and some still in shock.
The convention space has electricity and warm water, an emergency room and a large food station serving warm meals.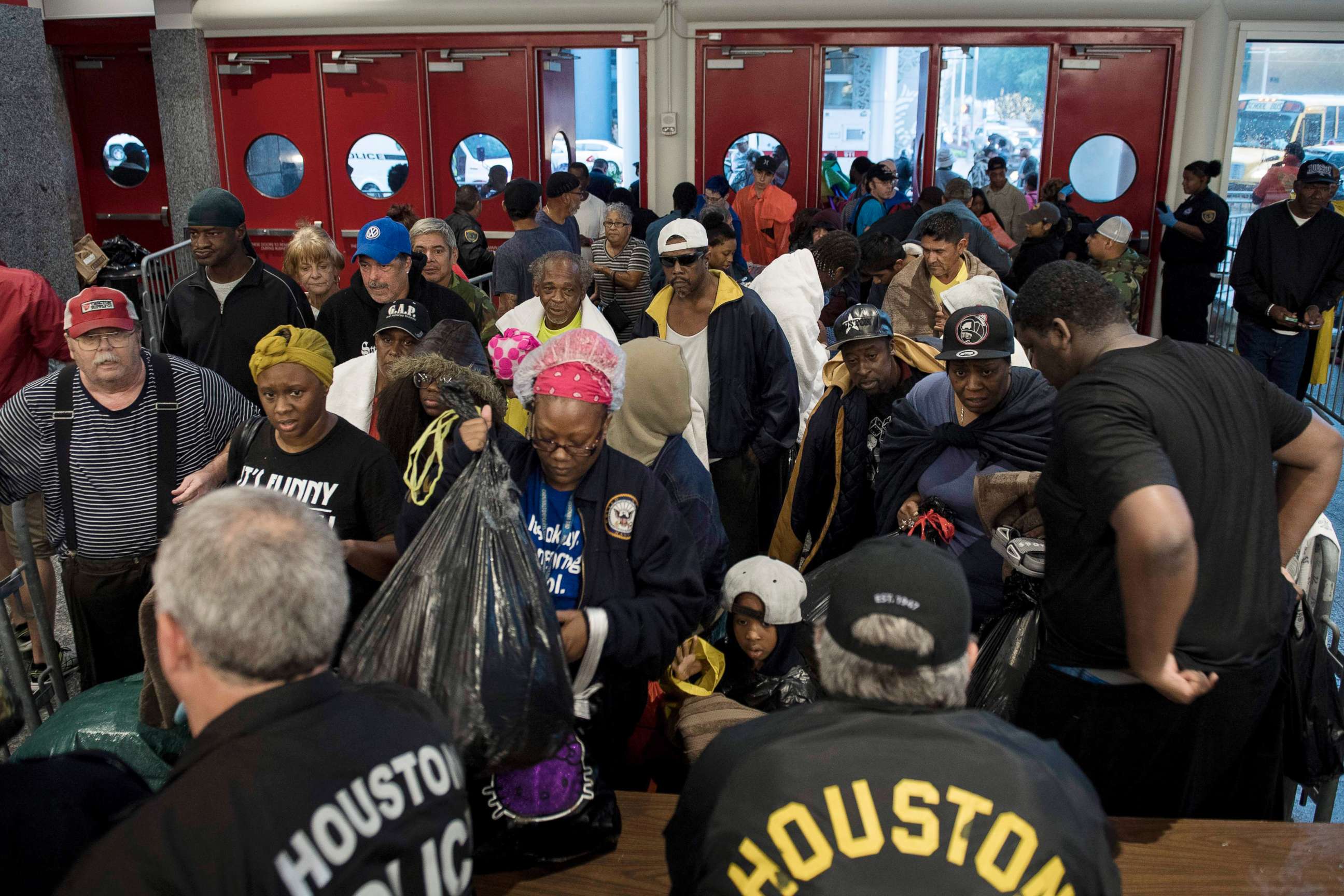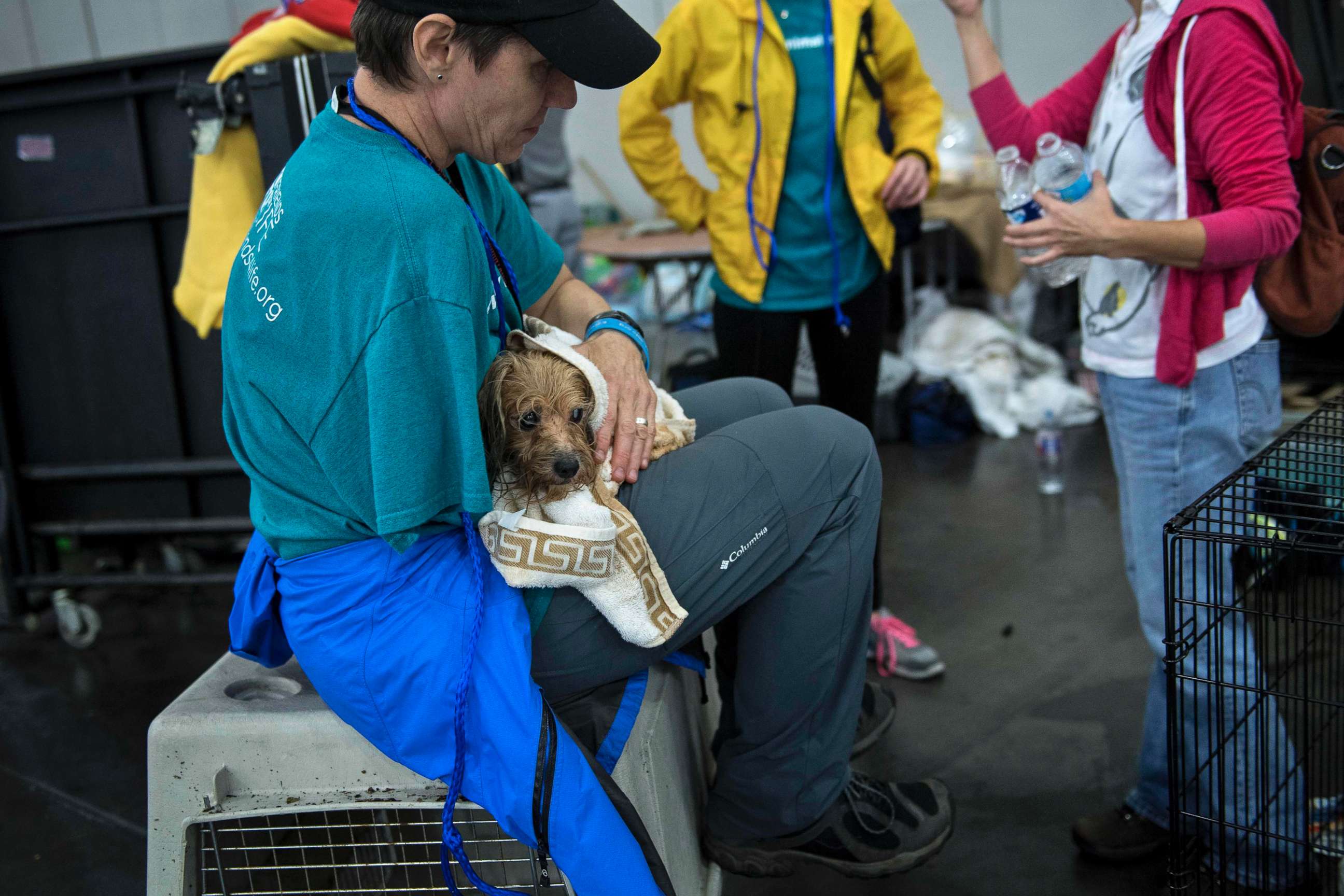 There is a big police presence to keep the peace but the center appears to be running smoothly, without chaos.
Lots of families with babies are gathered inside, as well as individuals with special needs.
After an elderly woman wearing only a T-shirt begged for a pair of pants, the Red Cross quickly assisted her.
An 18-year-old mother from northeast Houston at the shelter told ABC News she was rescued by helicopter with her child and three of her nephews. Staying behind in a house, and still apparently trapped, are her brother and other relatives.
During the flooding, she thought she and her little boy were going to die, she said, and she's still afraid for her family.
By herself with four children, she chose to sleep on the carpet outside the entrance to the convention floor. She says it's warmer and easier for the small children.
Another Houston resident who is volunteering her time at the center's baby station broke down to ABC News, tearfully explaining stories of mothers' arriving at the shelter, some with babies as young as 2-weeks-old.
She said some women have gone into labor inside the convention center. They did not have enough baby supplies Monday, she said, but have since received several donations that helped a lot.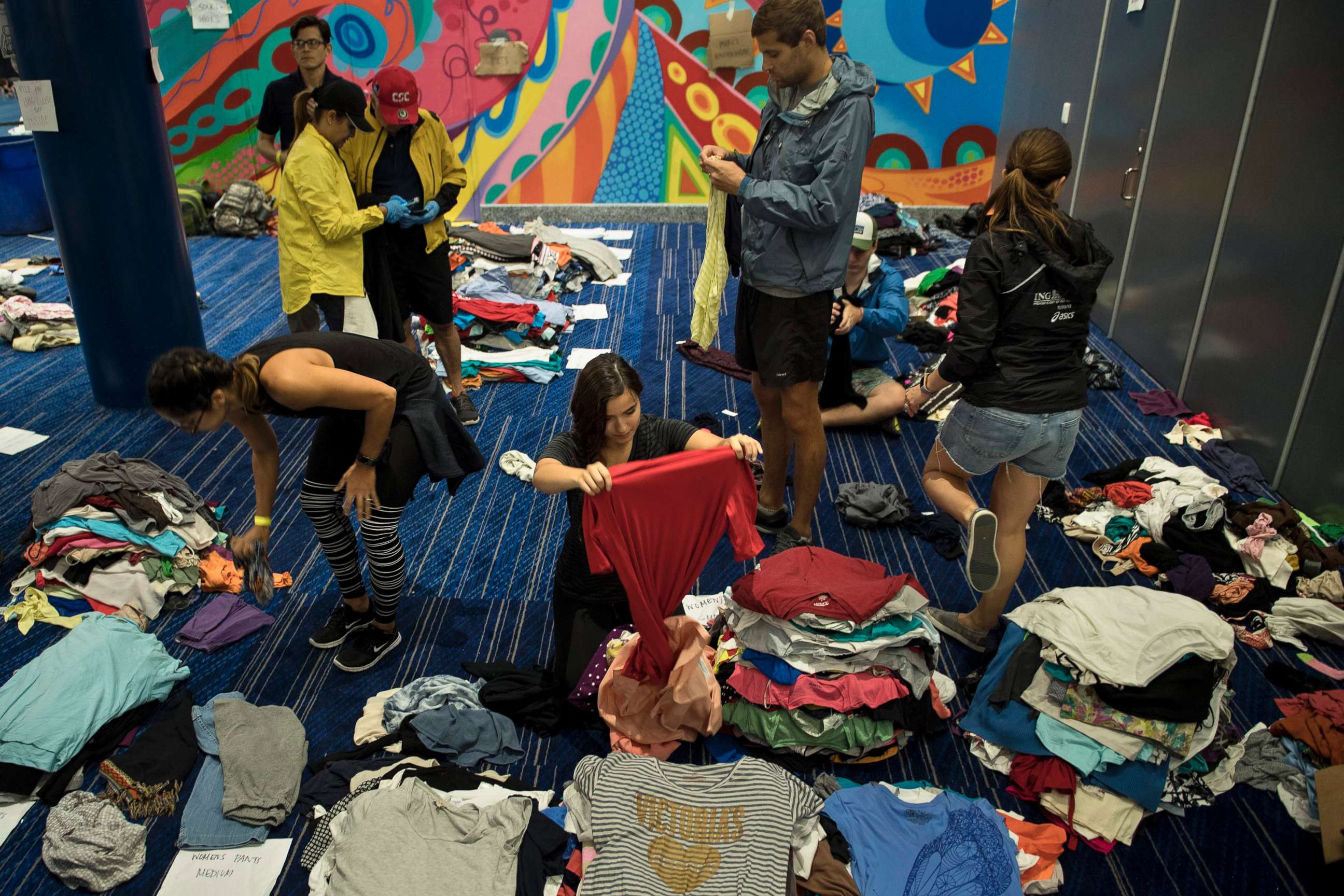 An official said Monday the center was looking for more volunteers, especially mental health specialists, nurses and social workers. One volunteer told ABC News Monday he had been working since the shelter opened. He said he hadn't stopped to sleep, instead checking people in and offering them towels.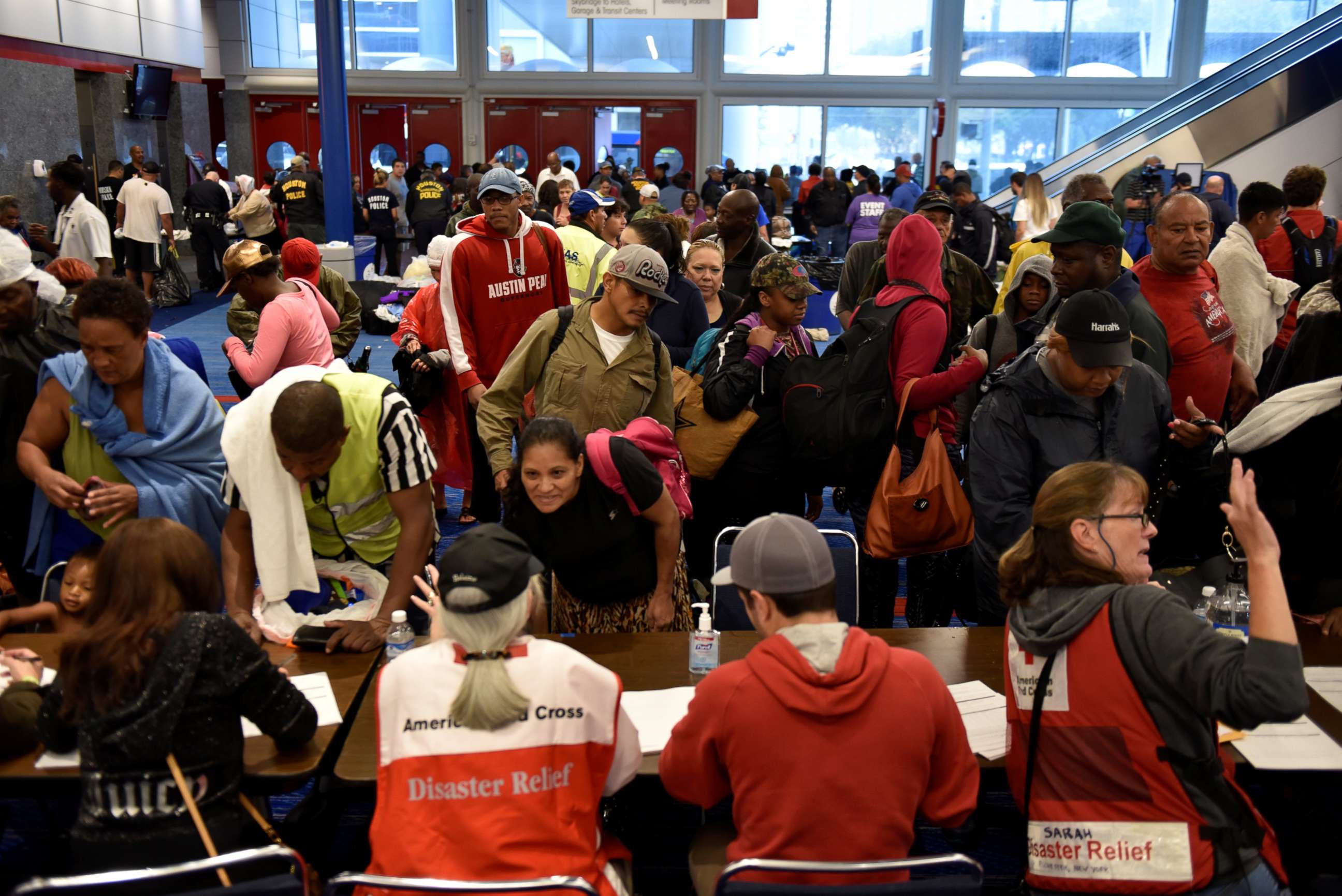 A long line of cars formed Monday outside the convention center, where people are coming to deliver supplies and cheer the evacuees.
One man delivered supplies dressed up in full costume as "Batman," and his 4-year old son joined him, dressed up as "Little Batman." The young and elderly stopped and smiled at the duo, who brought clothes and activity packs to the children at the convention center.
"The people of Houston need a hero," Batman told ABC News.
Added Little Batman: "It was my idea."
Houston officials say they are preliminary looking into possibly opening other large, long-term shelters.
ABC News' Lana Zak contributed to this report.